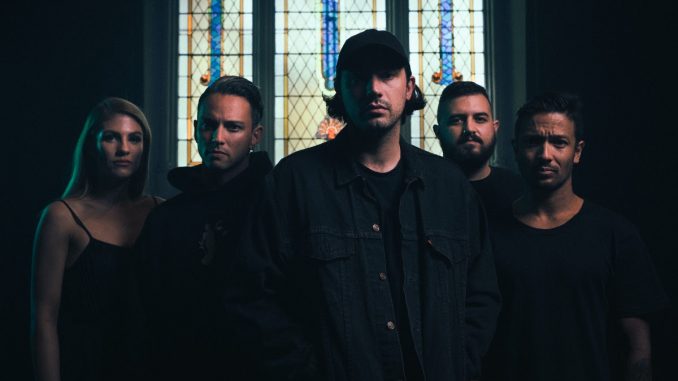 Australian metal titans
Make Them Suffe
r have dropped the video for the new song "
Contraband
," featuring guest vocals from Spiritbox's Courtney LaPlante. It's an extra special track, as it marks the first time the band has recruited a guest for one of its songs.
Watch it here.
The song is an utterly explosive powder keg of riffs, squals, breakdowns, and the sort of screams that will haunt your dreams. But threaded through all the sonic maelstrom is an unforgettable melody that will embed in your psyche for days. It also features something called the "floppy fingers riff."
"'Contraband' came together centered around one of the riffs in the song that we'd aptly named the 'floppy fingers' riff," says vocalist Sean Harmanis. "We'd actually had this [riff] in the bank since way back in 2016. As the song came together, we decided that it was a great opportunity to include Make Them Suffer's first-ever guest feature, and we couldn't have picked anyone better than Courtney! She was a joy to work with and showed such a great enthusiasm toward the song and her parts."
Harmanis offers some additional insight into this metallic juggernaut, saying, "Lyrically, the song is about everything and nothing at the same time. It's about relationships with friends and family. But it's also a low-key political song, as well as an expression of the frustrations surrounding COVID and its impact on our lives, particularly as members of the music community."
He finishes, "'Contraband' is a build up — the result of two years without musical catharsis."
Let the sonic purge and cleanse begin with "Contraband!"
Make Them Suffer released the full-length How to Survive a Funeral last year via Rise Records. The band continues working on new material.
Additionally, Make Them Suffer keyboardist Booka Nile recently made headlines by appearing as a contestant on Australia's wildly popular Married at First Sight reality show.