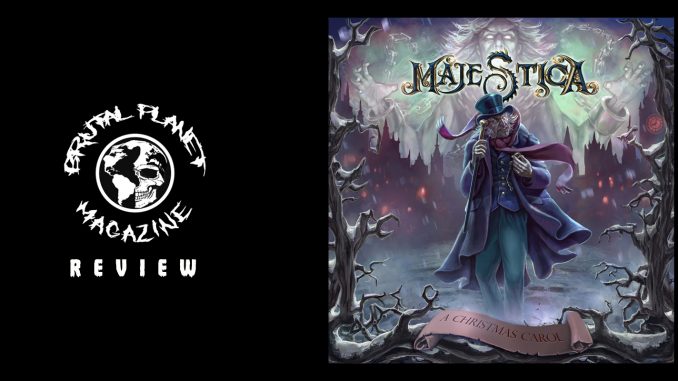 Most people are familiar with Charles Dickens' novella, "A Christmas Carol." It is one of the most beloved stories from the Victorian era and has been adapted into countless musicals and films. For those who may not have realized, this was the book that popularized the phrases "Merry Christmas" and "Bah, Humbug!" Now, one hundred fifty-seven years after its original release, a new adaptation has been made- and this version of the story has never been done before. The Swedish power metal band, Majestica, is releasing a concept album based on "A Christmas Carol" on December, 4th through Nuclear Blast Records.
Majestica is a symphonic power metal band from Boden Sweden which formed in 2004 under the name ReinXeed. After releasing six albums, they re-invented themselves as Majestica in 2019. They put out one album, "Above the Sky," under their new name before embarking on this completely new project for their fans. For years, vocalist/guitarist Tommy Johansson has dreamed of recording a Christmas album. "A Christmas Carol" is an excellent mixture of power metal and orchestral music, combined with some bells and a glockenspiel to add some holiday flair.

Each of the nine tracks on this holiday album is unique, yet familiar. Most of the tracks blend elements of classic Christmas melodies you already know and add power metal riffs and original lyrics. In a recent interview, Tommy Johansson stated, "The reason why we chose to make a musical album with the story of Ebenezer Scrooge is very simple – it's a great story to tell around Christmas and it works so well as a musical. And with the help of different voice actors and singers we made it possible for this to happen – we're very happy with the result." The band has already released two singles from the album, "Ghost of Christmas Past," and "Ghost of Marley." Both of which have received extremely positive feedback from fans.
This is not your typical album in which each of the band members plays a distinct role throughout its entirety. "A Christmas Carol" features each of Majestica's band members taking turns on lead vocals, as well as several guests from bands such as Veonity, Hot Beef, and Injection. As you might be perceiving as you read this review, Majestica has put a ton of creativity, time, and effort into this project. Like I mentioned earlier, Majestica's ability to blend power metal and Christmas music is flawless. The lyrics are faithful to the spirit of Dickens' story and the delivery of the vocals are incredibly powerful. Lastly, the production on this album is tremendous. This Scandinavian quartet truly brings Christmas to a whole new level.
If you love getting in the Christmas spirit but are tired of Mariah Carey's "All I Want For Christmas Is You," or the (now) controversial, "Baby It's Cold Outside," it's time to get Majestica's "A Christmas Carol." You will undoubtedly find yourself having this epic album on repeat as you decorate cookies or wrap presents for the kids. Put a little rocking in your stocking this year and buy this album!