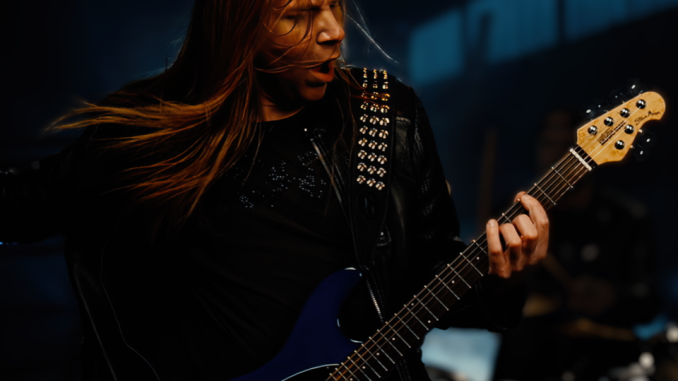 & Music Video | Watch HERE
New Album 'Hunt the Flame' Out April 14th!
Frontiers Music Srl is pleased to present a new single, along with a music video, from Magnus Karlsson's Free Fall,"Far From Home" featuring hard rock singer, James Robledo of Demons Down.

The multi-talented Swedish guitarist/songwriter/producer, Magnus Karlsson, has once again assembled a killer cast of incredible lead vocalists to lend their talents to his musical vision. See below for a full list of participating singers.

The new single appears on the upcoming full length 'Hunt the Flame', which drops April 14th.

Watch the Official Music Video for "Far From Home", featuring James Robledo, HERE
For 'Hunt The Flame', Magnus once again enlisted some of the strongest melodic singers in metal and hard rock. Stunning performances are provided, in order of appearance, courtesy of Alexander Strandell (Art Nation, Crowne), Jakob Samuel (The Poodles), James Durbin (Durbin, Cleanbreak), Kristian Fyhr (Seventh Crystal, Ginevra), James Robledo (Sinner's Blood), Michael Eriksen (Circus Maximus), Girish Pradhan (Girish And The Chronicles), Raphael Mendes (Icon Of Sin), Terje Haroy (Pryamaze, Mantric Momentum), Jake E (Cyhra), and Antti Railio (Celesty, Diecell, The Wildfire).Rounding out the line-up on the album is Anders Kollerfors on drums with Magnus Karlsson handling all other instrumentation on this stunning slab of melodic metal.

Magnus Karlsson is well known as the mastermind behind several productions associated with Frontiers Music Srl, including the successful initial Allen/Lande (Russell Allen and Jorn Lande) trilogy and the recent spin-off, Allen/Olzon (Russell Allen and Anette Olzon), which has released two albums thus far.

Additionally, releases by Starbreaker (with Tony Harnell), Bob Catley, and Kiske/Somerville have been guided by his talented hand. In 2008, he joined German heavy metal icons Primal Fear and with them has toured the world and recorded several successful albums which charted in multiple countries around the globe.

In 2013, he launched his solo project "Free Fall" which was warmly received by the numerous fans of the Swedish mastermind and showcased Magnus' songwriting and production skills with lead vocals provided by a varied cast of some of the finest singers of the genre on each release.
(Please note, due to ongoing lengthy vinyl manufacturing wait time, the LP version will be released on August 4, 2023.)
'Hunt The Flame' Track List:
1. Hunt The Flame ft. Alexander Strandell
2. You Can't Hurt Me Anymore ft. Jakob Samuel
3. Thunder Calls ft. James Durbin
4. Break Of Dawn ft. Kristian Fyhr
5. Far From Home ft. James Robledo
6. Night Bird ft. Michael Eriksen
7. Holy Ground ft. Girish Pradhan
8. Following The Damned ft. Raphael Mendes
9. The Lucid Dreamer ft. Terje Haroy
10. Demons Of Our Time ft. Jake E
11. Summoning The Stars ft. Antti Railio
Line-Up:

Magnus Karlsson – Guitars, Bass, Keyboards, Backing Vocals

Anders Köllerfors – Drums

Kristian Fyhr – Backing Vocals on "Hunt The Flame" and "Demons Of Our Time"