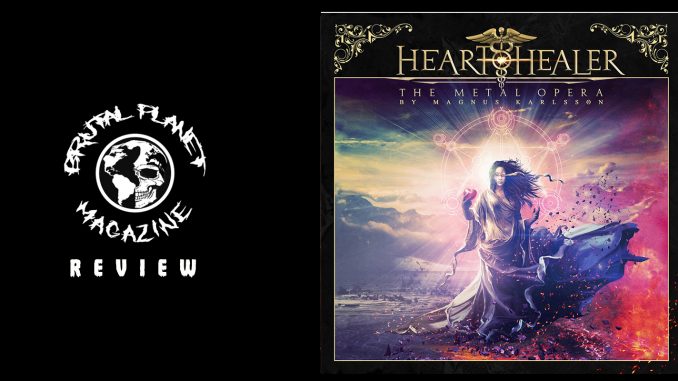 Magus Karlsson, a name associated with acts such as Primal Fear and Allen / Lande, has released his latest effort, and this most ambitious undertaking to date is simply titled, Heart Healer.
The project's debut releases Friday, March 21, 2021, through Frontier Records SLR, and to put it simply; it's a metal opera.
Heart Healer features seven highly respected female vocalists who play different characters throughout the course of the album. The seven vocalists involved are a fine mixture of up and coming and established talent, including Adrienne Cowan (Seven Spires, Sascha Paeth's Masters Of Ceremony, Avantasia), Netta Laurenne (Smackbound, Laurenne/Louhimo), Youmna Jreissati (Ostura), Ailyn (Her Chariot Awaits, ex-Sirenia), Noora Louhimo (Battle Beast), Margarita Monet (Edge of Paradise), and Anette Olzon (The Dark Element, ex-Nightwish).
Not only did Karlsson personally select the vocalists for Heart Healer, but he also enlisted world-class orchestra musicians.
The basis of Heart Healer is a character played by Cowan that has awoken with memory loss of anything, including her identity. As the opera unfolds, Cowan discovers that she's able to heal people by touch, but with each healing, she grows weaker.
As the ten-track story progresses to learn who she is, Cowan meets the other characters (vocalists) that want to help her. Unfortunately, there are those that want to scare or harm her as well.
The opening track titled "Awaken" features Cowan, setting the tone for the story that's to be told.
When Cowan awakes, she questions who she is, where she is from and realizes she is alone. She does sense that someone is near and is reaching out for help. Cowan wonders, though, if she was dreaming.
Track two, "Coming out of the Shadows," sees Laurenne, Jreissati, and Monet encountering Cowan as she begins to emerge but not to fear. All three voices soar with incredible power, along with the orchestrations. The track does see Karlsson delivering a blistering lead as the song climaxes.
Cowan returns with "Who stand All Alone," telling Olzen to go away. Olzen counters that she can lead Cowan and offers her hand to assist. Cowan declines, giving a warning to Olzen to stay away. The longer she stays, the weaker and darker she will get.
Track four, "Back to Life," sees Ailyn making her first appearance joining Margarita and Adrienne. Lyrically, Ailyn seeks to end Cowan's suffering and to bring her back to life.
The orchestration passages flow and sway, providing the listeners with their visuals to see what's occurring in the story.
By the time track five, "Into the Unknown," comes to an end with Louhimo, all seven voices have been heard.
By the midpoint of the Heart Healer, it's evident that Karlsson put forth massive amounts of time and effort. It's only fitting for the listener to continue their journey at this point to see how everything ends.
Karlsson has covered all the bases for Heart Healer. The symphonic elements to metal band basics, he thought of it all. Karlsson's work ethic is clearly on display with the final product. Each track holds its own, allowing all symphonic and metallic elements to shine.
There's plenty of words such as glorious, epic, dramatic, and beautiful to describe the Heart Healer adequately. It will be the listening public that determines the magnitude of the Heart Healer when "This is not the End" drifts away. The song title itself leaves one wondering then what is the end.
Be sure to pick Heart Healer up on Friday, March 21, 2021, through Frontier Records SLR.