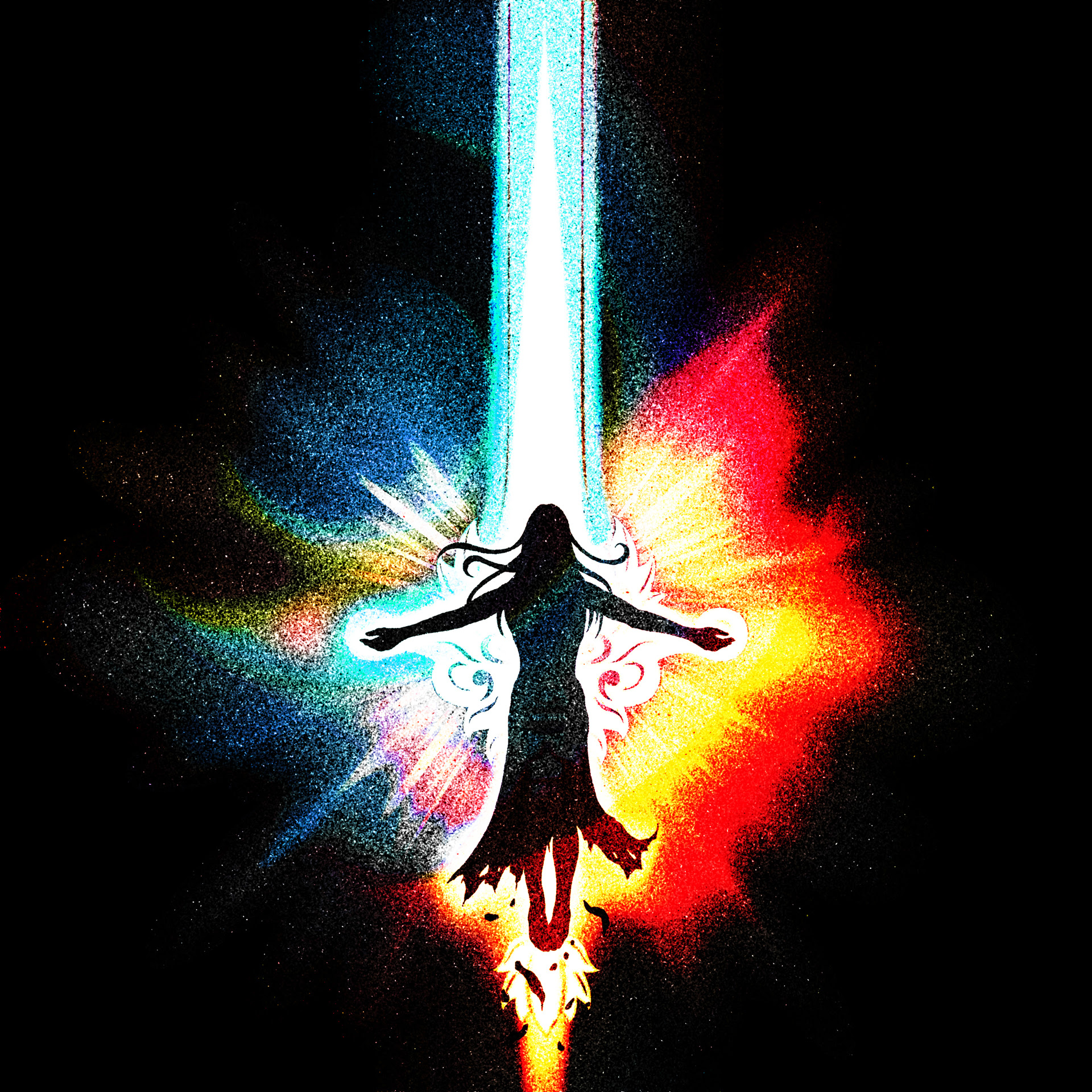 11-TRACK ALBUM MARKS FINAL CHAPTER OF VOLUME 2 OF EVER-EXPANDING GRAPHIC NOVEL

HEAR "DEPTHS OF POWER" NOW

NORTH AMERICAN PERFORMANCES SLATED FOR SPRING 2020
Jan. 8, 2020, Shores of Oblivion – Magic Sword, a trio of Immortals who lead the charge against evil in the ongoing Magic Sword multiverse (graphic novel, soundtracks and live performances), release Endless, the soundtrack companion to the Magic Sword, Chapter 3, Volume 2 graphic novel, via Joyful Noise Recordings on March 27.

Hear the 11-song album's lead track, "Depths of Power" here: https://youtu.be/rBmO2OD1HA0. Pre-orders, which include "Empress Blue" vinyl and a copy of the accompanying comic book, can be found here: http://joyfulnoi.se/Endless.

"Many are chosen, but only one has the ability to wield the power of the Magic Sword," says The Keeper of the Magic Sword, one of the trio of Immortals who serve as both the live outfit as well as the champions of good in the ongoing comic book series. "As one search ends another begins. For this well of power has no bounds. It is infinite. Endless."

Magic Sword is The Keeper of the Magic Sword (keyboards), The Seer of All Truths (guitar) and The Weaver of all Hearts and Souls (drums). The Chicago Reader described the unique comic book-meets-live performance as an entity that "take as much inspiration from John Carpenter as from Daft Punk to create a funky, metallic, ominous soundtrack to their own comics-inspired canon. On stage, the trio adorn themselves in cloaks and colorful LED masks with flickering strobes, vibrant stage lights, and light-up novelty swords setting the mood around them." Magic Sword's previous releases include one full-length album, Magic Sword Vol. 1 (and the accompanying comic of the same name), and two EPS: Legend (accompanying comic: Magic Sword Volume 2, Chapter 1) and Awakening (Magic Sword Volume 2, Chapter 2). Live performances feature the three performers in cloaks with the audience actively often wielding illuminated swords.

Tour dates:

March 27 Boise, ID Treefort Festival

March 29 Phoenix, AZ Crescent Ballroom

March 31 Austin, TX Barracuda

April 1 Dallas, TX Gas Monkey Bar & Grill

April 3 Atlanta, GA Masquerade

April 4 Orlando, FL Soundbar

April 5 Durham, NC Motorco

April 7 Baltimore, MD Baltimore Soundstage

April 8 Brooklyn, NY Music Hall of Williamsburg

April 10 Philadelphia, PA Underground Arts

April 11 Boston, MA The Sinclair

April 13 Quebec City, QC L'Anti Bar & Spectacles

April 14 Montreal, QC Fairmount Theatre

April 15 Toronto, ON Mod Club

April 16 Ferndale, MI The Loving Touch

April 17 Chicago, IL Bottom Lounge

April 18 Minneapolis, MN Turf Club

April 19 Lawrence, KS The Granada Theater

April 20 Denver, CO Bluebird Theater

April 22 Salt Lake City, UT Urban Lounge

April 24 San Francisco, CA Great American Music Hall

April 25 Los Angeles, CA Teragram Ballroom

May 1 Portland, OR Wonder Ballroom

May 2 Seattle, WA El Corazon

All of the dates, with the exception of the Treefort Festival, are co-headlining performances with Dance with the Dead. Tickets are on-sale this Friday, Jan. 10 at 10 am local time.
Photo credit: Zach Anderson