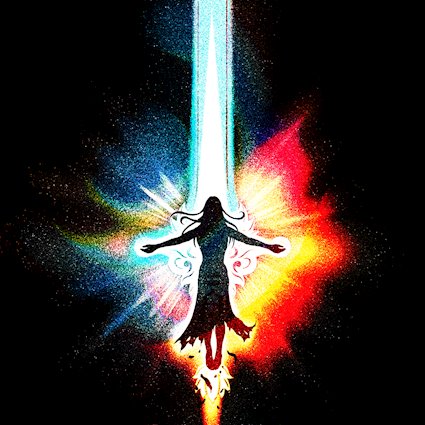 Magic Sword, mysteriously hailing from Boise has returned with a new studio effort titled Endless through Joyful Noise Recordings.
The release, Volume 2, Chapter 3 Endless, continues the tale and battle of good and evil. This tale continues through an ever-expanding graphic novel. With Endless and prior releases, these releases or soundtracks as the band refers to them accompany each novel. Simply, each release is a soundtrack to each novel.
The battle the Immortals face stretches back to a time where there was equilibrium between light and darkness. There was a perfect balance. Unfortunately, as time passed, the equilibrium shifted and little by little, darkness slowly began to consume all in its path.
In those final moments where light was to be darkened forever, a savior was formed. This savior was a weapon wielding never ending power was created. That tool of battle was the Magic Sword and with its power, universal balance was restored.
The search for the Chosen One by the Keeper of the Magic Sword (red, keyboards) would continue. The other Immortals, The Seer of All Things (blue, guitar) and The Weaver of Hearts and Souls (yellow, drums) would assist.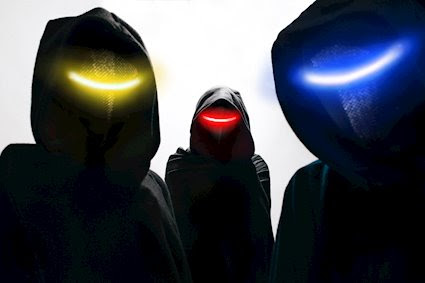 Others can learn a more about the Immortals All inquiries will have to go through The Harbinger of Immortals. He has brought the tale of the Magic Sword to humanity and has been witness to their glory. The knowledge possessed by The Harbinger stretches over millennia as chronicled in the tale.
As for The Shadow, Death and Decay continue to follow his release from an ancient prison.
What's unique about Endless is that the music is wordless. The auditory senses will only experience drums, synths, guitars and hints of natural elements. The band does an amazing job with the constructs of each of the eleven tracks. Endless plays as a soundtrack.
There's continuity from track to track. Ideally, it would be best to have the graphic novel in hand. This will aid in the listening experience and to gain more a better understanding of the tale.
Track one, Depth of Power, leads the senses into a power that's for the good and betterment of humanity. It all flows from there, soothing the senses.
It really doesn't matter what track is spinning, calmness drapes over the listener, initiating a state of relaxation.
Endless should be a whole experience in a peaceful environment. Listening to the album equates to an outer body musical experience.
Vinyl, CD and cassette are the available formats for Endless. The upside, all come with the accompanying graphic novel that enhances the experience.
In a world of grunts, growls, speed metallers and stoners, Magic Sword is a refreshing gust of wordless, musical creations.
Live footage from Treefort 2016
Endless by Magic Sword will be available on March 27, 2020 via Joyful Noise Recordings.