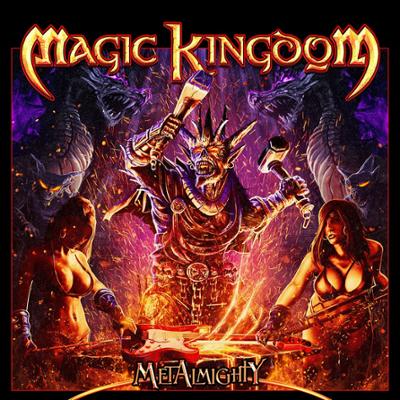 After years of gathering an incredible international fan base, Belgian power metal band, Magic Kingdom will be releasing their fifth release, MetAlmighty on November 22 with AFM Records. For those unfamiliar with this band, do not be mistaken by their name. Magic Kingdom may sound like a virtuous place filled with princesses and unicorns, but this quartet brings a brutal force of deep magic that cannot be replicated.

The opening track, "Unleash the Dragon" does exactly what its name suggests. The song starts out with a lengthy intro that seems to call the beast that is about to follow. Around the three minute mark, the guitars shift to a menacing riff that allows the band's new lead vocalist, Michael Vescera (Obsession, ex-Loudness, ex-Yngwie Malmsteen) to show off his powerful tenor voice. After several riff changes leading to the 7:30 minute mark, it seems as if the band may have slowed down, but they pick up speed again and continue to show they are masters of power metal.

The first single to be released from MetAlmighty was "Wizards and Witches." Thundering drums of Michael Brush and driving bass of Vassili Moltchanov feel like a battering ram throughout the entire song. Continuing in the same vein of brutality, the band's second single to be released was "Fear My Fury." The lyric video was released in October.

The mastermind behind all this fury is lead guitarist Dushan Petrossi. Although his other band, Iron Mask, has catchy riffs and great solos, it does not display the speed and rigor he showcases in Magic Kingdom. Dushan's guitar solos throughout "MetAlmighty" will impress the harshest critics. His playing on "Rise From the Ashes, Demon" and "Temple of No Gods" feel like a whirlwind of savagery and precision, and the intro to "Dark Night Dark Thoughts" is like a barrage of notes flying up and down the fret board. Petrossi is truly one of the greats.

Any fans of power metal will enjoy the diversity found on this album. "In the Den of the Mountain Trolls" has a sing-song feel- both musically and vocally, "Just A Good Man" slows down and has the aura of a sludgy ballad, and the title track, "MetAlmighty" delivers punch after punch of heavy riffs and unimaginable solos.

It's as if Petrossi and company have conjured up deep magic to bring their fans the perfect power metal album with MetAlmighty. Every track is solid and enchanting. This is an album you do not want to miss.