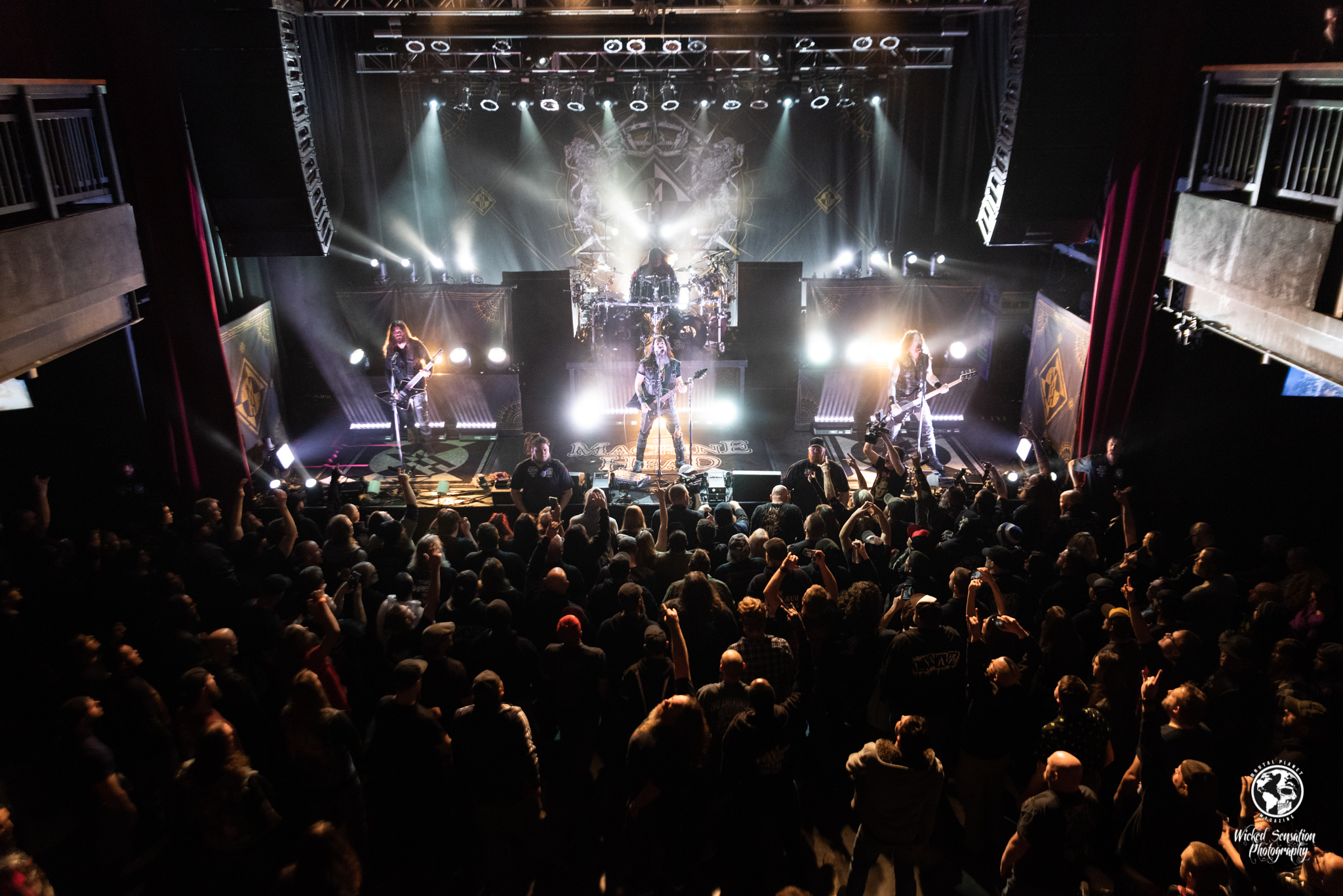 Five years.  Three hours. 25 years.  The last time Machine Head came through Salt Lake City, how long of a show they played and celebrating the anniversary of their first release, Burn My Eyes.  The juggernaut of Machine Head lead by founder, singer and guitar player Robb Flynn brought a badass show that started with the newest bandmates Waclaw Kietltyka aka Vogg (Guitar) and Matt Alston for the first half.  Then proceeded by the Burn My Eyes 25th-anniversary playthrough with longtime bass player Jared MacEachern and also original members Logan Mader (Guitar) and Chris Kontos (Drums). 

This was my third or fourth time seeing the band but has been around 20 years since I've last seen them live.  I had high expectations as a lifelong member from the first album. Robb and Jared only took a 10-minute break between sets.  These guys are beasts. You would have never known they just played a draining hour and a half set to go on for another hour and a half.

The first set of the show they played through such killer songs as "Imperium, Now We Dies, Locust, Catharsis" and many more.  I have seen singers from many bands get a crowd wound up into circle pits and walls of death. I have never experienced anything like how Robb was able to go from calmness to straight out chaos with the music and the crowd.  He commanded them like none other. It's always great to see musicians playing crushing music, but at times you can see them smile from the pure fun they are having on stage.

The first set was complete, the band laid waste to everyone in attendance. It was awesome seeing so many smiling faces after that first set. No fights, no shenanigans to report. A true metal community was there that night. If someone fell in the pit, others jumped right in to pick that person up.

The first album has a special place in my metal history. For me, it was one of the breakout metal albums and Machine Head being one of the breakout metal bands. No one or nothing sounded like them. That's why when Logan and Chris joined Robb and Jared onstage, the lights dimmed and Chris nailed the legendary intro to Davidian that I got goosebumps and the crowd erupted.

I headbang at times while I am in the photo pit.  I damn near broke my neck and had all of security, those pressed against the front (whom I see at every metal show), Logan, Jared and Robb looking down at me just for a moment.  We were feeding off each other's energy. Though I had seen the band so many years ago, seeing BME's played in its entirety was a next-level experience. One I'm glad I was part of.  

The band played as if it was 25 years ago through classics such as Davididan, Old and Death Church.  Needless to say, you should not miss this show! There are other anniversary shows touring around and I've been happy with each of them.  Machine Head killed it on another level! Get out, support the guys, buy merch and albums. Just get out and see them.
Setlist 1:: Imperium, Take My Scars, Now We Die, Beautiful, Locust, I Am Hell, Aesthetics Of Hate, guitar solo, Darkness Within, Catharsis, From This Day, Ten Ton Hammer, Is There Anybody? Hallowed Be Thy Name, Halo"

Setlist 2: "Davidian, Old, A Thousand Lies, None But My Own, Drum Solo, The Rage to Overcome, Death Church, A Nation of Fire, Blood for Blood, I'm Your God Now, Block"