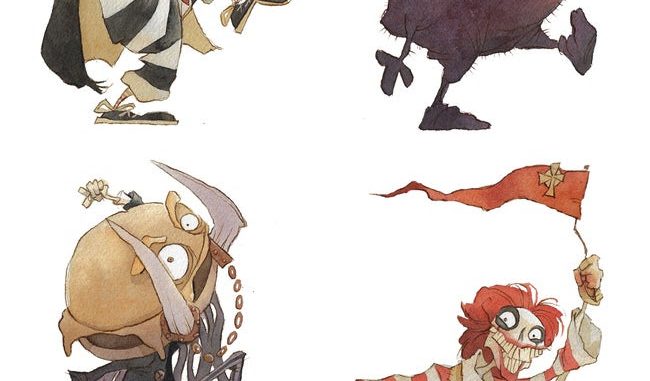 Drive Thru Metal, Featuring illustrations by Gris Grimly,
Available
in Limited Quantities
MAC SABBATH has revealed details on their first book, Drive Thru Metal, but don't expect a stereotypical biography from the fast food-themed parody kings. There's plenty of "juice" inside, albeit in the form of burgers cooking in the kitchen as the four members of MAC SABBATH take fans on a journey through a dystopian fast-food world polluted by its own waste in an innovative hybrid pop-up book.
Mysterious MAC SABBATH frontman Ronald Osbourne comments on the book, "What's that? A pop-up book is not what you were expecting? Well SUFFER! ….and you're welcome."
Watch an amazing teaser video for the book
here
.
Both editions of Drive Thru Metal include pop-up scenes highlighting "The Factory," "The Ascension" and "Utopia" and include a special vinyl surprise with seven MAC SABBATH stories, including "Organic Funeral," Sweet Beef" and "N.I.B.B.L.E." The Special Edition is a super limited version complete with a foil stamped cover, a Gris Grimly art print and ketchup and mustard splattered vinyl surprise.
MAC SABBATH online:
Tumblr: macsabbath
TikTok: @macsabbath