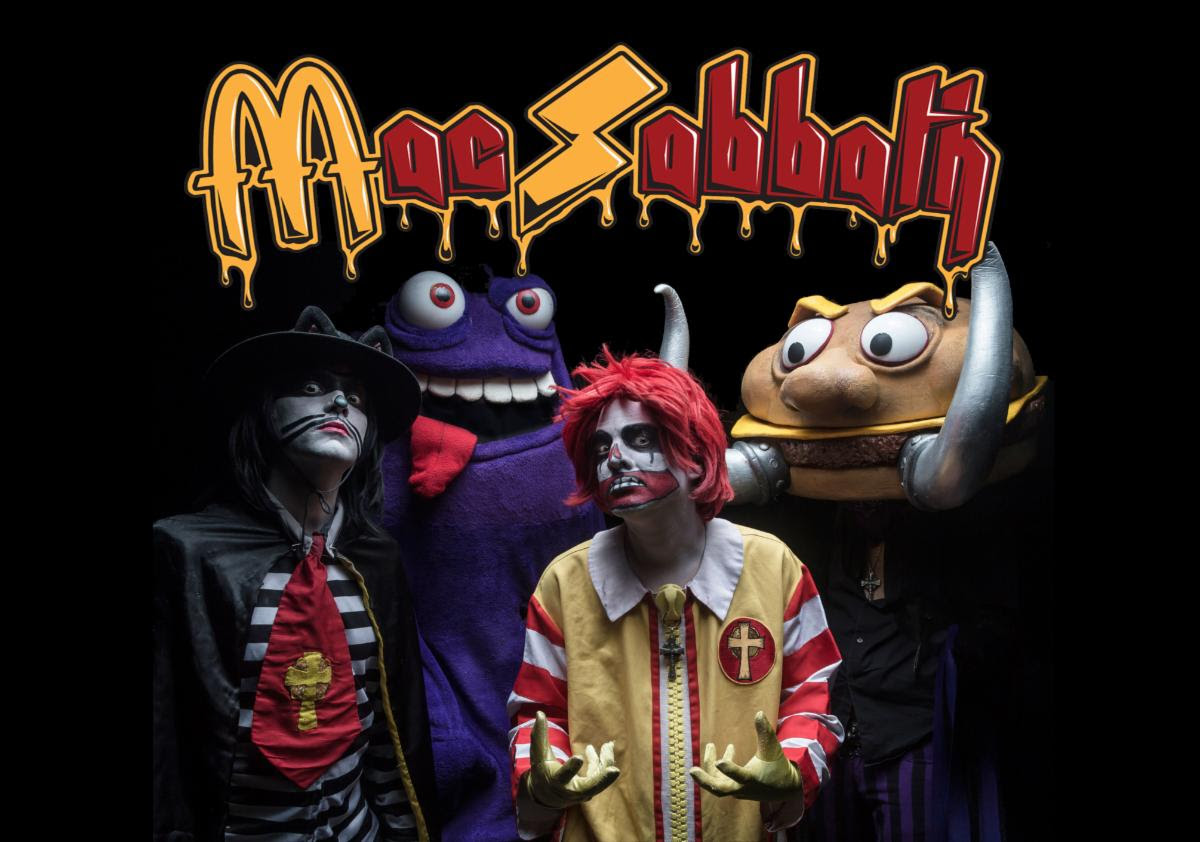 MAC SABBATH will trade burgers for fish filets next year, when the fast food-themed Black Sabbath parody kingsembark on the oceanic journey of a life time on the Monsters of Rock Cruise.
Mysterious MAC SABBATH frontman Ronald Osbourne says, "MAC SABBATH hits the high seas all the way to Belize with tons of rock legends of the '80s! Prepare yourself for six days of 'sail thru metal' and fish filets!"
The Monsters of Rock Cruise will feature Tesla, Extreme, Krokus, Winger, Enuff Z Nuff, Lizzy Borden, Faster Pussycat and many more!
Before switching over to the pescatarian menu, the founders of "Drive Thru Metal" will serve up plenty of artery-clogging fun at two California shows in November.
"It's time for California's yearly dose of MAC MAYHEM!" Osbourne adds. "Gobble up all the new tasty surprises this November!"
Mixing raucous comedy with borderline-horrific theatrics, the only thing more petrifying than impending health problems resulting from years of overeating is a MAC SABBATH show. Show attendees should be prepared to partake in the fun – MAC SABBATH puts on a theatrical, multimedia stage show – complete with a smoking grill, laser-eyed clowns, bouncing burgers and many more magical surprises… basically anything and everything an unwary show-goer could ever want in their wildest dreams. The band has been named by Buzzfeed as one of the "13 Metal Bands You Didn't Know How to React To", and as LA's "Best Tribute Band" by LA Weekly.
MAC SABBATH Tour Dates:
11/22 – Santa Ana, CA @ The Orange County Observatory w/45 grave and Tartar Control
11/30 – San Francisco, CA @ Slim's w/The Phenomenauts
2/8-2/13 – Departing from Ft. Lauderdale, FL @ The Monsters of Rock Cruise
MAC SABBATH online:
Twitter: @macsabbath
Tumblr: macsabbath
IG: @officialmacsabbath