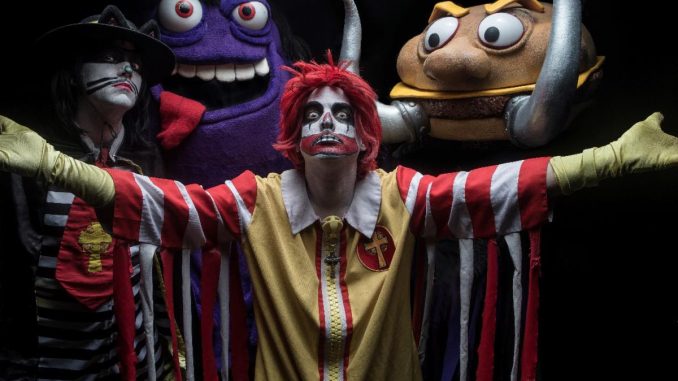 Tickets On Sale Friday, August 4th
http://www.officialmacsabbath.com/
"Are you ready for an army of playboys, manbabies and a regime of giant robots that would make Optimums Primerib shake in his vacuum boots?!? Prepare to be unprepared for all the surprises in store! THE MIGHTY MAC IS BACK with our biggest circus ever! This tour is MORE THAN MEATS THE EYE!" – Ronald Osbourne
"This tour has everything! It's a fever dream of childhood nostalgia run amok, doled out in stupor sized portions, served at questionable drive thrus. For those who enjoy Mac Sabbath's banquet of rock, you now get a side order of robot rock. It's like a free toy with every meal!" – The Cybertronic Spree
"It's the return of the Mac! We are Back Sabbath with Mac Sabbath! Couldn't be happier to be on the road again with the titans of drive through metal for a stupor sized tour with extra cheese. You shall dance, you shall jive, having the time of your life. Woah." – Playboy Manbaby
More Than Meats The Eye U.S. Tour 2023
9/27/2023 – Felton, CA – FELTON MUSIC HALL
9/28/2023 – San Francisco, CA – Great American Music Hall
10/1/2023 – Portland, OR – Aladdin Theatre
10/2/2023 – Tacoma, WA – Spanish Ballroom at Elks Temple
10/5/2023 – Greeley, CO – Moxi Theatre
10/6/2023 – Denver, CO – Oriental Theatre
10/7/2023 – Albuquerque, NM – El Rey Theatre
10/10/2023 – OKC, OK – Beer City Music Hall
10/11/2023 – Wichita, KS TempleLive
10/13/2023 – Omaha, NE – The Waiting Room
10/14/2023 – Lawrence, KS – The Granada
10/15/2023 – Madison, WI – Majestic Theatre
10/16/2023 – Milwaukee, WI – Turner Hall Ballroom
10/18/2023 – Peoria, IL – Revival Music Hall
10/19/2023 – Indianapolis, IN – The Vogue Theatre
10/23/2023 – COHEED & CAMBRIA CRUISE (MAC ONLY)
10/28/2023 – Charlotte, NC – Mad Monster Party (NO PBMB)
10/30/2023 – Philadelphia, PA – Brooklyn Bowl
10/31/2023 – Worcester, MA – Palladium
11/2/2023 – Brooklyn, NY – Brooklyn Bowl
11/3/2023 – Buffalo, NY – Town Ballroom
11/4/2023 – Pittsburgh, PA – Jergels
11/5/2023 – Cleveland OH – Temple Live
11/7/2023 – Nashville, TN – Exit/In
11/9/2023 – New Orleans, LA – Zony Mash
11/11/2023 – Austin, TX – Come & Take It
11/12/2023 – San Antonio, TX – Paper Tiger
11/14/2023 – Dallas, TX – Granada Theatre
11/16/2023 – Mesa, AZ – The Nile Theater
11/19/2023 – Los Angeles, CA – The Vermont Hollywood
Can't wait until Fall? MAC SABBATH will be working up appetites at Cultivate Chicago on August 25th, appearing at The Nursery with Crumb, Andy Frasco & the UN, Lucky Boys Confusion, Murphy's Law, and more…

1800 West Lake Street

Chicago, IL

– Ages 21+ Doors 2 PM – Tickets $49.98 & up

https://www.tixr.com/groups/cultivate/events/cultivate-2023-71920

Also, September 1st and 2nd , MAC SABBATH's special two date, two city line up will share the stage with the biggest assemblage of ADOLESCENTS alumni (four out of five original members) since the blue album! Casey Royer on drums, Rikk Agnew on guitar, Alfie Agnew on guitar, Dan Colburn on bass and Frank Agnew Jr. on vocals bring you: rADOLESCENTS!!!!! With a special mini set from The Hajj and the amazing Bad Brains tribute band The Big Takeover,

THIS WILL SELL OUT!
***About MAC SABBATH:

MAC SABBATH is more than a Rock Band, MAC SABBATH is more than an arena size theatrical stage show packed into a club size stage. MAC SABBATH is more than a comedy, magic act, fast food bashing, off Broadway play set to the music of the masters or mystical Metal. Ronald Osborne and his band of Monsanto mutants Slayer MacCheeze, Grimalice and the Cat Burglar are an anti-industry tour deforce. Not only are they battling the food industry one Black Sabbath parody song at a time, but sticking it to the music industry as well by breaking all the rules. When corporations churn out pre packaged auto tune pop fluff… Mac travels back to the psychedelic land of eye and ear melting vinyl records wrapped in coloring books and even pop-up books! A tangible tangerine feast for the senses! MAC SABBATH puts on a multimedia stage show complete with a smoking grill, laser-eyed clowns, bouncing burgers and many more magical surprises! Open your ears, eyes and your mouth and taste the natural flavor sensations and organic licks of these prophetic pranksters that are MAC SABBATH.

MAC SABBATH online:

https://twitter.com/macsabbath

www.instagram.com/officialmacsabbath

Tumblr: macsabbath

TikTok: @macsabbath