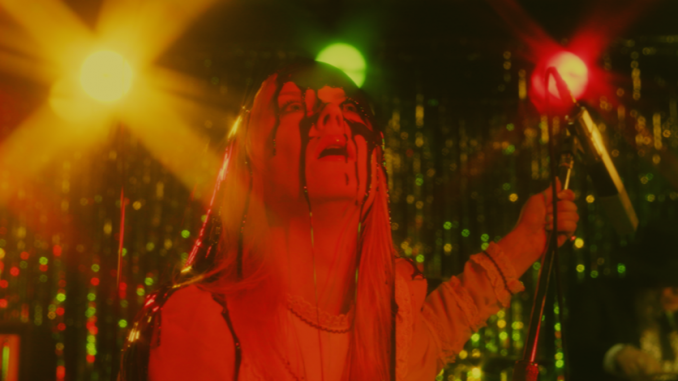 LUCIFER are evidently one of the hardest working bands in rock right now. After turning heads with the release of their iconic album cover artwork last week, the group now has the next ace up their sleeves.
Today we are thrilled to share their brand new single and video for "Bring Me His Head", the second single of their new studio album "LUCIFER IV", which will be released on October 29th this year!
You can now check it out on all major streaming platforms
HERE
.
For this video, singer Johanna had the idea to pay tribute to Brian De Palma's 1976 horror classic "Carrie".
She says: "'Carrie' is one of my favorite movies. Being an outsider myself my entire life, I've always identified with her. We are very excited that this time we got to work with director Amir Chamdin and photographer Crille Forsberg on our videos. Their body of work is quite breathtaking, if you look it up, so it was a real honor. The video to 'Bring Me His Head' is only one part of the story but we can't give anything more away at this point."
"LUCIFER IV" is available in the following formats:
·Ltd. black Gatefold 180g LP + CD (in deluxe hardcover gatefold sleeve)
This format is only available in the 1st pressing!
·Ltd. CD Digipak
·Digital Album
Pre-Order your format of choice
HERE
!
Tracklisting:
01. Archangel Of Death (03:35)
02. Wild Hearses (04:56)
03. Crucifix (I Burn For You) (03:51)
04. Bring Me His Head (04:25)
05. Mausoleum (04:51)
06. The Funeral Pyre (01:44)
07. Cold As A Tombstone (04:16)
08. Louise (03:56)
09. Nightmare (05:07)
10. Orion (04:47)
11. Phobos (04:20)
LUCIFER is:
Johanna Platow Andersson – Vocals
Nicke Platow Andersson – Drums
Linus Björklund – Guitar
Martin Nordin – Guitar
Harald Göthblad – Bass