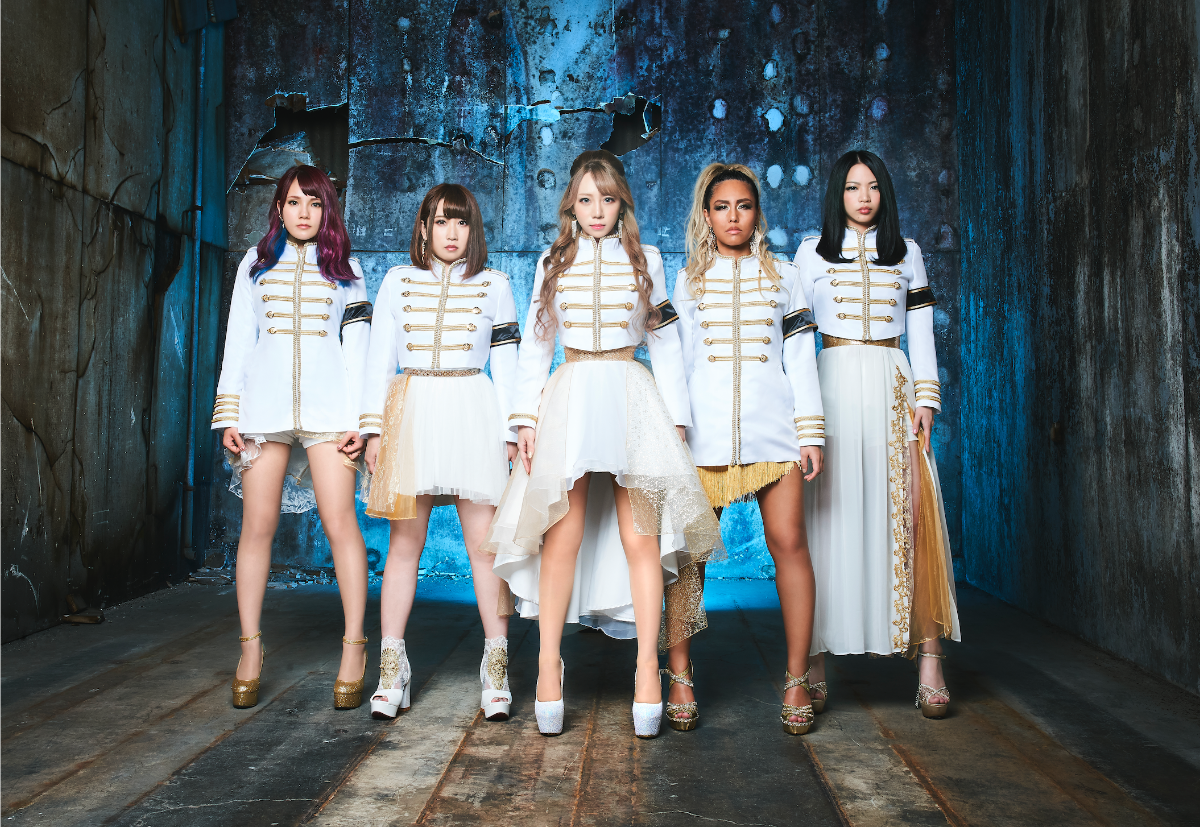 NEW ALBUM ELECTRIC PENTAGRAM OUT APRIL 24
LOVEBITES — five Japanese women who have shocked power metal to life and were christened "Best New Band" at the Metal Hammer Golden Gods Awards — have shared the brand new song "Holy War" at Metal Insider. Listen here.
"This is the first song in the history of Lovebites that all of us wrote the lyrics together," the band says. "In being involved as lyricists, we chose the track composed by Mao, a composer outside of the band but who has worked with us on all our albums so far. The lyrics are very straightforward with a message — 'We fight the darkness and evil for Heavy Metal.' It is a symphonic power metal song with emphasis on the strings."
The song lives on the group's new album Electric Pentagram, out April 24 via Red River Entertainment/BFD, in partnership with JVCKENWOOD Victor Entertainment Group and distributed by The Orchard in North America. The album is available for pre-order here.
The band previously shared the new song "Signs of Deliverance" at Consequence of Sound's Heavy Consequence. Listen here.
Watch the video for "When Destinies Align" here.
"We are very excited that our new album Electric Pentagram will be released in the U.S. and Canada," Lovebites said upon announcing the record. "This new album has made our bonds as a band stronger than ever. Lovebites is an electric pentagram. A pentagram is a five-pointed star consisting of five lines. It's been an emblem that's adorned amulets and talismans since ancient times as a symbol of protection. That's why we felt Electric Pentagram is the perfect title for this album. We are five points brought together to protect heavy metal. We hope you will enjoy the album!"
Inspired by western metal masters, LOVEBITES boast powerful twin guitars, soprano vocals, and a tight rhythm section. After debuting in 2017, they entered the world stage and began performing overseas. In 2018, Lovebites won the "Best New Band" award at Metal Hammer's Golden Gods Awards. They have performed at some of the biggest metal festivals, including Wacken Open Air (Germany), Graspop Metal Meeting (Belgium), and Download Festival (UK, Spain). In fall of 2019, they performed as a special guest for DragonForce's UK tour.
ELECTRIC PENTAGRAM TRACK LISTING:
"Thunder Vengeance"
"Holy War"
"Golden Destination"
"Raise Some Hell"
"Today Is The Day"
"When Destinies Align"
"A Frozen Serenade"
"Dancing With The Devil"
"Signs Of Deliverance"
"Set The World On Fire"
"The Unbroken"
"Swan Song"