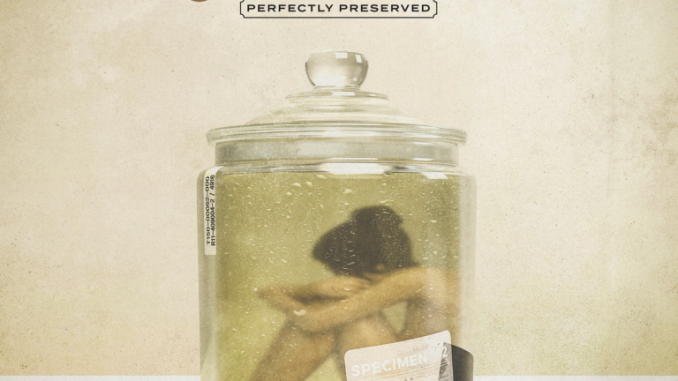 If you ask around, not many people would tell you that they saw 2020 as a great year. We dealt with COVID-19, lockdowns, and made adjustments in nearly every aspect of life. Frankly, it has been easy to wallow under the dark cloud of pessimism. Although we haven't seen drastic changes in 2021, we are getting a glimpse of a silver lining on that cloud- many of our favorite musicians have taken their time in lockdown to complete projects that had been put off from the busyness of touring. Love and Death have been no exception.
The band officially formed in 2009, when Brian 'Head' Welch recruited musicians to help re-brand his solo project. The quartet released a solid debut titled, "Between Here and Lost" in 2013, and other than one single in 2016, the lack of publicity left fans wondering if this band ould ever resurface again. Now, eight years later, we are gifted with an incredible sophomore album. "Perfectly Preserved" is set to release February 12, 2021, through Earache Records. As with the first album, "Perfectly Preserved" was produced by Jasen Rauch, (who also joined Love and Death's current lineup as bassist.)
Love and Death have probably become what many would call a "supergroup" as the current members are: Brian 'Head' Welch (Korn) on vocals & guitar, Jasen Rauch (Breaking Benjamin, ex-Red) on bass, Isaiah Perez (Phinehas, ex-Righteous Vendetta) on drums, and original member JR Bareis as guitarist and backing vocals. Excluding the band's 2016 single, "Lo Lamento," the first music fans had a chance to hear from the new album was "Down." The official music video made its first appearance to the world via YouTube on December 3 and has nearly half a million views along with extremely positive reviews.

"White Flag," was released on January 8th and features Righteous Vendetta vocalist Ryan Hayes. This song is an absolute banger that is sure to please fans who enjoy the heavier side of the genre. Both musically and lyrically, this album attempts to minister to people who are dealing with the great struggles within our culture. In a recent interview, Head remarks, "Everybody knows my foundation, I feel like what our world needs most in this very unique moment in time are real stories about overcoming struggle. These are honest songs co-written by our group of friends targeting depression/mental health, challenging relationships, trauma, loneliness, and related issues."
Love and Death have surrounded themselves with incredible musicians for this album- both in the writing process and as guests on the recording. Keith Wallen (Breaking Benjamin, Keith Wallen) co-wrote several of the songs for the album and jumps in the spotlight as the vocalist on the band's latest single, "The Hunter." The band also recruited Lacey Sturm (ex-Flyleaf, Lacey Sturm) to create a unique cover of DJ Snake and Justin Bieber's 2016 hit song, "Let Me Love You."
Even if you are unfamiliar with the band's previous work, yet are a Korn or Breaking Benjamin fan, you will appreciate Love and Death. Head has continued to mature both as a musician and a frontman and has proved he is not afraid to take risks and continue to bare his soul to the world. "Perfectly Preserved" combines faith and aggression in a way that will be relatable to every listener and give them some hope.