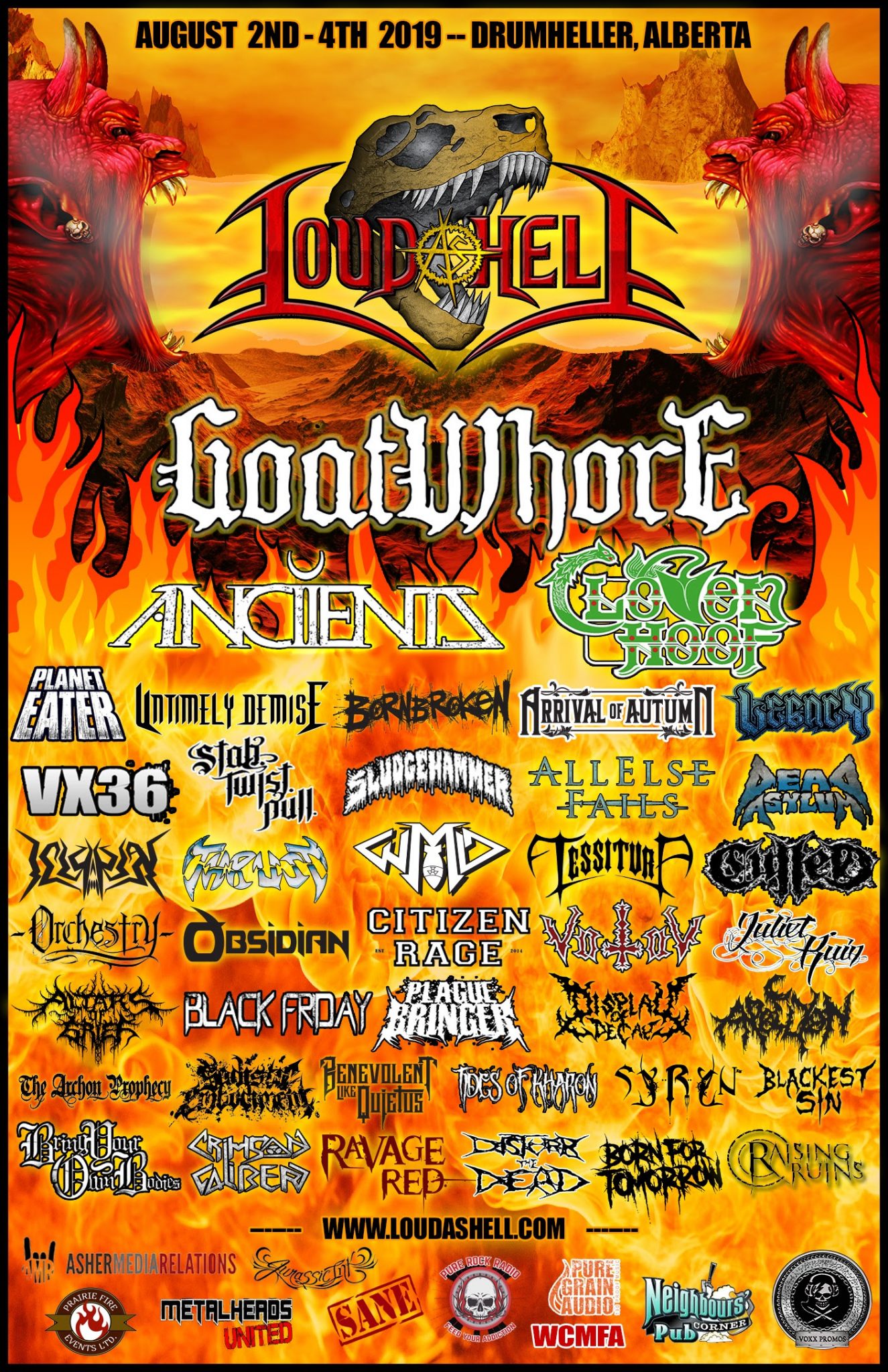 Western Canada's Decibel Breaking Metal Fest

Aug 2-4, 2019 – Drumheller, AB @ Dinosaur Downs Stampede Grounds
Social Media Hashtag #LAH8
Loud As Hell 2019 Line-Up Spotify Playlist here. 

Loud As Hell, the incomparable Badlands metal fest has just released their lineup for the 2019 rendition and it's an absolute banger! The headliner for this year is New Orleans' GOATWHORE who will be melting faces with blackened death metal while the sun melts everything else. The 3-day fest will feature 40 bands in total over the course of the weekend in Alberta's scenic Drumheller badlands at the Dinosaur Downs Speedway on August 2 – 4, 2019.
In its 8th year, Loud As Hell has seen acts from all over the world come to the sleepy town of Drumheller, which is also the dinosaur capital of the world. Over the three days, old friends and new enjoy camping, free pancake breakfasts and a slew of bands from across various subgenres. This year, talent comes from around Canada as well as USA (Goatwhore, Thrust, VX36), England (Cloven Hoof), Mexico (Legacy).
"The Loud As Hell Festival in Drumheller, Alberta, Canada is one of the top underground metal festivals in the country… it's a metal family reunion!"
The all-ages festival is a standard among Western Canadian metal fans, and every year the momentum keeps growing with the event consistently selling out! This year's line-up includes:
All Else Fails (AB)
Altars of Grief (SK)
Anciients (BC)
Apollyon (BC)
The Archon Prophecy (AB)
Arrival of Autumn (AB)
Benevolent Like Quietus (AB)
Blackest Sin (AB)
Black Friday (AB)
BornBroken (QC)
Born For Tomorrow (AB)
Bring Your Own Bodies (AB)
Citizen Rage (AB)
Cloven Hoof (England)
Crimson Caliber (AB)
Culled (AB)
Dead Asylum (BC)
Display of Decay (AB)
Disturb the Dead (AB)
Goatwhore (USA)
Illyrian (BC)
Juliet Ruin (AB)
Legacy (Mexico)
Obsidian (BC)
Orchestry (BC)
Plague Bringer (AB)
Planet Eater (SK)
Raising the Ruins (AB)
Ravage Red (AB)
Sadistic Embodiment (AB)
Sludgehammer (ON)
Stab.Twist.Pull (AB)
Syryn (AB)
Tessitura (AB)
Thrust (USA)
Tides of Kharon (AB)
Untimely Demise (SK)
Votov (MB)
VX36 (USA)
W.M.D. (AB)
Tickets for Loud As Hell 2019 are $100 CAD and includes camping. They are available through https://www.loudashell.com/tickets.

For more info:
Official Website: http://www.loudashell.com
Facebook: https://www.facebook.com/LoudAsHellFestival
Official Facebook Event Page: https://www.facebook.com/events/2339468879667306/
Twitter: @LoudAsHellFest
Instagram: @LoudAsHellFestival
Social Media Hashtag #LAH8
Live Videos from LAH 2017:
Battlecross – Live Video @ Loud As Hell 2017 – http://www.youtube.com/watch?v=KKlNiy8KYgE
Planet Eater – Live Video @ Loud As Hell 2017 – http://www.youtube.com/watch?v=LNhAScv4Sz8
More live videos @ SlimBzTV Youtube Channel http://www.youtube.com/SlimBzTV
WCMFA:
Armstrong MetalFest
Calgary Metalfest
Days of The Dead
Loud As Hell
Metalocalypstick
Metallion
ShrEdmonton

Sponsors / Partners:
Asher Media Relations
Jurassic Ink
Hazzardous Material
Metal Heads United
Neighbours Corner Pub
PureGrainAudio
PureRockRadio
Prairie Fire Events
SANE Clothing
Voxx Promos
—
ASHER MEDIA RELATIONS
Jon Asher – Music Publicist
#.514.581.5780 | asher@ashermediarelations.com
Facebook | Tweet @AsherMedia | Instagram @AsherMedia