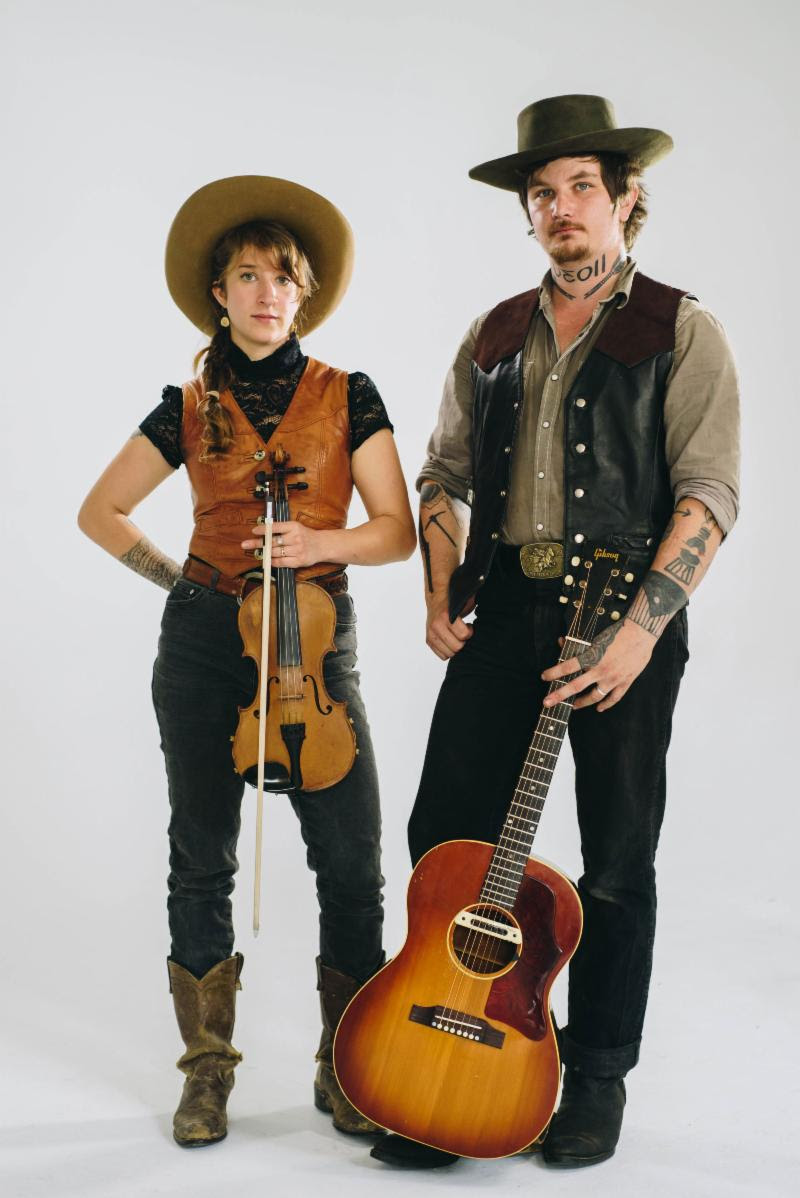 LOST DOG STREET BAND Announces Second Leg Of US Tour; Acclaimed Weight Of A Trigger LP Out Now Through Anti-Corporate Music
Muhlenberg County, Kentucky-based dark country outfit LOST DOG STREET BAND, while currently out on their US tour in support of their acclaimed Weight Of A Trigger LP, announces another upcoming leg of the tour, extending into late-summer.
The powerful fifth LP from LOST DOG STREET BAND, Weight Of A Trigger hit #5 on the Billboard Bluegrass charts, following its release through Anti-Corporate Music at the end of March. The album remained on the charts for over a month, an accomplishment achieved through the band's hard work, their diehard fanbase, and the DIY works of the small label's team.
LOST DOG STREET BAND's tour in support of the album is currently in the final week, as the Weight Of A Trigger tour with Matt Heckler continues through this Monday, May 13th, ending in Tulsa, Oklahoma. A two-month break will now separate the ongoing first leg of the tour and the newly-announced second leg of the trek, confirmed to begin July 13th. Beginning at the Byrds Creek Music Festival in East Crossville, Tennessee, the band will tour for nearly a month-an-a-half, with the final performance taking place at the Whispering Beard Music Festival in Cincinnati on August 24th. LOST DOG STREET BAND will also play at the Bristol Rhythm & Roots Reunion in Bristol, Virginia on September 22nd, with more shows to be announced into the fall months.
Stream LOST DOG STREET BAND's Weight Of A Trigger
HERE
and see the official "War Inside Of Me" video
HERE
.
Weight Of A Trigger
is out now through Anti-Corporate Music on CD, LP, and digital platforms. Place physical orders
HERE
and digital orders at Bandcamp
HERE
and all digital providers.
LOST DOG STREET BAND Tour Dates:
5/10/2019 Antone's Nightclub – Austin, TX w/ Matt Heckler
5/11/2019 Mama Tried Deep Ellum – Dallas, TX w/ Matt Heckler
5/12/2019 White Oak Music Hall – Houston, TX w/ Matt Heckler
5/13/2019 Mercury Lounge – Tulsa, OK w/ Matt Heckler
7/13/2019 Byrds Creek Music Festival – East Crossville, TN
7/20/2019 Master Musicians Festival – Somerset, KY
7/22/2019 Off Broadway – St. Louis, MO
7/23/2019 Rose Music Hall – Columbia, MO
7/24/2019 Slowdown – Omaha, NE
7/26/2019 Cervantes' Masterpiece Ballroom & Cervantes' Other Side – Denver, CO
7/27/2019 Hay Camp Brewing Company – Rapid City, SD
7/30/2019 Cannery District – Bozeman, MT w/ Charlie Parr
8/01/2019 The Bartlett – Spokane, WA
8/02/2019 Tractor Tavern – Seattle, WA
8/03/2019 Mississippi Studios and Bar – Portland, OR
8/06/2019 Mystic Theatre – Petaluma, CA
8/07/2019 Cornerstone – Berkeley, CA
8/08/2019 The Catalyst – Santa Cruz, CA
8/09/2019 Troubadour – West Hollywood, CA
8/10/2019 The Casbah – San Diego, CA
8/11/2019 Last Exit Live – Phoenix, AZ
8/13/2019 Tower Theatre – Oklahoma City, OK
8/14/2019 The Bottleneck – Lawrence, KS
8/16/2019 High Noon Saloon – Madison, WI
8/17/2019 7th St. Entry – Minneapolis, MN
8/18/2019 Martyrs' – Chicago, IL
8/22/2019 El Club – Detroit, MI
8/23/2019 The Auricle Bar & Venue – Canton, OH
8/24/2019 Whispering Beard Music Festival – Cincinnati, OH
9/22/2019 Bristol Rhythm & Roots Reunion – Bristol, VA [
tickets
]
LOST DOG STREET BAND is the creation of guitarist, vocalist, and primary songwriter, Benjamin Tod, who declares of the Weight Of A Trigger LP, "I wanted to dig under the darkest impulses of humanity for this album, and that is violence, selfishness, and destruction."
LOST DOG STREET BAND's Weight Of A Trigger is a portal into when Americana was peopled by sensitive outlaws who pleaded for salvation in song; a potent distillation of its outlaw heartache soul. The ten-song collection spans old-time music, Appalachian folk, redemptive country blues, and winsome balladry. Each song is elegantly essential, using teardrop pedal steel guitar, delicate fingerpicked passages, emotive harmony vocals, and stately violin touches as delicate dynamic touches. The members' influences of Guy Clark, Townes Van Zandt, Doc Watson, Devil Makes Three, Tyler Childers, Hooray For The Riff Raff, Sarah Shook & The Disarmers, Arlo McKinley, and more shine through the band's emotional lyrics and infectious hooks.
Review copies of
Weight Of A Trigger
are now available. For tour, interview, and review coverage of
LOST DOG STREET BAND
contact
dave@earsplitcompound.com
.