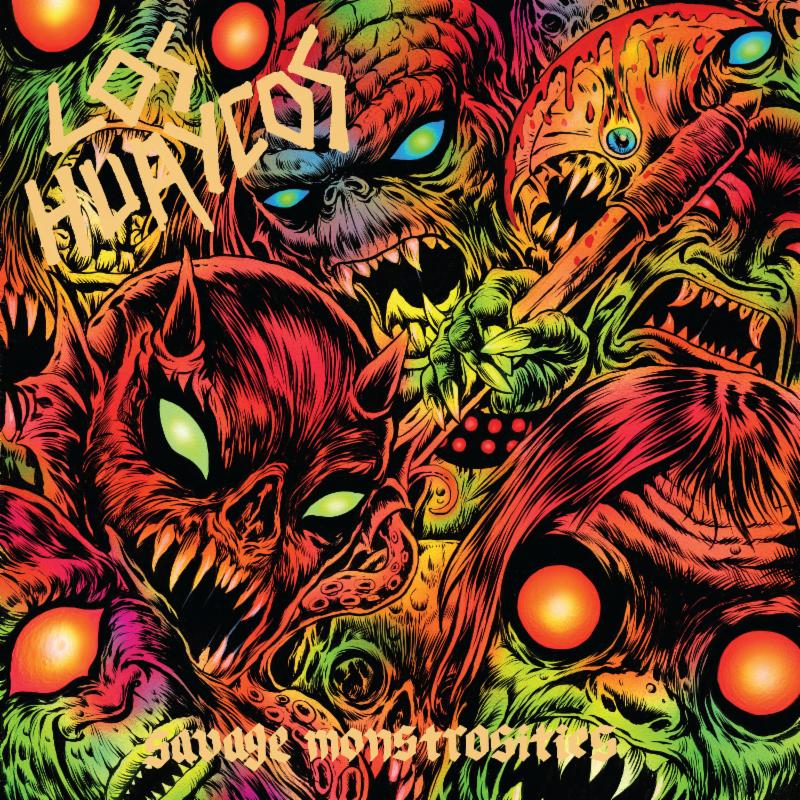 LOS HUAYCOS will release their Savage Monstrosities full-length via Tankcrimes February 8th. The band features ex-members of Asmereir, Metamorphosis, and Experimental Dental School playing a raucous brand of psychedelic hardcore thrash punk. The word "huayco" comes from the Quechua, which means "depth/valley" and refers to landslides caused by torrential rains in the Andes. You will occasionally find these guys skating a curb in Oakland.
Comments Tankcrimes Records chief Scotty Heath, "LOS HUAYCOS are Peruvian transplants who moved into Tankcrimes' headquarters and started making a racket! This album sounds like Y2K thrash (think 625 Records) meets skate rock/hardcore (think JFA, Gang Green) meets noise rock weirdo jams (think AmRep, Cows)."
Recorded by Jack Shirley (Deafheaven, Torso) and featuring artwork by Skinner (High On Fire, Mastodon),
Savage Monstrosities
will see release digitally and limited edition vinyl in two color variants: 250 x Splatter and 250 x Bluetooth Blue. For digital orders go
HERE
. For physical orders go to
THIS LOCATION
.
In conjunction with the release of Savage Monstrosities, LOS HUAYCOS will play a set at the Tankcrimes Takeover, an eight-band rager celebrating the label's local roster of talent. Set to take place at The Oakland Metro February 2nd, the all-ages event will find the band playing alongside the likes of Ghoul, Necrot, Brainoil, Kicker, Mortuous, Connoisseur, and Deathgrave.
LOS HUAYCOS:
2/02/2019 Tankcrimes Takeover @ The Oakland Metro – Oakland, CA [
info
]
Savage Monstrosities Track Listing:
1. Deforestation
2. Exorcizado
3. Igual que Hoy
4. Feriado Largo
5. Monstruosidades Salvajes
6. Memoria en Blanco
7. Ilusión
8. Desahuévate
9. No Conseguí Nada
10. Conchatumadrelandia
11. Liar
Although the friendship between Asmereir and Metamorphosis began in the rehearsal studio Chinchay Melchormalo in 1996, LOS HUAYCOS was forged in mid-2013 in Oakland, California. Following a three-song demo, the band played their first show — Tankcrimes' Brainsqueeze II on April 20th, 2014. Since then, LOS HUAYCOS has performed in various places throughout the Bay Area, and with several of their favorite bands like Dag Nasty, Ghoul, The Shrine, Wolfeyes, and Midnight. Additional live highlights include opening for NOFX in Lima, Peru among other shows in their hometown, an East Coast tour, and performances at Skull Fest in Pittsburgh, Pennsylvania two years in a row.
In September of 2017, the casting director for Netflix's 13 Reasons Why series contacted the band to record a Circle Jerks cover ("Wild In The Streets") and perform live in episode ten of the second season. LOS HUAYCOS recorded the track at Atomic Garden Studios in East Palo Alto, California where they would return to record this year's Savage Monstrosities.
LOS HUAYCOS:
Ryan "Turkey Doggie" Brundage – drums, bongos, choirs
Renzo "El Morf" Gianella – stereo guitar, spatial effects
Fernando Pablo "Garzo" Garcia – voice, click, shout, cackle
Mark "Professor Markarian" Reategui – bass, chants, shouts