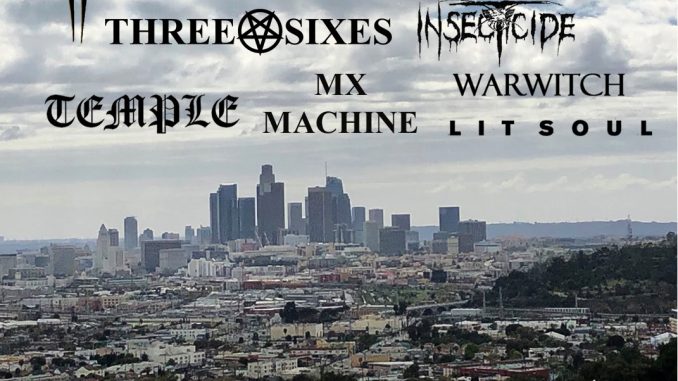 Los Angeles-based independent label Candlepower Records has launched with the first installment of its signature The Hood's Got Talent series.
Headed by musician and entertainment industry veteran Diego Negrete, Candlepower Records subscribes to a "For Artists By Artists" mantra by highlighting some of the best underground artists for the forefront, while also contributing back through charities with the hashtag #payitforward. The first charity merchandise campaign benefits Musicares, supporting families in the music and entertainment industries been affected by the global Coronavirus entertainment shutdown. "Send It Don't Pretend It! #payitforward" t-Shirts are now available exclusively via Candlepower at
https://candlepowerrecords.bandcamp.com/merch/candlepower-records-musicares-t-shirt
.
"Candlepower Records is dedicated to the development and promotion of underground artistry," Negrete says. "There are so many amazing bands that do not get the recognition they deserve, and we want to expose them to as many new listeners as possible through our 'The Hood's Got Talent' series. Our goal at Candlepower is also to use this medium to give back to the industry we all love – and is greatly suffering at this time."
The Hood's Got Talent Vol. I features tracks from Temple local metal legends Heretic, Insecticide, MX Machine, Lit Soul, Three Sixes, Attack Of The Rising and Warwitch. The Hood's Got Talent Vol. I is available now in cassette format via Andrew Bansal's Metal Assault Records distribution at
https://metalassault.bandcamp.com/merch
.
The Hood's Got Talent Vol. I track listing:
Side A
1-Temple – "Masters of Destiny"
2-MX Machine – "Black Friday"
3-Heretic – "Child of War"
4-Madrost – "Abstractions"
5-Attack of the Rising – "On the Horizon"
6-Three Sixes – "Truth"
7-Insecticide – "Vortex"
Side B
8-Warwitch – "Lords of the Fire"
9-Heretic – "The End of the World"
10-Attack of the Rising – "Last Stand"
11-Madrost – "Charring the Rotting Earth"
12-Lit Soul – "Straight into the Sun"
13-Three Sixes – "Unit 731"
14-Insecticide – "Proven Guilty"
About the bands:
ATTACK OF THE RISING:
Attack of the Rising combines over 30 years of extensive experience and influences, creating their own brand of original, hard rock/heavy metal. Attack of the Rising first came together in 2009, with their first incarnation touring throughout the Southwest through 2010. In 2010, brothers Chris and Tony Lepre put the band on hiatus, and reformed in 2014. A self-titled five-song EP was released the following year and continued to tour the Southwest. Attack of the Rising was one of the featured Artists performing in the opening ceremonies at the 2020 Metal Hall of Fame and premiered a video for the track "On the Horizon" from their upcoming Bill Metoyer-produced album, Game Changer, at the 2020 NAMM convention. Game Changer is due for release in January 2021 via Vanity Music Group/Sony/Orchard.
HERETIC:
Formed in the early '80s Southern California metal scene, Heretic quickly became one of the top live acts in the Los Angeles area, opening for numerous legendary acts such as Metallica, Megadeth and Motorhead. Metal Blade Records promptly signed the group and featured them on the 1986 Metal Massacre VII compilation. The band released two studio recordings on Metal Blade, Torture Knows No Boundary and Breaking Point. The band split when vocalist Mike Howe departed to join Metal Church. The remaining Heretic members then joined forces with former Metal Church vocalist David Wayne to form Reverend. Flash-forward two decades, Heretic is back with their classic metal/thrash style sound and has released a full-length album and box set on Metal Blade. New music is planned for 2021.
INSECTICIDE:
Insecticide was established in 1986. With an extensive touring history and a list of credits including opening for such acts as GWAR, M.O.D., Dr. Know, Brujeria and The Mentors, Insecticide was part of the genesis of the '80s thrash movement. These pioneers have remained active and involved in the metal community for over 30 years. 2018 ushered in a new venture, as the band offered Insecticider, a delicious alcoholic green cider beverage made from champagne yeast. A documentary film on Insecticide is currently being submitted for film festivals and digital downloads late 2021.
LIT SOUL:
LIT SOUL is a hard-driving melodic hard rock band from Los Angeles that advocates liberty in the modern age. Founding member Rob Chevelle describes their music as "Dark, yet positive." With positive lyrics, LIT SOUL takes people through a scale of human emotions, as they express their substantial views on life and politics, and belief in a better world. LIT SOUL is currently in the studio with legendary producer Bill Metoyer putting the final touches on their new self-titled album.
MADROST:
Founded in the summer of 2007, Madrost is a progressive death thrash act focused on precision songwriting and energetic diverse approach to their sound. Influenced by the likes of Metal Church, Death, ELP, Believer, Coroner, Mekong Delta and Iron Maiden, the band has transformed from a more simplistic death/thrash style to incorporating a wide range of other instruments and time signatures into their own unique sound and style. Beginning with the release of their 2012 debut, Maleficent, a standard death thrash style album, Madrost has continued to develop their sound. The band's fourth and latest release, Charring the Rotting Earth, boasts more symphonic elements and shows a band on a ready to be taken to the next level.
MX MACHINE:
MX Machine was formed in 1985 by bassist and Candlepower Records founder Diego Negrete. The band issued their first demo, Fatal Mistake, which landed them a deal with Restless Records two years later. The band's debut, Manic Panic, was released in 1988 and received critical accolades. MX Machine became notorious in the LA scene for wild drunken antics and powerful three-minute songs. The band rose in popularity but were banned from many local for fear of destroyed property. The group disbanded soon after. In 2007, Negrete resurrected MX Machine. Now a three-piece band, MX Machine released an EP in 2010.
THREE SIXES:
Three Sixes' music incorporates metal, thrash and techno roots with hardcore, while simultaneously mixing in a heavy dose of industrial influence. The combination builds a foundation for a gruesomely realistic portrayal of the world, currently situated in its infinite, spiraling state of decline. Reflecting on the constant bedlam that festers within the confines of this generation while drawing influence from personal conflict and the harsh reality of the present, Three Sixes represents the overall state of the world through their music.
WARWTICH/TEMPLE:
Warwitch was formed in North East Los Angeles in 1985 by neighborhood friends Scott Jackson, Rudy Montoya, Channing Estrada and Mike Marquez. After a motorcycle crash and broken leg left Rudy in crutches, drummer Andy Castro sat in to replace him. Warwitch had a wall of sound and a following that was growing into something of a cult before life on the streets took left turns.
In 2016 longtime friends Channing Estrada and former MX Machine drummer Danny Anaya began writing songs together with Scott Jackson and Dave Hagar. Anaya, a survivor and continued fighter of cancer was, at the time, still struggling with the disease. An everyday battle for energy and drive, the sessions were a great form of therapy. Every breath and beat were a struggle for Danny. He kept going and together, the group was able to record an amazing EP.
Danny Anaya was a pillar to many, many people. A member of a group of friends who all grew up together at the right place in the right time. A commanding presence in the LA rock scene of the '80s. A week before his untimely passing, he threw one last party. On November 5, 2017, Danny Anaya took his last breath. He left behind a legacy beyond words. For Danny Anaya…Temple was formed.
After the passing of Andy Castro, Jackson and Estrada reformed Warwitch with Andy's younger brother Mars and singer Dave Hagar as a way to honor their fallen brother. The music of Warwitch speaks volumes and deserves to be heard, so an EP was recorded with producer Mitch Rellas. Temple is currently in the studio writing music with Mars Castro on drums.