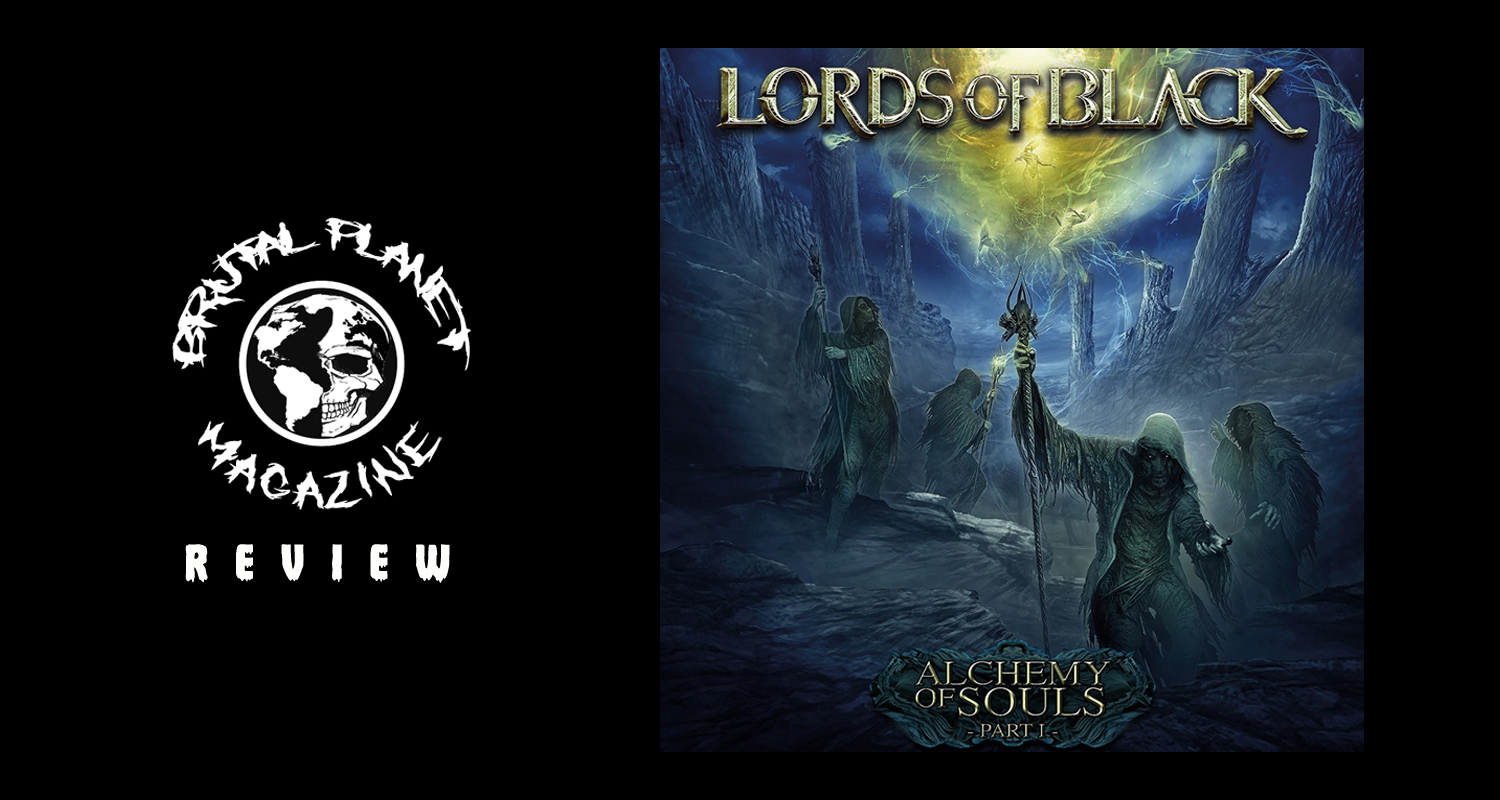 If you are looking to hear one of the best voices in metal today, look no farther than Ronnie Romero. He is the voice behind many significant projects, including Rainbow (without Dio obviously), The Ferrymen, and of course, Lords Of Black. 2020 will mark the release of Alchemy Of Souls PT.1, the fourth album from Lords Of Black, a band that started as a creative project by Ronnie Romero and Tony Hernando in Madrid. Spain may not be known for its Power Metal scene, but these Spaniards know how to make metal.
Alchemy Of Souls PT.1 begins with "Dying To Live Again." The guitar intro tells you all you need to know about where the album's direction is going. As the verse starts, Ronnie's amazing voice can be heard behind the galloping drums of Jo Nunez. Lyrically the song provides hope for a better tomorrow:
"Can we dream again…and
Dare to be anything
Fear will never reign
As long as we rise again"
"Into The Black" starts with gritty guitar and mixes keyboards in as the song progresses. Lyrically the song is very relevant in today's world and could almost serve as a wake-up call to try to make the world a better place. It is one of my favorite songs on the album and has a great guitar solo. Things continue to race with "Deliverance Lost" and into "Sacrifice." A very emotionally charged song instrumentally. I found myself drawn back to this song over and over. Things slow down ever so slightly for "Brightest Star." The song has a dark melodic sound that showcases the voice of Ronnie perfectly. Alchemy Of Souls PT.1 continues to pound the speakers with songs like "Closer To Your Fall," then things slow down, and we are introduced to the sound of a piano for "Shadows Kill Twice."
Things don't stay slow for long, and the song's galloping beats concur any sort of serenity that was left. The song is hard on riff and aggressive at its soul, making it a favorite of mine. The aggressive riffs continue with "Disease of Disguise." Musical ecstasy is the best way to describe "Tides of Blood." Guitar's blaze like a field of gold crackling as they burn. Ronnie's voice fans the flames higher as the song peaks. Things crescendo to a climax for the title track "Alchemy of Souls." A somber acoustic guitar introduction sucks you in, and then a slight pause. The bass of Dani Criado starts the escalation of destruction. The song masquerades as a ballad in places with acoustics and piano, then rips your soul with shattering vocals. The song can be described as an auditory confrontation of epic proportions. As the credits begin to roll on this epic album, you are left with pure Ronnie and a piano.
Alchemy Of Souls PT.1 is an album that bridges what once was a creative project and elevates Lords of Black to superstar status. The mix and recording of the album are spot on, and musically the band has matured into a band that can contend with the best of them. Led by Romero's vocals and Hernando's riffs, Alchemy Of Souls can easily hold itself to other releases of 2020. Not to be left out, the rhythm section of Jo Nunez on drums and Dani Criado on bass keep the beats true and strong. If this is part 1, then I expect there to be a 2nd, which I can't wait for. Pick up Lord's of Black Alchemy Of Soul on November 6, 2020, via Frontiers Music s.r.l.