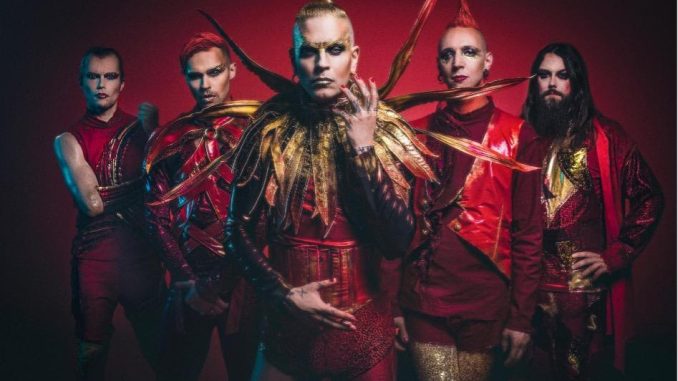 Watch NOW!
Get Your Copy of the New Earbook Version
of the New Album, 'Blood & Glitter', HERE!
Following a terrific performance in front of 200 million live viewers at the Eurovision Song Contest grand finale this weekend, LORD OF THE LOST are back to their "normal" lives, gearing up for 10 shows with Iron Maiden, great festival appearances and sold-out headline shows on their schedule. After recovering from the excitement of the weekend, the band is thrilled to release a new video celebrating the best highlights of the past year – including sold-out club shows, the stadium tour with Iron Maiden and countless other standout moments.

The video was shot for the song "The Curtain Falls", which was released last Friday, May 12, as part of the Earbook and Digital Deluxe version of the #1-charting album, 'Blood & Glitter'. The new version includes 6 new studio tracks, great featured artists, singles released physically for the first time and alternate versions of the album tracks from 'Blood & Glitter'!

Chris Harms says:

"'The Curtain Falls" was written the day after I bought Steve Harris' signature model E-bass. Last year's tour with Iron Maiden burned itself into our hearts in such a way that we wanted to give back some of that energy. We put that energy into 'The Curtain Falls'. So, this song will be our opening song for all Iron Maiden and festival shows this summer. We just came back from the ESC, where we had the time of our lives, and are looking forward to an unforgettable live summer."

Check out the Official Music Video for "The Curtain Falls" HERE
LORD OF THE LOST comment on Eurovision Song Contest:

"Thank you, everyone, for this amazing experience! We loved every second of it! So, we're going back to our old lives now and we are looking forward to a most amazing festival summer, many sold out shows and a second tour with IRON MAIDEN!

"Thanks to all of the other artists that we've met on the road to Eurovision – you all deserve all the success and the love, and may all your dreams come true!

And last but not least, thanks to EVERYONE on our team: you have helped us to make our dream of Eurovision become reality.

"We leave Liverpool tomorrow, knowing that we couldn't possibly have put more effort, time and love into the undertaking of participating here! And now the big question remains: who will Germany send next year to break the curse?

-Chris, Pi, Klaas, Gared & Nik"
On the band's eighth album, LORD OF THE LOST enter a new era of exciting 70s glam rock visuals, and add a blend of 80s new wave and pop influences as well as gothic and electronic elements to their own, relevant modern metal style, impressing both fans and critics.
'Blood & Glitter' 2CD Earbook Tracklist:
CD 1 – 'Blood & Glitter'
1.Blood & Glitter
2.Leave Your Hate In The Comments
3.Absolute Attitude
4.The Future Of A Past Life (feat. Marcus Bischoff)
5.No Respect For Disrespect
6.Reset The Preset (feat. Andy LaPlegua)
7.Destruction Manual
8.Dead End
9.Leaving The Planet Earth
10.Forever Lost
11.Save Our Souls (feat. Ally Storch)
12.One Last Song
13.The Look (Roxette Cover)
Bonus CD – 'More Blood & More Glitter'
1.The Curtain Falls
2.Blood & Glitter (Extended Version feat. Jennifer Batten/Guitarist Michael Jackson)
3.We Are Immortal (feat. Tribune)
4.The Sound Of Violence (feat. Aesthetic Perfection)
5.I Of The Storm (feat. Adrienne Cowan)
6.See Me Fall (feat. FLYKS)
7.noituLOVEr
8.Not My Enemy
9.Destruction Manual (Family Friendly Version)
10.Schwarz Tot Gold (feat. SWISS & Die Andern)
11.One Last Song (Piano Demo – Live at Chameleon Studios)
12.Blood & Glitter (Piano Version – Live at Sonic Pump Studios)
13.Not My Enemy (Piano Version – Live at Sonic Pump Studios)
14.Leaving The Planet Earth (Piano Version – Live at Sonic Pump Studios)
15.Blood & Glitter (Extended Action Movie Version)
'Blood & Glitter' is available in the following formats:
=> 2LP Gatefold Recycled Color Vinyl
=> 2CD Earbook – limited to 1500 copies worldwide – only a few copies left!
=> Deluxe Box DVD (incl. bag, Pendant) Napalm Records Shop exclusive SOLD OUT!
=> 1CD Digisleeve
=> 2CD Mediabook
=> Digital Album
LORD OF THE LOST Live 2023:

After a full year of touring, including a support tour for Iron Maiden, a headline tour, an acoustic tour, several festival appearances and the band's own Lordfest, LORD OF THE LOST were once again invited by the legendary Iron Maiden to be direct support on their European tour in 2023, beyond major festival and club appearances, both as headliners and as support to bands such as Powerwolf and Amon Amarth.
BLOOD & GLITTER Shows:
27.05.23 DE – Siegen
30.05.23 DK – Kopenhagen
01.06.23 SE – Stockholm
09.06.23 DE – Zwickau SOLD OUT
11.06.23 DE – Munich SOLD OUT
17.06.23 DE – Saarbrücken
21.06.23 UK – Leeds
22.06.23 UK – Chester
01.07.23 UK – Edinburgh
13.07.23 DE – Berlin SOLD OUT
28.07.23 DE – Wolfsburg
31.07.23 DE – Aschaffenburg SOLD OUT
02.08.23 DE – Karlsruhe
23.09.23 UK – London
24.09.23 UK – Bristol
26.09.23 UK – Southampton
27.09.23 UK – Nottingham
28.09.23 UK – Wolverhampton
29.09.23 UK – Manchester
30.09.23 UK – Glasgow
06.10.23 AM – Yerevan
07.10.23 GA – Tbilisi
11.10.23 FR – Lille
12.10.23 FR – Savigny-le-Temple
13.10.23 FR – La Roche-sur-Yon
01.11.23 NL – Tilburg
04.11.23 BE – Ittre
Special Guest for IRON MAIDEN:
03.06.23 FI – Tampere
24.06.23 IE – Dublin
26.06.23 UK – Glasgow
28.06.23 UK – Leeds
30.06.23 UK – Manchester
03.07.23 UK – Nottingham
04.07.23 UK – Birmingham
07.07.23 UK – London
26.07.23 DE – Dortmund
01.08.23 DE – Munich
Special Guest for AMON AMARTH:
11.07.23 DE – Rostock
Special Guest for POWERWOLF:
31.10.23 DE – Düsseldorf
02.11.23 DE – Ravensburg
03.11.23 DE – Bamberg
Festivals:
26.-29.05.23 DE – Leipzig / Wave-Gotik-Treffen
07.-10.06.23 PL – Gdansk / Mystic Festival
07.-10.06.23 AT – Nickelsdorf / Nova Rock
15.-18.06.23 FR – Clisson / Hellfest
05.-08.07.23 DE – Ballenstedt / Rockharz
13.-16.07.23 CZ – Zlin / Masters Of Rock
20.-22.07.23 FI – Laukaa / John Smith Rock Festival
29.-30.07.23 DE – Cologne / Amphi Festival
02.-05.08.23 DE – Wacken / Wacken Open Air
12.-13.08.23 DE – Oldenburg / TabulaRaaza Festival
14.10.23 DE – Cologne / Unter Schwarzer Flagge
17.+18.11.23 DE – Leipzig / Gothic Meets Classic
LORDFEST 2023:
09.12.23 DE – Hamburg
15 Years Of LORD OF THE LOST Tour 2024:
22.03.24 DE – Nuremberg
23.03.24 DE – Munich
24.03.24 IT – Trezzo sull'Adda
26.03.24 CH – Pratteln
27.03.24 FR – Grenoble
29.03.24 ES – Barcelona
30.03.24 ES – Madrid
02.04.24 FR – Paris (FR)
03.04.24 LU – Luxembourg
04.04.24 DE – Frankfurt
05.04.24 DE – Cologne
06.04.24 NL – Amsterdam
18.04.24 HU – Budapest
20.04.24 DE – Stuttgart
24.04.24 DE – Berlin
27.04.24 DE – Leipzig
…more dates TBA
Tickets available HERE
LORD OF THE LOST are:

Chris Harms – Vocals, Guitar

Pi Stoffers – Guitar

Class Grenayde – Bass

Gared Dirge – Piano, Synths, Percussion, Guitar

Niklas Kahl – Drums