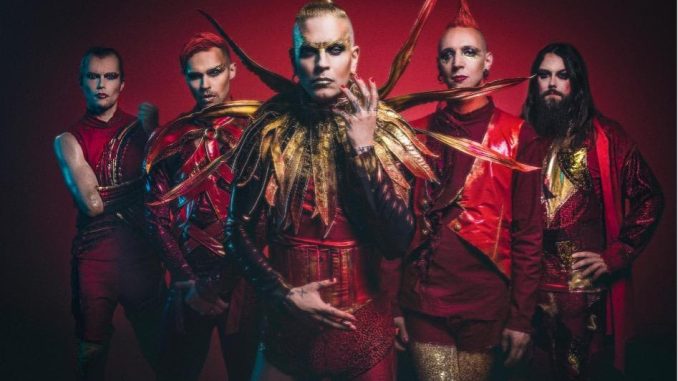 From #1 Charting Album, 'Blood & Glitter'
Watch the Video HERE
Voting for German Eurovision Song
Contest Preliminaries Started
Vote for "Blood & Glitter" at ESC 2023 HERE!
Votes are only possible from Germany
and limited to one vote per IP address
Get Your Copy of the New Album, 'Blood & Glitter', HERE
More 'Blood & Glitter' Shows Announced For 2023!
In 2023, German genre-fusing visionaries LORD OF THE LOST are jumping from one highlight to the next! The year began with the band's first-ever #1 debut on the Official German Album Charts with their new album, 'Blood & Glitter', followed by a nomination for Germany's Eurovision Song Contest preliminaries.

LORD OF THE LOST can be voted to enter the ESC with "Blood & Glitter" HERE! The voting is geo-targeted from Germany and is limited to one vote per device (Mobile Phone, Tablet, Laptop, etc).

They played a completely sold-out club tour throughout Germany, and will continue on to support Iron Maiden again on their upcoming European tour. LORD OF THE LOST will also appear at several major festivals throughout Europe through the rest of the year and recently announced further shows.

With no time to rest, the band has just released a fourth video from their successful new album for the song "Absolute Attitude". This time the band explores new genres and delivers a short film showing them in the Finnish underworld between drugs and glitter.

LORD OF THE LOST on "Absolute Attitude":

"As big advocates of the importance of self-irony and as fans of mockumentary or improv formats like The Office, it was time to produce a musical short film in this genre ourselves. Especially for a band like us, with a visually special album like 'Blood & Glitter', in an Instagram filter world, we feel it is important to consciously show courage for ugliness and to put humor above cramped realness. And Gas Lipstick in the role of a drug dealer should be nominated for an Oscar!"

Watch the Official Video for "Absolute Attitude" HERE
LORD OF THE LOST have been nominated to compete to represent Germany in this year's Eurovision Song Contest with the title track of their recent surprise album release, "Blood & Glitter", which hit #1 on Official German Album Charts.

Chris Harms on the nomination:

"We are a band that has never consciously adapted to anyone or anything. No trend, no scene, no expectation. We have always done what we like ourselves – at all times. That we are now being considered for the biggest music show in the world with our weird genre mix, as authentic and unbowed as we are, is a great honor and we are extremely looking forward to being able to make the ESC pre-selection a little more colorful in many ways. A song like 'Blood & Glitter' is very hard for the German TV and radio landscape – it will polarize. And since we love contrasts, it makes it all the more exciting for us. Friends, it's going to get loud on German television on March 3!"
When conjuring the concept of 'Blood & Glitter', the band was inspired by the eponymous work of legendary music photographer Mick Rock, known for taking a large majority of the most famous photos of musicians in the 70s glam rock era.

LORD OF THE LOST visually immerse themselves in the lifestyle of that era and combine it with the new wave and pop sound of the 80s, building on their own familiar dark metal foundation. The result: a glamorous party with critical and direct messages.
'Blood & Glitter' Track List:
2.Leave Your Hate In The Comments
4.The Future Of A Past Life (feat. Marcus Bischoff)
5.No Respect For Disrespect
6.Reset The Preset (feat. Andy LaPlegua)
7.Destruction Manual
8.Dead End
10.Forever Lost
11.Save Our Souls (feat. Ally Storch)
12.One Last Song
13.The Look (Roxette Cover) (feat. Blümchen)
'Blood & Glitter' is available in the following formats:
=> Deluxe Box DVD (incl. bag, Pendant) – Napalm Records Shop exclusive – SOLD OUT!
=> 1CD Digisleeve
=> 2CD Mediabook
=> Digital Album
Contrasts run like a thread throughout the album, once again proving different in comparison to their previous work. In addition to Chameleon Studios in Hamburg, 'Blood & Glitter' was produced and recorded at the Sonic Pump Studios in Helsinki. The album goes all the way from start to finish – thus completely bypassing ballads.

The hard-hitting dancefloor track "Leave Your Hate In The Comments" makes a strong statement by addressing the increasing hate culture in social media. Furthermore, the eighth studio album features a variety of very special guests such as Heaven Shall Burn singer Marcus Bischoff on "The Future Of A Past Life", Andy LaPlegua of Combichrist on "Reset The Preset" and Subway To Sally's Ally Storch on violin for "Save Our Souls".

Wrapping up the record with "One Last Song", Chris Harms states on the track: "I was wondering what song I would want to sing last before I die and realized that song didn't exist yet. So here it is. Probably the most important song I've ever written."

A bonus track, a remarkable cover of Roxette's "The Look", features none other than German 90s popstar Blümchen as a duet partner. The band once again goes its own way and releases, without much advance, an album that defies all clichés, prejudices, genre norms and conventions, and makes strong statements in terms of content!

So to say: 'Blood & Glitter' is 100% LORD OF THE LOST.
LORD OF THE LOST live 2023:

After a full year of touring, including a support tour for Iron Maiden, a headline tour, an acoustic tour, several festival appearances and the band's own Lordfest, LORD OF THE LOST were once again invited by the legendary Iron Maiden to be direct support on their European tour in 2023, beyond major festival and club appearances.
03.03.23 DE – Eurovision Song Contest Preliminaries – Live on German National TV
BLOOD & GLITTER SHOWS 2023:
25.04.23 AR – Buenos Aires
27.04.23 CL – Santiago
01.06.23 SE – Stockholm
09.06.23 DE – Zwickau
17.06.23 DE – Saarbrücken
31.07.23 DE – Aschaffenburg
02.08.23 DE – Karlsruhe
23.09.23 UK – London
24.09.23 UK – Bristol
26.09.23 UK – Southampton
27.09.23 UK – Nottingham
28.09.23 UK – Wolverhampton
29.09.23 UK – Manchester
11.10.23 FR – Lille
12.10.23 FR – Savigny-le-Temple
13.10.23 FR – La Roche-sur-Yon
The Future Past Tour 2023 with IRON MAIDEN:
03.06.23 FI – Tampere
24.06.23 IE – Dublin
26.06.23 UK – Glasgow
28.06.23 UK – Leeds
30.06.23 UK – Manchester
03.07.23 UK – Nottingham
04.07.23 UK – Birmingham
07.07.23 UK – London
26.07.23 DE – Dortmund
01.08.23 DE – Munich
Festivals 2023:
29.-30.04.23 BR – Sao Paulo / Summer Breeze Brazil
07.-10.06.23 PL – Gdansk / Mystic Festival
07.-10.06.23 AT – Nickelsdorf / Nova Rock
15.-18.06.23 FR – Clisson / Hellfest
05.-08.07.23 DE – Ballenstedt / Rockharz
13.-16.07.23 CZ – Zlin / Masters Of Rock
20.-22.07.23 FI – Laukaa / John Smith Rock Festival
29.-30.07.23 DE – Cologne / Amphi Festival
02.-05.08.23 DE – Wacken / Wacken Open Air
29.-30.09.23 UK – Sheffield / HRH Goth 2
14.10.23 DE – Cologne / Unter Schwarzer Flagge
17.-18.11.23 DE – Leipzig / Gothic Meets Classic
LORDFEST 2023:
09.12.23 DE – Hamburg (not on pre-sale yet)
Tickets available here: http://tour.lordofthelost.de
LORD OF THE LOST are:

Chris Harms – Vocals, Guitar

Pi Stoffers – Guitar

Class Grenayde – Bass

Gared Dirge – Piano, Synths, Percussion, Guitar

Niklas Kahl – Drums