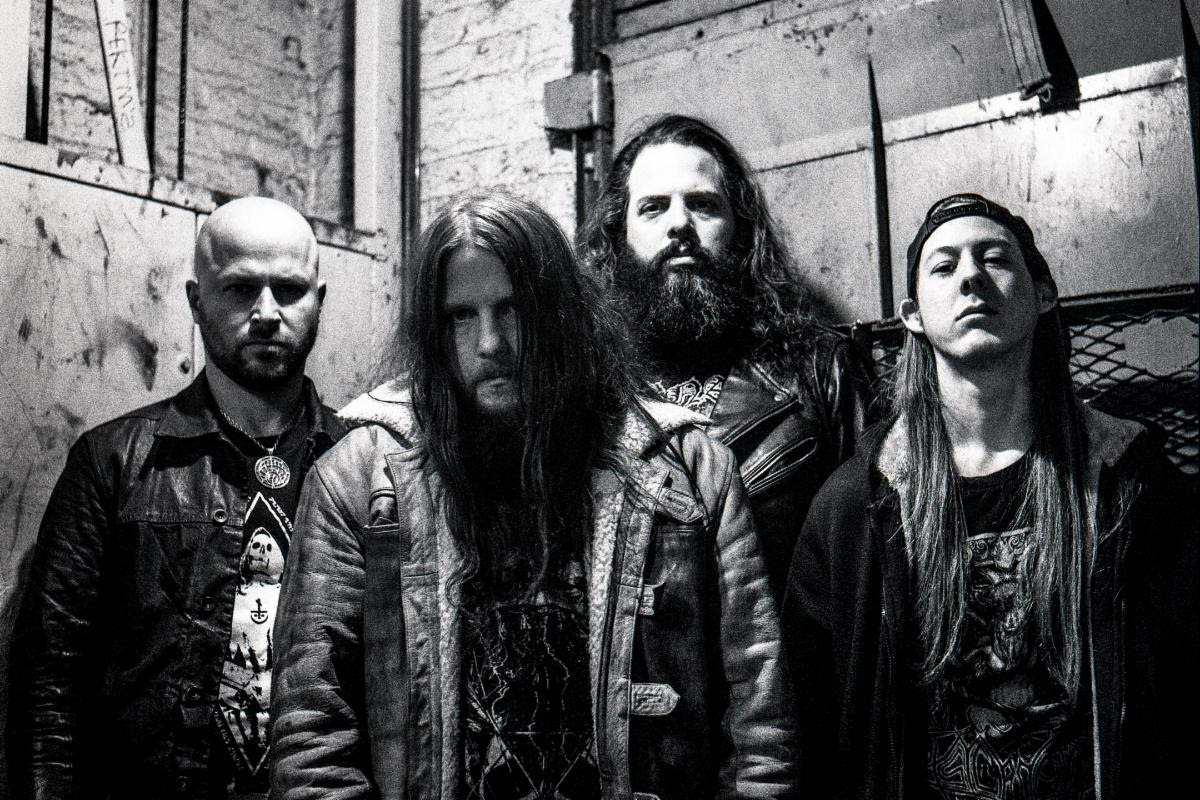 Profound Lore this week unleashes the auditory wrath of extreme metal juggernaut LORD MANTIS, with the release of the band's eagerly awaited new album, Universal Death Church. The entire caustic LP is now streaming on the eve of its official release.
Universal Death Church was produced by Sanford Parker, who provides synth work to the album. The album also features guest performances by Dylan O'Toole of Indian, Dallas Thomas of Pelican, and Bruce Lamont of Yakuza, and is completed with artwork and design by VENIEN.
Stream the new LORD MANTIS LP Universal Death Church early at YouTube
RIGHT HERE
.
Profound Lore will release
Universal Death Church
on CD, LP, and digital platforms this Friday, November 22nd. Find preorders at the label webshop
HERE
and Bandcamp
HERE
, and the cassette version via New Density
HERE
.
Kerrang! recently featured
LORD MANTIS
in an installment of their The Underground Sounds Of America series. Check it out
HERE
.
The inevitable regeneration of LORD MANTIS occurred when vocalist/bassist Charlie Fell and guitarist/vocalist Andrew Markuszewski decided to mend ties and once again join forces for a new renewed union to properly carry on the LORD MANTIS legacy, mired in chaos and virulence, by honoring the memory of late drummer/founder Bill Bumgardner with their new album Universal Death Church. With guitarist Ken Sorceron of Abigail Williams, who also joined LORD MANTIS on Death Mask, and new drummer Bryce Butler, along with honorary vocalist/member Dylan O'Toole of Indian, Universal Death Church is the result of a band who has overcome dark and chaotic chapters and bitter internal feuds to set out once again to raise the bar of extreme music after the suicide of a key founding member in the ranks.
Having the infamous reputation of being one of the more vexed acts within the extreme metal scene, as amassed on previous releases such as 2012's Pervertor and most-notably their 2014 controversial Death Mask LP, Universal Death Church ups the LORD MANTIS ante in pretty much every category; the intensity, darkness, heaviness, and of course the deviance and degeneracy.
"Some bands are known for pushing the envelope; LORD MANTIS have made their reputation by yanking it wide open and making the world look inside. The Chicago blackened sludge quartet manage to surprise and skeeve out listeners with every new release, courting a scathing, tormented sound that evokes images of bloating corpses and crime scene Polaroids." – Kerrang!
"Universal Death Church is as much a resurrection of the LORD MANTIS sound as it is a step into a new era… It is a joyous occasion when a band makes a return with as much vitality as Lord Mantis. Universal Death Church is a statement of defiance in the face of death itself…" – Exclaim! Magazine
"Their mission seems to revolve around getting nastier and heavier with each subsequent release, and Universal Death Church represents another step forward on the road to this never-ending hell. For all the talk of misanthropy in the Metal world, these guys put their money where their mouth is and deliver the nihilism and degradation in spades." – No Clean Singing
"Charlie Fell's shrieks are as ear-piecing as ever, and the rest of Lord Mantis match them with a backdrop that's at times equally punishing and at other times actually kinda pretty." – Invisible Oranges
For review copies of
Universal Death Church
and all interviews and coverage of
LORD MANTIS
contact
dave@earsplitcompound.com
.