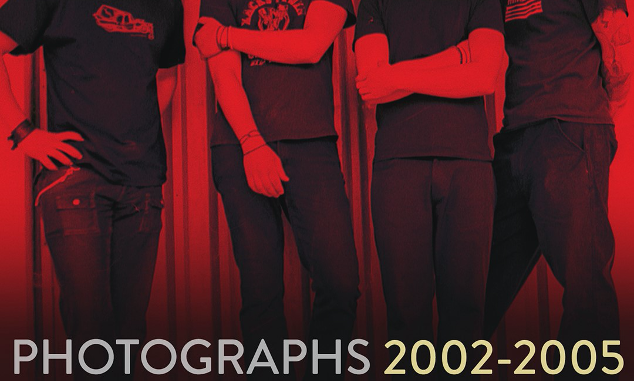 VOLUME 1, BILLY TALENT: PHOTOGRAPHS 2002 – 2005, OUT DECEMBER 18
GET IT HERE

Acclaimed photographer and longtime BILLY TALENT collaborator Dustin Rabin has announced the release of a series of interactive Billy Talent E-Books.
Gleaned from Rabin's archives of photos of the band, the first volume, Photographs 2002 – 2005 covers the formative years of the iconic Canadian rockers.
Available exclusively through the Apple E-Book store on December 18, the E-Book features never-before-seen photos of the group from their earliest tours and recording sessions presented alongside insightful written and audio commentary from the band themselves. Go here to pre-order the first volume, with additional volumes to follow in the coming months.
"I've taken thousands of photos of Billy Talent over the past 18 years, most of which have never been seen by anyone but the band and me," recalls Rabin. "Looking back at that collection now, I realize there's a great story to be told. The day of our first photo shoot in 2002, Billy Talent had yet to sign a record deal, record their debut album, or even go on tour outside of Ontario, Canada. Within three years, the band released Billy Talent I, made three music videos, toured the world, and headlined an absolutely massive festival in front of nearly 70,000 fans! I'm grateful to have been there for all of it."
He finishes, "This E-Book format gives you the unique experience of not only seeing my pictures, but also hearing the band recount memories from that time in their lives. I'm excited to share so many previously unreleased photos with Billy Talent fans!"
"Dustin shot his first concert in 1992 around the same time the four of us started playing in a band together," the band shares. "When we started working with Dustin ten years later, both of our careers were just about to take off. It's been a pleasure going through all of these old photos and talking about them. So glad we've continued to work together for almost two decades."
To view exclusive sneak peaks at this volume and the future issues to come, follow the project's official Instagram account @billytalentbooks.
ABOUT DUSTIN RABIN:
Dustin has toured with some of the world's biggest names in music, including Paul McCartney, Foo Fighters, Beastie Boys, Queens Of The Stone Age, Alexisonfire and of course, Billy Talent. His work has appeared on the cover of Rolling Stone, a multitude of album and book covers, not to mention the personal collections of many of the artists themselves.
OFFICIAL SITE // INSTAGRAM
ABOUT BILLY TALENT:
Billy Talent are one of Canada's most successful bands. They have sold nearly 1 million albums in Canada alone, and nearly 3 million albums internationally, including 1.3 million albums in Germany. They have won 7 Juno Awards and have been nominated 23 times, including 3 nods for Afraid of Heights (Group of the Year, Rock Album of the Year, and Ian D'Sa for Producer of the Year). They have also twice been awarded ECHO Awards. In 2018, the group was honoured with a special Legends of Live Special Achievement Award, presented by Canadian Music Week. Most recently, Billy Talent released the anthemic #1 smash hit single "I Beg to Differ (It Will Get Better)." The band will continue to release new music in the coming months.