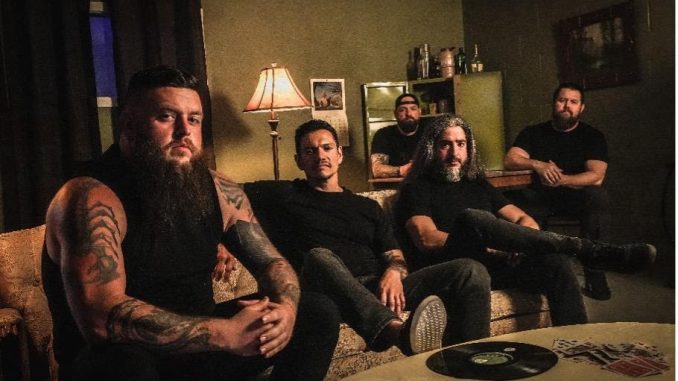 Watch HERE
New Album, 'Relentless',
Due Out July 7th | Pre-Save HERE
Heavy metal quintet LOCKJAW have unveiled their brutal new single "I Can't Escape"!

The track comes off their newly announced debut full length, 'Relentless', which will be released through AISAUS / The Orchard on July 7, 2023. Fans can check out the official music video for the single below!

Commenting on the new track, Jeff Ogle (guitar) shares,

"'I Can't Escape' is one of my favorite songs on the record. The main riff was something totally different, and when we presented it to our producer (Chris Collier) we had a really good vision for the arrangement, but he totally heard something different! He sent us a few demos back and it was like 'Whoa shit, there it is!'"

This excitement feeds these DFW stalwarts, who have spent the last 20 years as friends and musical comrades, channeling energy that eventually became LOCKJAW and resulted in last year's lead-off single "Breaking Point", which has close to 400K streams on Spotify and +173K views on YouTube. Their debut studio effort, 'Relentless', is a searing and unwavering collection of songs that are poised to set the band on a path to even bigger stages!

Going into the themes and message behind "I Can't Escape", Ogle adds:

"This was one of those songs that Joe immediately had lyrics and vocal ideas for and it really hits home for me with the topic of alcohol and substance addiction. There have been so many people throughout my adult life that I have watched get sucked into the pitfalls of that party lifestyle. When you're young and in your 20s, nothing is a big deal, it's all fun and games. Then, when you hit the 30s and 40s, things start to change, right? Suddenly these drinking habits are a bit more controlling than one might have realized and can open the gateway to other substances that are more lethal.

"We hope that this song connects with everyone that has had mental health, addiction, or substance issues in their lives or a loved one's life. More than anything, the overall theme on this record is about overcoming, rising up, healing, and silencing fears and weaknesses that plague us all."

Check out the Music Video for the New Single, "I Can't Escape", HERE
LOCKJAW is gearing up to release their debut studio full-length, 'Relentless'. Propelled by the strength of past singles like "Breaking Point" and "Living In My Head", the group has announced a new distribution partnership with All Independent Service Alliance (AISAUS). AISAUS began this relationship with LOCKJAW by re-releasing the band's previous singles worldwide via The Orchard. This new momentum looks to build beyond the album release, as the band will be hitting the road this summer – dates to be announced soon!

'Relentless' drops on July 7, 2023, with distribution via AISAUS/The Orchard. The album will be released on all major streaming platforms, and is available for pre-order on vinyl via the band's official website HERE.
'Relentless' Track List:
1) Silence The Fear
3) Relentless
5) Sever
6) Devil In Disguise
7) Release Me
9) No Gods Among Men
LOCKJAW is a metal/hard rock band based out of Dallas/Fort Worth, TX. While they continue to emerge on the radars of a whole new crop of fans, the group has a history of making music together that goes back more than two decades – tracing back to friendships that began in their high school days. Over time, the scene in which they cut their teeth and the music that came from those early beginnings might look different from the present, but LOCKJAW has never been interested in chasing trends. These talented musicians have the vision to make their own music and truly give it their all.

The quintet's upcoming studio album is a perfect example of their defiant-yet-charismatic approach to songwriting and performance, going for an urgent, no-frills sound that favors the well-honed connection between these musicians, rather than hiding their work under excessive layers of studio trickery.

The band's 2022 single, "Breaking Point", serves as an unapologetic example of this philosophy. The mix is balanced and detail-oriented, making for a lively sonic approach. Listeners will instantly take notice of the roaring walls of guitar and the energetic rhythm section, but if you dive deeper, there is a lot more to uncover. The dynamic spectrum of the track is very balanced, with a tight yet deep low end that really growls, holding it all together while adding some aggressive edge to the sound.

These expressions of creative integrity are the backbone that LOCKJAW intends to build their rise on. In a landscape where others can so easily get caught in the latest tides, this DFW five-piece has keyed in on where their passions lie, and are more than ready to swim against the current.
LOCKJAW are:

Jeff Ogle – Guitar

Joe Ortiz – Vocals

Gabriel Ayala – Bass

Scott Letz – Drums

Justin Paul – Lead Guitar