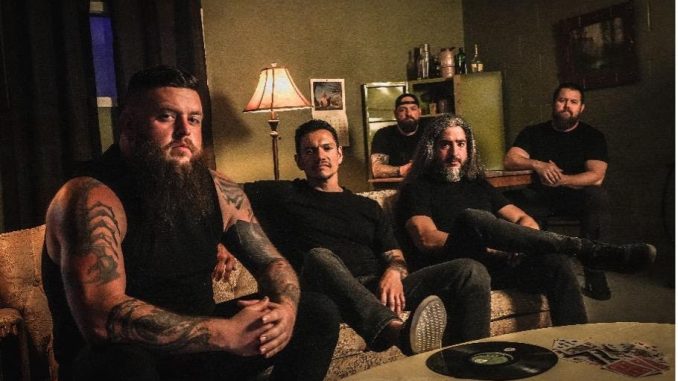 Exclusively via Sonic Perspectives
Watch HERE
New Album 'Relentless' Out Now!
Order HERE
Texas-based heavy metal quintet LOCKJAW celebrated the release of their new album, 'Relentless', with a special album release show last month at Trees in Dallas, TX. Today, the band has partnered with Sonic Perspectives to release a new live video for the song "Sever", which was professionally shot at their Trees show. With more live shows and touring plans already in the works, the band decided it was high time to show fans what a LOCKJAW concert is all about.

The live video for "Sever" can be seen HERE via Sonic Perspectives.

Commenting on the new live video for "Sever", Jeff Ogle (guitar) says:

"We have always been a live band and feel most comfortable on stage. The album release show at Trees in Dallas was a really special night for us and our hometown fans. It felt like everything we had been working on for the past few years was finally coming together. 'Sever' was one of the best performances of the night, and we are happy to share the live experience with new fans that might not be able to travel or catch us on tour yet."

He goes on to add, "We are planning the Relentless 2024 Tour for early spring, and really looking forward to connecting with our new fans that have heard the album."

LOCKJAW's debut studio album, 'Relentless', was released on July 7, 2023 through AISAUS / The Orchard.
'Relentless' Track List:
1) Silence The Fear
3) Relentless
5) Sever
6) Devil In Disguise
7) Release Me
9) No Gods Among Men
LOCKJAW is a metal/hard rock band based out of Dallas/Fort Worth, TX. While they continue to emerge on the radars of a whole new crop of fans, the group has a history of making music together that goes back more than two decades – tracing back to friendships that began in their high school days. Over time, the scene in which they cut their teeth and the music that came from those early beginnings might look different from the present, but LOCKJAW has never been interested in chasing trends. These talented musicians have the vision to make their own music and truly give it their all.

The quintet's upcoming studio album is a perfect example of their defiant-yet-charismatic approach to songwriting and performance, going for an urgent, no-frills sound that favors the well-honed connection between these musicians, rather than hiding their work under excessive layers of studio trickery.

The band's 2022 single, "Breaking Point", serves as an unapologetic example of this philosophy. The mix is balanced and detail-oriented, making for a lively sonic approach. Listeners will instantly take notice of the roaring walls of guitar and the energetic rhythm section, but if you dive deeper, there is a lot more to uncover. The dynamic spectrum of the track is very balanced, with a tight yet deep low end that really growls, holding it all together while adding some aggressive edge to the sound.

These expressions of creative integrity are the backbone that LOCKJAW intends to build their rise on. In a landscape where others can so easily get caught in the latest tides, this DFW five-piece has keyed in on where their passions lie, and are more than ready to swim against the current.
LOCKJAW are:

Jeff Ogle – Guitar

Joe Ortiz – Vocals

Gabriel Ayala – Bass

Scott Letz – Drums

Justin Paul – Lead Guitar