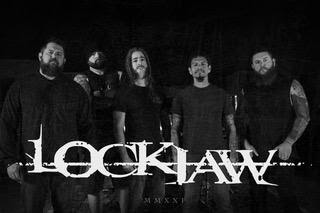 Art by Squindo
WATCH "BREAKING POINT" HERE: https://youtu.be/gm5bzRmE49Y
"Breaking Point" has been streamed over 158,000 times on Spotify in 4 weeks and is featured on Spotify's NEW CORE playlist. "Breaking Point" was produced by Chris Collier. The video was produced by Jeremy Peterson.
"'Breaking Point', I think has really proved to us that we can stretch outside our normal heavy roots and create something more melodic, vocally and musically. After just a few weeks the song hit over 100k streams on SPOTIFY, and helped us get on 2 Spotify Playlists, (New Core and All New Metal), Which was a really big deal, and milestone for us.
Anytime you venture into new territory its exciting and nerve racking. We are known for heavy music, so for me it's easy to rip out those kinds of riffs and write that style. 'Breaking Point' really changed my perspective on what is possible with this group when we were in the studio and Joe, our vocalist, came up with the main melody for the chorus. It kind of blew me away! The goal of this record was to take all that we love about metal and rock and just make it ours, with hooks, melodies, screams and ground shaking energy. We recently added 'Breaking Point' to our live set, and its really helped us prove to each other what we are capable of, I mean, if you told me 4 of 5 of Lockjaw would be doing vocals harmonies and backups live a year ago, I would have laughed at you. We are proud of where this record and song has brought us as a band.
The video for 'Breaking Point' was shot and directed by Jeremy Peterson. We wanted to try and capture the energy of a Lockjaw show in the most intimate atmosphere we could. So, we invited some of our rowdy fans and friends into the shoot and told them to do what they do best. The final product turned out better than we could have hoped for, and we are so thankful for all the Lockjaw Legion, that always support us.
The artwork for 'Breaking Point' was hand drawn by Tony Squindo, also known for his work with Metallica. Tony and I have become friends for the past year, and he really has a vision for what we were looking for, with art concepts, T-Shirts, etc. We couldn't believe he wanted to work with us to be honest. But it's a good relationship and we are proud of the work he has done for us." – Jeff Ogle
"Breaking Point"' is the band's fourth single to date. This particular song feels like a compelling new chapter for the band, highlighting its commitment to creating music that blurs the lines between a wide range of influences. From the depth and energy of alternative rock down the impactful edge of heavy metal, there are no rules.
LOCKJAW is:

JEFF OGLE- GUITAR

JOE ORTIZ- VOCALS

GABRIEL AYALA- BASS

SCOTT LETZ- DRUMS

JUSTIN MCCURLEY- GUITAR

About LOCKJAW:

Lockjaw is a band based in Dallas/Fort Worth, TX. The group has a rather long history, fueled by the friendship of the band members, who got together to form this band while in high school in the late 90s. The music scene was quite different back then, but just like today, Lockjaw was never interested in chasing trends. These talented musicians had the vision to make their own music and truly give it their all. Lockjaw started making music in 1998, and it didn't take long for the group to be able to record and release a handful of EPs throughout the local scene. The band's music earned a solid reputation, and Lockjaw soon grew to the ranks of excellent local bands, on stage and in the studio.

The band hit the studio with famed producer Chris Collier, already well-known for his work with seminal bands such as Korn, as well as Lynch Mob, Prong, and KMX, only to mention a few. Without spoiling anything, let's just say that these songs depict the band at its best. Instead of releasing a whole record at once, Lockjaw is set to be releasing a handful of singles throughout the year, allowing their releases to seamlessly spread over time and giving the audience a nice constant stream of content. The band's upcoming music is ultimately a perfect example of the band's attitude and charismatic approach to songwriting and performance, going for an immediate and earthy sound that favors the human connection between the musicians, rather than hiding their work under an excessive layer of studio trickery. If you are a fan of artists such as Metallica, Lamb Of God, Stone Sour, Machine Head, and Slipknot, this one is definitely going to be right up your alley. Production-wise, the band's new music is just as exciting and crisp as you might expect from such high standards of recording and production. For instance, "Breaking Point"'s mix is balanced and very detail-oriented, making for a lively, edgy, and stark sonic approach. In other words, there are many subtle nuances in this release, which really add to the richness of the track when summed up together. At first glance, you'll notice the roaring walls of guitar and the energetic rhythm section, but if you dive deeper, there is a lot more to uncover. The dynamic spectrum of the song is also very balanced, with a tight yet deep low end that really growls, holding it all together while adding some aggressive edge to the sound.

Lockjaw recently performed at the SO WHAT!? Music Fest at Choctaw stadium in Arlington TX with Wage War, I prevail, Hatebreed, Knocked Loose and Lorna Shore.

https://linktr.ee/lockjawmetal

https://www.facebook.com/Lockjawlive

Lockjaw (@lockjawmetal) • Instagram photos and videos

Lockjawmetal (@lockjawmetal) TikTok | Watch Lockjawmetal's Newest TikTok Videos

Stream LOCKJAW music | Listen to songs, albums, playlists for free on SoundCloud