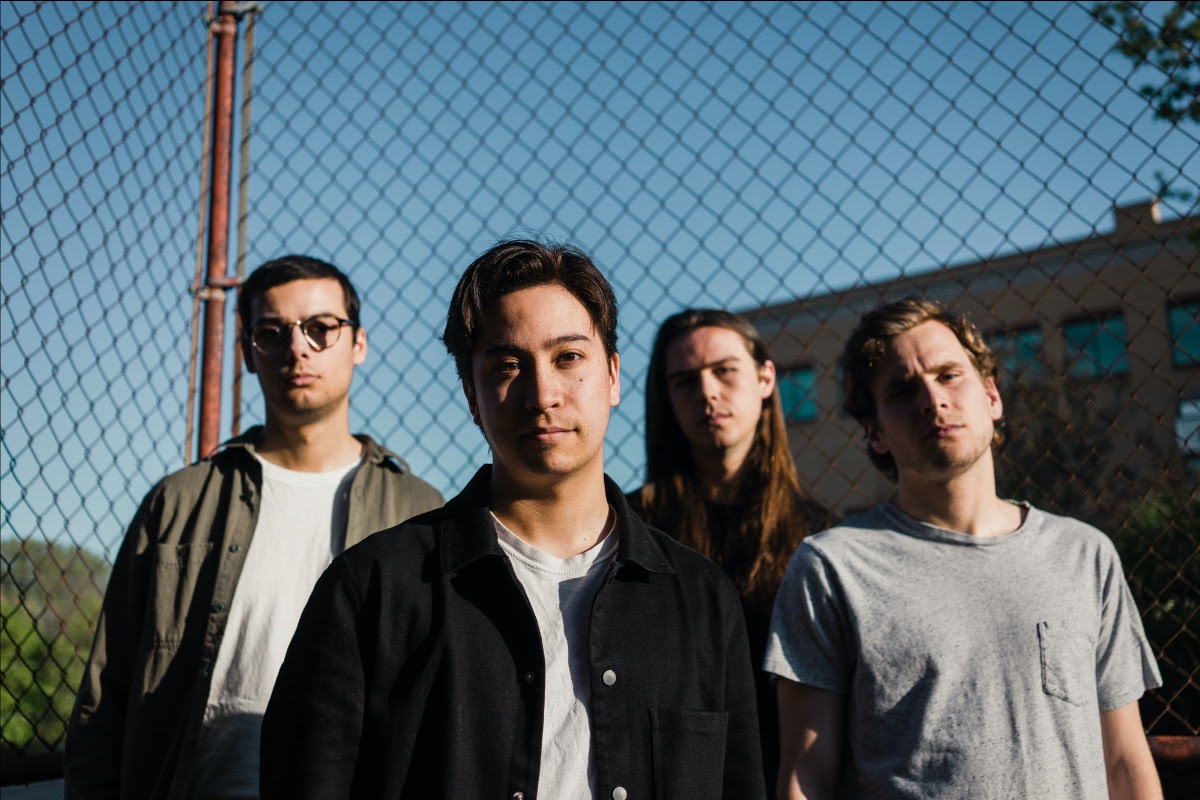 DEBUT ALBUM ALL OUT ARRIVES TODAY VIA FEARLESS RECORDS
BAND TOURING WITH THE DANGEROUS SUMMER
Locket have released their debut full-length album All Out via Fearless Records today, October 25. The record is available here.
The Toronto, Canada quartet—Brad Garcia [vocals, guitar], JJ Sorensen [drums], Cory Bergeron [guitars], and Travis Morrison [bass] just shared the video for "Hunnie." Watch it here.
"Out of all the songs on the record, 'Hunnie' came the most organically," says Garcia about the song's subject matter. "I wrote it with the intention of just saying all the things I'd want to remind my partner of — how I feel about her, why she matters — while she was living away from home undergoing recovery. It's very straightforward, there are no frills. At the end of the day, it's a love song, which is something I had to learn to feel comfortable writing so transparently, and I'm happy I did."
Regarding the video, Garcia explains, "Now that she's in a healthy point in her life, having her in the video makes this feel like it's all come full circle in the nicest way. We're both exactly where we want to be."
The band previously premiered the video for "First Blush" over at Alternative Press. Watch the video and read the exclusive chat with the band here. Locket also premiered two new songs through Billboard. Listen to "Sleepwalker" and "Other People," and read the exclusive interview, here. Lastly, watch the video for "Out of Sight" here.
Locket are currently on tour with The Dangerous Summer. All dates are below.
ALL OUT TRACK LISTING:
"Out of Sight"
"Sleepwalker"
"Hunnie"
"Lighten Up"
"First Blush"
"Other People"
"Sunshower"
"Disappear"
"All Out"
"Even If Kills Me'
LOCKET ON TOUR:
WITH THE DANGEROUS SUMMER:
10/25 — Toronto, ON — Hard Luck
10/26 — Ferndale, MI — The Loving Touch
10/27 — Chicago, IL — Bottom Lounge
10/29 — Lakewood, OH — Mahall's
10/30 — Nashville, TN — The End
11/01 — Kansas City, MO — The Rino
11/02 — Denver, Co — Marquis Theater
11/03 — Salt Lake City, UT — Kilby Court
11/05 — Seattle, WA — High Dive
11/06 — Portland, OR — The Paris Theater
11/08 — Oakland, CA — Starline Social Club
11/09 — West Hollywood, CA — The Roxy Theater
11/10 — Anaheim, CA — House of Blues
11/12 — San Diego, CA — Soda Bar
11/13 — Phoenix, AZ — The Rebel Lounge
11/15 — Austin, TX — Empire Control Room
11/16 — Dallas, TX — Club Dada
11/18 — Atlanta, GA — The Masquerade
11/20 — New York, NY — Le Poisson Rouge
11/21 — Philadelphia, PA — The Foundry
11/22 — Somerville, MA — Once Ballroom
11/23 — Asbury Park, NJ — Asbury Brewery
11/24 — Baltimore, MD — Ottobar
ABOUT LOCKET:
Having formed as Safe To Say several years ago, the band announced hiatus in the summer of 2017. A mix of failed relationships (both internally and externally) and mental health decline left the four-piece in a place that felt both uncomfortable and uncertain. Over the next year or so, singer/guitarist, Brad Garcia, alongside drummer, JJ Sorensen, guitarist Cory Bergeron, and original member/bassist, Travis Morrison, began rekindling their friendship and piecing together new songs. Despite being separated by distance —in some cases seven hours away from one another— the four rediscovered a passion for songwriting together and a flow that felt as natural as it had ever been. Having done all of this in private, the band had since written and recorded a new record. One that's honest and straight to the point. But the final step in turning the page had yet to be made. After countless discussions, the band had decided to change their name; to start fresh: Locket. A way of holding the past close to their hearts, wearing their previous lives as Safe To Say proudly, only now willing to emerge as something new. Locket are four people that have grown up together, and finally find ourselves in a space we always wanted to be in.