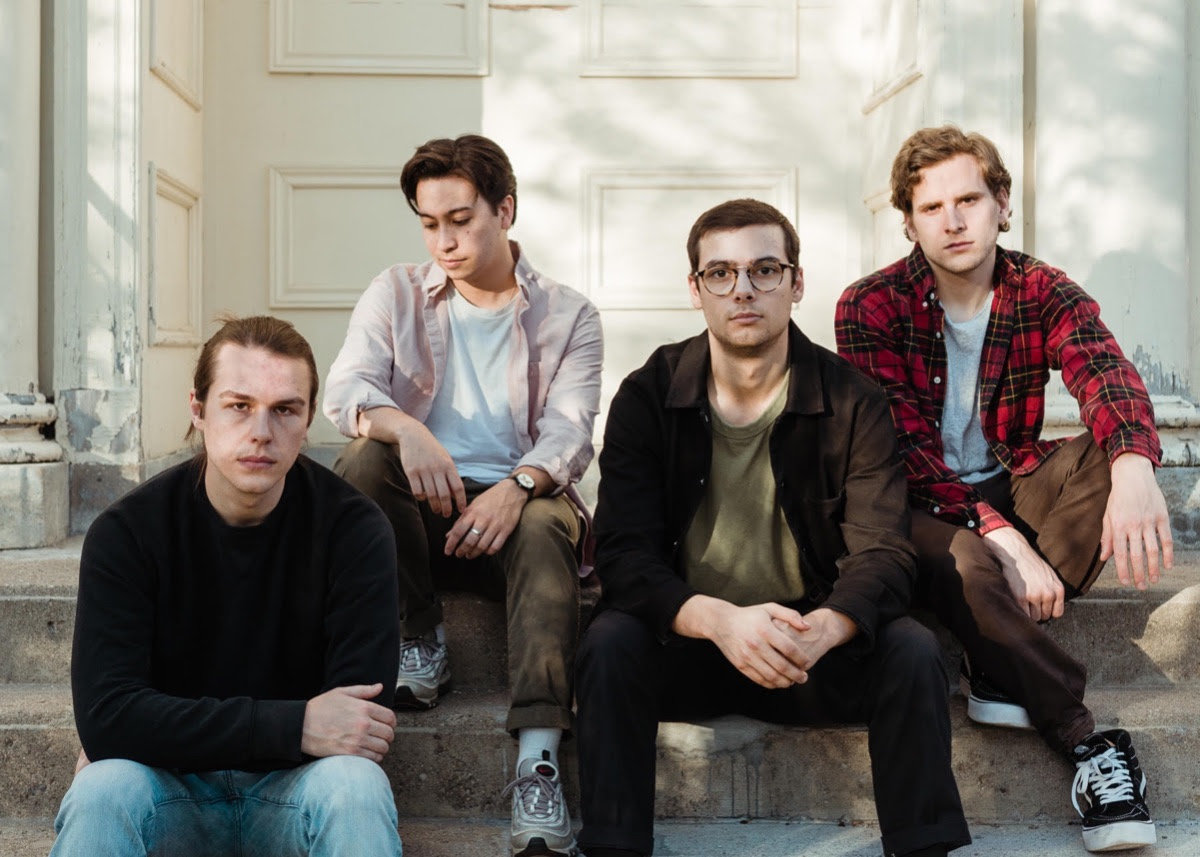 Locket
will release their debut full-length album
All Out
via
Fearless Records
on October 25. The record is available for pre-order
here
.
The Toronto, Canada quartet—Brad Garcia [vocals, guitar], JJ Sorensen [drums], Cory Bergeron [guitars], and Travis Morrison [bass] — just premiered the video for the new track "
First Blush
" over at
Alternative Press
.
Watch the video and read the exclusive chat with the band here.
"I wanted to write about that overwhelming feeling of starting a new relationship, falling for someone, especially when you catch yourself doing things you otherwise wouldn't, because you feel invincible," Garcia told APabout the song. "You recognize how bad other things around you are by comparison and try your best to leverage your optimism. Basically, if the house is burning, fuck it, at least we're in this together, and that's enough."
Regarding the video, Garcia said, "It plays off that whole theme of the song. Being reckless for love's sake because you feel like nothing could get in your way. We wanted to do something that wasn't so obvious from the beginning but gradually plays out into this otherwise sketchy thing — the four of us breaking into someone's house. Of course, having self-produced the video like just about everything else, we had to work to make it all manageable and we appreciate all the help that was given to us by friends over that five-day shoot."
Locket previously premiered two new songs over at Billboard. Listen to "Sleepwalker" and "Other People," and read the exclusive interview, here.
Upon announcing the news that they signed to Fearless, Locket dropped the brand new track and video for "Out of Sight." Watch + listen here.
Locket will hit the road this fall in support of All Out with The Dangerous Summer. All dates are below.
ALL OUT TRACK LISTING:
"Out of Sight"
"Sleepwalker"
"Hunnie"
"Lighten Up"
"First Blush"
"Other People"
"Sunshower"
"Disappear"
"All Out"
"Even If Kills Me'
LOCKET ON TOUR:
WITH THE DANGEROUS SUMMER:
10/23 — Pittsburgh, PA — The Smiling Moose
10/24 — Buffalo, NY — Mowhawk Place
10/25 — Toronto, ON — Hard Luck
10/26 — Ferndale, MI — The Loving Touch
10/27 — Chicago, IL — Bottom Lounge
10/29 — Lakewood, OH — Mahall's
10/30 — Nashville, TN — The End
11/01 — Kansas City, MO — The Rino
11/02 — Denver, Co — Marquis Theater
11/03 — Salt Lake City, UT — Kilby Court
11/05 — Seattle, WA — High Dive
11/06 — Portland, OR — The Paris Theater
11/08 — Oakland, CA — Starline Social Club
11/09 — West Hollywood, CA — The Roxy Theater
11/10 — Anaheim, CA — House of Blues
11/12 — San Diego, CA — Soda Bar
11/13 — Phoenix, AZ — The Rebel Lounge
11/15 — Austin, TX — Empire Control Room
11/16 — Dallas, TX — Club Dada
11/18 — Atlanta, GA — The Masquerade
11/20 — New York, NY — Le Poisson Rouge
11/21 — Philadelphia, PA — The Foundry
11/22 — Somerville, MA — Once Ballroom
11/23 — Asbury Park, NJ — Asbury Brewery
11/24 — Baltimore, MD — Ottobar
ABOUT LOCKET:
Having formed as Safe To Say several years ago, the band announced hiatus in the summer of 2017. A mix of failed relationships (both internally and externally) and mental health decline left the four-piece in a place that felt both uncomfortable and uncertain. Over the next year or so, singer/guitarist, Brad Garcia, alongside drummer, JJ Sorensen, guitarist Cory Bergeron, and original member/bassist, Travis Morrison, began rekindling their friendship and piecing together new songs. Despite being separated by distance —in some cases seven hours away from one another— the four rediscovered a passion for songwriting together and a flow that felt as natural as it had ever been. Having done all of this in private, the band had since written and recorded a new record. One that's honest and straight to the point. But the final step in turning the page had yet to be made. After countless discussions, the band had decided to change their name; to start fresh: Locket. A way of holding the past close to their hearts, wearing their previous lives as Safe To Say proudly, only now willing to emerge as something new. Locket are four people that have grown up together, and finally find ourselves in a space we always wanted to be in.