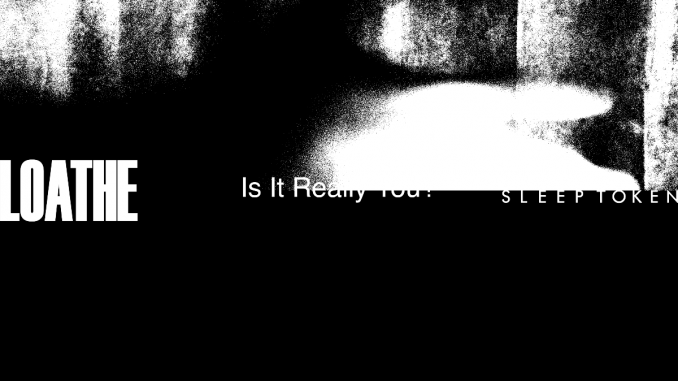 TRACK IS TAKEN FROM I LET IT IN AND IT TOOK EVERYTHING
LOATHE have revealed a second collaboration version of their track "Is It Really You?" with enigmatic alt rockers Sleep Token.
Listen here.
This stripped down version features piano accompaniment and moving vocals from Sleep Token's Vessel, which emphasizes the nostalgic nature of the songwriting.
"Is It Really You?" is taken from Loathe's 2020-released record I Let It In And It Took Everything and has been identified as one of the pivotal moments in the band's sonic evolution.
Loathe stated, "We've all been big fans of Sleep Token for a while now, so when the track landed in our inbox, it blew us away. Alongside the Teenage Wrist rendition, having the opportunity to hear our song through the artists own lens but also to release these alternate versions to the public to ingest and enjoy is a humbling experience."
Listen to the Loathe x Teenage Wrist collaboration version of "Is It Really You?" here or here.
SLEEP TOKEN (PICTURED ABOVE)
Check out Loathe's previously released new single "
Dimorphous Display
." Listen to + watch the visualizer
here
.
Additionally, Loathe will be embarking on a 23-date North American tour this spring as support to Code Orange. All dates are below.
LOATHE ON TOUR:
WITH CODE ORANGE, VENDED, + DYING WISH:
4/3 — Detroit, MI — Magic Stick
4/4 — Chicago, IL — The Metro
4/5 — Omaha, NE — Slowdown
4/6 — Denver, CO — Summit Theater
4/7 — Salt Lake City, UT — Soundwell
4/9 — Vancouver, BC — Rickshaw Theatre
4/10 — Seattle, WA — The Crocodile
4/11 — Portland, OR — Wonder Ballroom
4/12 — Sacramento, CA — Goldfield Trading Post
4/13 — San Francisco, CA — August Hall
4/18 — Mesa, AZ — The Nile
4/20 — Pomona, CA — The Glass House
4/23 — Las Vegas, NV — 24 Oxford
4/25 — Austin, TX — Empire Control Room and Garage
4/26 — Fort Worth, TX — Tulips
4/27 — Houston, TX — The Secret Group
4/29 — Jacksonville, FL — Underbelly
4/30 — Tampa, FL — The Orpheum
5/2 — Atlanta, GA — The Masquerade (Heaven)
5/3 — Baltimore, MD — Baltimore Sound Stage
5/4 — Philadelphia, PA — Union Transfer
5/6 — Brooklyn, NY — Warsaw
5/7 — Boston, MA — Paradise Rock Club
2021 was an incredible year for Loathe, especially in the live arena, completing their biggest UK headline tour in December, in which they performed I Let It In and It Took Everything in full each night. They racked up a number of live UK dates with While She Sleeps, and appeared at the Download Festival Pilot, Reading and Leeds Festival, and Slam Dunk.
Loathe's latest record The Things They Believe was released unannounced in February 2021; it was an ambient soundtrack album accompanying a limited edition photobook by Mark Unthank. Despite the critical success of 2020's I Let It In and It Took Everything, some of the record's central themes were left incomplete. The Things They Believe drew out some of the ideas from I Let It In and It Took Everything, pushing them in a radical new direction. I Let It In and It Took Everything showcased Loathe's hard and heavy experimentalism, while The Things They Believe brought out a more esoteric side to the band.
LISTEN TO LOATHE:
"The Things They Believe"
"Two-Way Mirror"
"Aggressive Evolution"
"New Faces In The Dark"
"Gored"
LOATHE ARE:
Kadeem France — Vocals
Erik Bickerstaffe — Guitar, Vocals
Feisal El-Khazragi — Bass
Sean Radcliffe — Drums