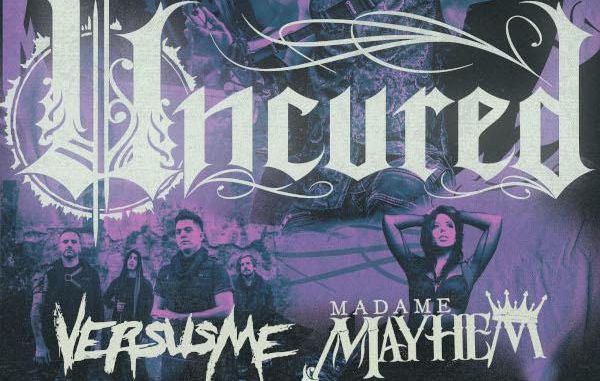 Three of the nation's top emerging rock groups will join forces this February and March on the newly announced "LIVING LIKE I'M DEAD" tour. The tour is headlined by New Jersey hard rock group UNCURED, which features brothers and guitarists/vocalists Rex and Zak Cox. Wisconsin rockers VERSUS ME and NYC rock singer-songwriter MADAME MAYHEM will join UNCURED on the month-long run. Tickets are on-sale as of today, January 31, via www.uncuredband.com. The tour will support the upcoming release of UNCURED's third album LIVING LIKE I'M DEAD, due March 4. LIVING LIKE I'M DEAD delivers massive choruses with stunning vocal harmonies, catchy melodies and blistering guitar solos. UNCURED will play the entire album live, plus singles from their previous LPs EPIDEMIC and MEDUSA. UNCURED is a member of the Schecter Guitars official artist roster, and Schecter is a sponsor of the tour. Schecter will be giving away three guitars to three lucky fans who purchase advance tickets to an upcoming show. For details, please visit: www.uncuredband.com/win 'Living Like I'm Dead' Tour Dates:2/23 – Detroit, MI @ Diesel2/24 – Madison, WI @ The Annex2/25 – Hobart, IN @ Art Theater2/26 – Racine, WI @ Route 203/1 – Bloomington, IL @ The Stable3/3 – Joliet, IL @ The Forge3/5 – Minneapolis, MN @ Cabooze3/6 – Des Moines, IA @ Lefty's3/7 – Kansas City, MO @ Vivo Live3/8 – Wichita, KS @ The Wave3/9 – Springfield, MO @ Outland Ballroom3/10 – Tulsa, OK @ The Vanguard3/11 – Katy, TX @ Wildcatter3/12 – Lubbock, TX @ Jake's3/15 – Shreveport, LA @ Sand Bar3/16 – Birmingham, AL @ Zydeco3/18 – Huntsville, AL @ Sidetracks3/19 – Johnson City, TN @ Capone's3/20 – Greensboro, NC @ Blind Tiger "Uncured had the opportunity to play 25 incredible shows during the summer of 2021," shares Rex. "Audiences have been starved for the adrenaline surge that only comes from the excitement of live music." Zak adds: "Our touring partners Versus Me and Madame Mayhem have become favorites on the active rock radio scene, and their epic songs and powerful live performances will make this tour an event that can't be missed." The members of VERSUS ME agree, "All of us in Versus Me are very excited to hit the road with Uncured and Madame Mayhem. We've been eager to take our live show on the road and this is the perfect opportunity. Our fans have been asking us to hit the road and we can't wait to hang out with everyone and play our new music." "We're so excited to get back on the road and perform live with Uncured and Versus Me," adds MADAME MAYHEM. "More than anything we can't wait to reconnect with all of the rock music lovers out there after not touring for so long! These shows are going to be something special for sure."
Lineup [l-r]: Zak Cox, Rex CoxCredit: Conclave Studios With a resume that includes over 250 live shows in 14 countries, UNCURED has won over fans worldwide with its virtuoso guitar skills and energetic, engaging live performances. Lauded by Guitar World as "technically dazzling", UNCURED has been seen on major tours with acts including Lacuna Coil, All That Remains, Cradle of Filth and Jinjer, just to name a few. Most recently, UNCURED opened for Judas Priest and Sabaton at the 2021 Warlando Music Festival in Orlando. Their debut album Medusa was named one of the "10 Best Metal Albums of 2017" by AXS.com while their 2019 cover of Slayer's classic hit "Disciple" received the title of "Cover of the Year" from SiriusXM's "Liquid Metal" show. UNCURED have released three singles from LIVING LIKE I'M DEAD, including title track "Living Like I'm Dead" along with anthems "I Won't Break" and "Take Me Away," all of which can be found streaming across all digital platforms. Watch the official music video for "Living Like I'm Dead" streaming below.
Lineup [l-r]: Lee Milibrandt (bass), JJ Johnson (drums), James Milibrandt (vocals), Dustin Hansen (guitar)
Wisconsin's own VERSUS ME is a band for today's rock crowds. They have crafted multiple songs featuring the type of crowd-ready anthems heard in stadiums, while simultaneously harnessing the heaviness and earnest delivery found each year on the Warped Tour's main stage and in the pages of Alternative Press, Rocksound, Kerrang! and Big Cheese. The band's diverse influences, their varied experiences on the road, and the ascent of likeminded bands like Bring Me The Horizon, Asking Alexandria and Ice Nine Kills have paved the way for Versus Me to quickly connect with fans on a worldwide scale. Their latest single "Down" is out now via oneRPM. Stream its music video below.
Manhattan born singer-songwriter and burgeoning rock icon in the making MADAME MAYHEM takes charge of her own anxiety, hurt, and alienation, crushing it with sheer force of will, then channeling the remaining ether into pulse-pounding anthems, instantly connecting with anyone who has struggled. Madame Mayhem doesn't fit comfortably in any one box, shifting seamlessly from pile driving to almost precious with skilled frenzy. In fact, Madame Mayhem boasts the arena-ready thrill of Disturbed, the soaring chest-pounding sensibility of Breaking Benjamin, the brazen, clever, and rad attitude of Pat Benatar, all delivered with the grand theatricality of Iron Maiden and the operatic thunder of Evanescence. Those who yearn for the electric catharsis of loud guitars, driving rhythms, hypnotic hooks, and the strength of shared experience have a new muse in Madame Mayhem. Her latest single "I Am More," produced by Johnny K (Disturbed, Megadeth, Sevendust, Finger Eleven) is out now; stream its music video below.