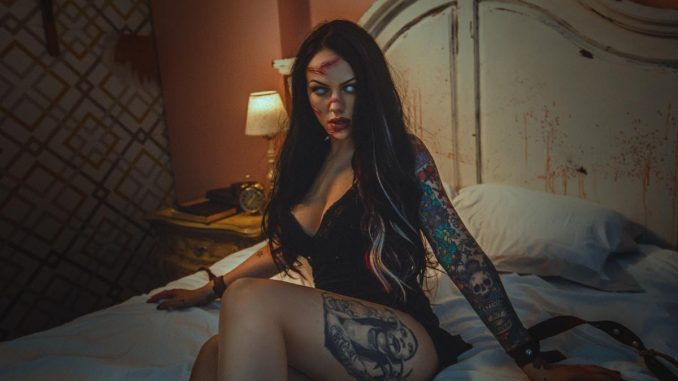 Debut Album, Exorcism, Out Now
Canadian modern metal powerhouse LIVING DEAD GIRL has revealed a new video for the title track from their debut album, Exorcism.
"This video contains all the elements that are in the song," says frontwoman Molly Rennick. "It's got horror, it's got sex and overall it has a fun, playful energy. It's the perfect visual to accompany this track!"
Released June 11, Exorcism's 11 banging tracks sees Rennick channeling her inner "goth girl gone bad" attitude. From the raging, down-tuned riffs of the title track and "Worship Me," to the infectious, singalong chorus of "Villain," and the enticing, taunting melodies of "Beautiful" and "Alive," Rennick commands your full attention.
"Band founder/vocalist Molly Rennick's amazing vocal range seamlessly fluctuates between taunting, high-pitched croons to menacing, harsh barks to haunting growls with relative ease…'Exorcism' is a raucous debut album from LIVING DEAD GIRL and a good sign of things to come from this young powerhouse of a singer." – Outburn
"LIVING DEAD GIRL is definitely a force that will have to be reckoned with, and 'Exorcism' isn't the first foot in the door so much as fist through a window that's going to grab you and shake you." – The Herald-Whig
"You can say this about LIVING DEAD GIRL: they know what they're doing. Led by band founder Molly Rennick, the Canadian spooky groove metal act have their sonic profile down to a T: syrupy, hard-hitting riffs; staccato rhythms with driving forward momentum; and Remnick at the center of it all belting out layered, goth-girl-you-can't-ignore vocals. Fans of In This Moment and Ice Nine Kills will immediately know what to do with this, while newcomers will be inexorably drawn into the album's forcefully accessible sounds." – The Pit
Formed in 2017, LIVING DEAD GIRL's style is a unique combination of goth-inspired heavy metal meets fellow Canadian frontwoman Avril Lavigne, possessing an amalgam of genres including rock, metal, industrial, goth, pop and punk rock. The music perfectly encapsulates Rennick's personality, which she admits is a dichotomy of "one wears baby pink and Hello Kitty and listens to pop music, and the other a goth girl in fishnet stockings who listens to dark heavy metal." The 21-year-old Rennick's amazing vocal range sees her seamlessly switching from taunting, high-pitched croons, to menacing, harsh barks, to haunting growls with relative ease.
LIVING DEAD GIRL online: