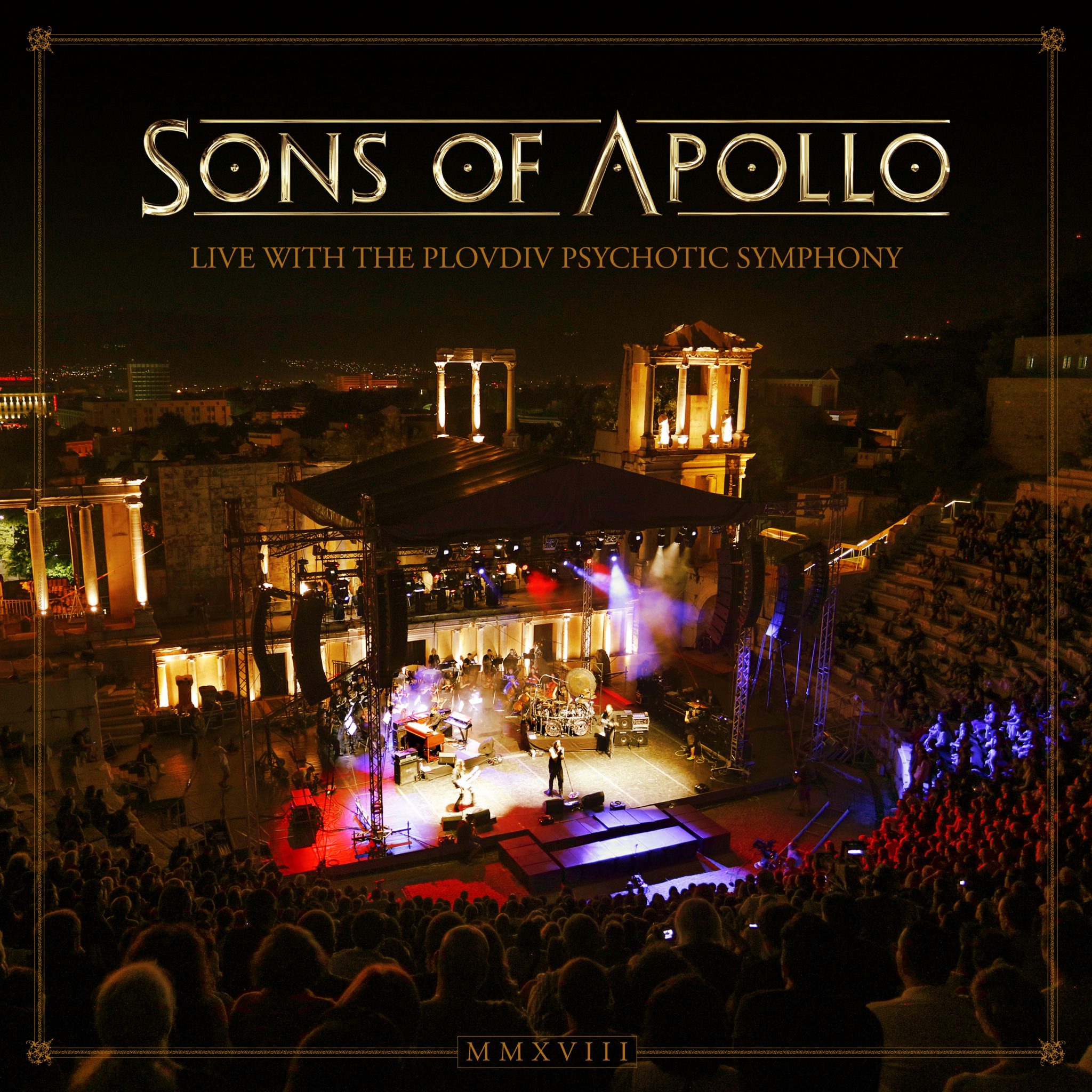 If you were to ask any true Prog-rock fan to put together a group of the best musicians out there currently, they would be hard-pressed to come up with anything better than the Sons of Apollo lineup. With Jeff Scott Soto's soaring vocals, Ron "Bumblefoot" Thal's divine guitar, a heavenly rhythm section containing Mike Portnoy's drum and Billy Sheehan's bass, topped off with the out of this world keyboards of Derek Sherinian, this group is a gift from above. Add in a full Symphony, a choir, and one of the coolest venues I have ever seen, and you have the makings of one EPIC live DVD/album.
The biggest thing I hope for in a live DVD from a band is its ability to make me feel like I was actually there the night it was filmed. With their "Live with the Plovdiv Psychotic Symphony," SOA accomplishes that better than most. Set in Bulgaria at a Roman open-air stone amphitheater, this was probably the show I was most jealous of not being able to attend, on the band's tour in support of their freshman release Psychotic Symphony (see what they did there.) They did an amazing job covering every angle including using an aerial drone to show the entire space.
With the stage set in such a larger-than-life way, would the band be overshadowed? OK, OK, with this lineup NOT A FREAKING CHANCE! Soto's ability to include the audience in the show is very comparable to one of his self-proclaimed influences, the iconic Freddie Mercury. This is one reason I am sure the band chose to include a couple of Queen covers in the 2.5-hour, 2 set show. And did I mention they only had one, yes one, rehearsal with the Plovdiv Psychotic Symphony the day before the show?
The first set of the show is predominately dedicated to the material from Psychotic Symphony. It did also include a cover of "Just Let Me Breathe" commemorating Portnoy and Sherinian's time together in Dream Theater and dare I say with the new energy brought by Soto, it may be better than the original. I think my favorite part though was SOA's original "Alive." There is something about this song that just makes you move. It also showcases Bumblefoot's absolutely incredible vocal abilities. Though he sings throughout the album, he really shines during this one. Dash in a couple of solos from these dynamite musicians, the outright awe-inspiring "Opus Maximus," and the first set timed at about an hour and 10 minutes was complete.
Now onto the second set which adds the symphony and is mostly covers of some pretty iconic songs. It is a true testament to this band that they did such an incredible job paying tribute to influences by covering such well-known songs while still being able to put their own spin on them. Starting off with some Zeppelin, and including hits from Queen, Ozzy, Rainbow, Aerosmith, and a couple of others, this set is a rock fan's dream come true. We are even treated to Mike "I am not a singer" Portnoy's (his words not mine) vocal prowess during the verses of Pink Floyd's "Comfortably Numb," and he nailed it! The set also included SOA originals "Labyrinth" and "Coming Home" which were elevated to a whole new level with the symphony adding just more deep layers to already incredible songs.
Now, usually in a review, I would go song by song and tell you everything you would get to experience. I am not sure even if I did that, my words would do this live album justice. This is something you NEED to experience for yourself. Please do yourself, and everyone in your life, the favor of picking up "Live with the Plovdiv Psychotic Symphony" out August 31st through Inside Out Music. YOU WILL NOT REGRET IT.