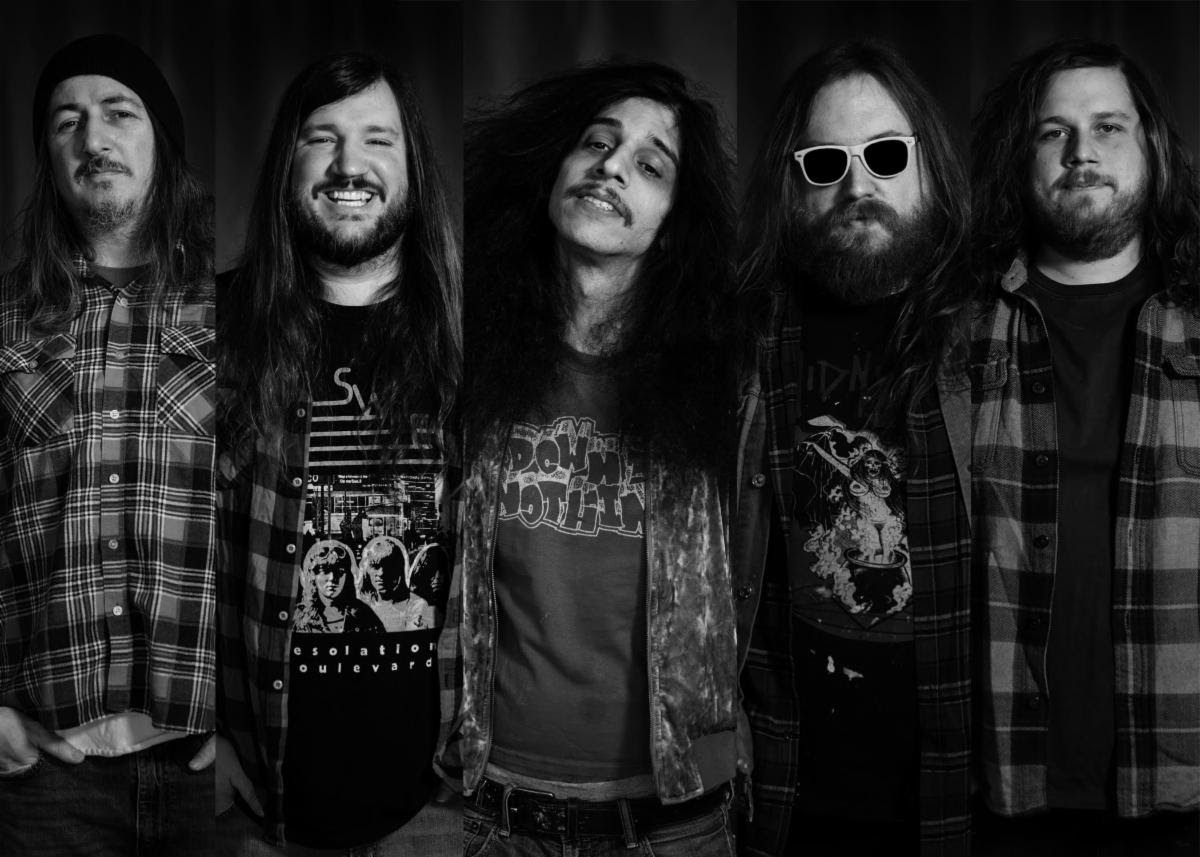 Limousine Beach know how to have a good time. After all, 'First class is just a state of mind!'
-Two Guys Metal Reviews-
With three guitars there's plenty of over-the-topness to be found.
-The Obelisk-
###
Pittsburgh PA's triple lead guitar outfit Limousine Beach combine concentrated songwriting and nimble fretwork with soaring vocal harmonies to become the world's first "sizzle rock" band.
Today the band drops the video for the EP's Title Track. Watch it
HERE
. The directing and videography was handled by
Nic Lockerman
"We think the performance video, filmed in our practice space, is a nice introduction and gives folks a little glimpse into our world," says the band about the clip.
Limousine Beach has released their first recorded material on Tee Pee Records June 19, 2020 in the form of an EP entitled "Stealin' Wine +2.". Each composition is a compact blast of expertly crafted songwriting, none of which sacrifice complexity or power for brevity. So knock off work early, crank up the Limousine Beach, and if anyone asks where you are, tell 'em you're gone sizzlin'.
"Based on true events, 'Stealin' Wine' is a tale of airborne liquor theft. When you have 8 hours left to kill on a transatlantic flight, an unattended booze cart is all the motive you need, says the band.
The EP is available for purchase
HERE
Fronted by vocalist/guitarist Dave Wheeler (Outsideinside, ex-Carousel), the lineup is rounded out by guitarists Evan Mitchell (Cruces) and Jason Sichi (Fist Fight in the Parking Lot), drummer Dan Bhutta (Cruces), and bassist Dan Hernandez (Cruces, Sweat). Drawing inspiration from bands such as The Sweet, The Dictators, Van Halen, The Fucking Champs, Nazareth, Sheer Mag, KISS, Jaguar, and Boston.
Stealin' Wine +2 Tracklisting:
1. Stealin' Wine
2. Hear You Calling
3. Tiny Hunter
Lineup:
Jason Sichi – Guitar
Evan Mitchell – Guitar
Dave Wheeler – Guitar/Vocals
Dan Hernandez – Bass
Dan Bhutta – Drums
For More Info Visit: