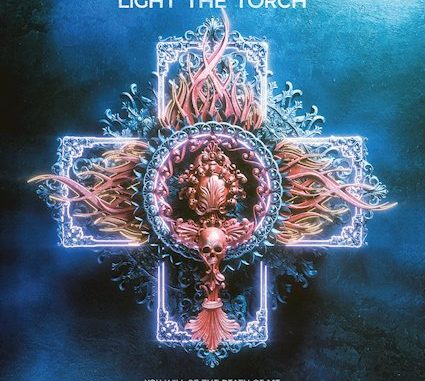 I've been a Howard Jones fan for a long time. From his years in Blood Has Been Shed, to his time with Killswitch Engage, to his current band, Light the Torch (ex-Devil You Know) Howard has always proven himself to be a powerhouse of a vocalist. He has been in the metal scene for over two decades and continues to impress metalheads around the globe. Now, the Los Angeles-based band, Light the Torch: Howard Jones (vocals), Francesco Artusato (guitar), and Ryan Wombacher (bass) will be releasing their fourth studio album, "You Will Be the Death of Me," on June 25th through Nuclear Blast records.
The trio of musicians started work on this album pre-pandemic, however, the album was birthed from a season of difficulty. In a recent interview, guitarist Francesco said, "This record is special to me in a different way. From writing the music during one of the toughest times of my life while dealing with a bad injury due to a car accident to being obsessively involved with every aspect of its production, recording, and creating the artwork. It's hard to describe how I feel, and to finally see this record getting ready to be released." In late 2019, they started the process of what would become the album's title track, "Death of Me." Like most of the songs in their catalog, the song displays an excellent combination of melody and brutality. The album was produced by Josh Gilbert (As I Lay Dying, Wovenwar) and Joseph McQueen (Bad Wolves, Bullet For My Valentine) at Sparrow Sound in Glendale, CA.

The first single, "Wilting In the Light," was released in early April and received extremely positive reviews. If you haven't heard it yet, shame on you. The song features a catchy hook and a powerful vocal performance. Although not officially a part of the band, Alex Rüdinger (Whitechapel) was hired as a studio drummer for the recording of the album. Rüdinger's drumming blends well with Light the Torch's sound on every song yet is exceptional on the album's opening track, (and second single) "More Than Dreaming." The single was released May 7th and is much heavier than its predecessor. "He was exactly what we needed," the band noted. I agree! Hopefully, he will be a permanent addition to this already great band.
In addition to the aforementioned singles, "You Will Be the Death of Me" is chock-full of killer songs. "Let Me Fall Apart" and "End of the World" are both solid tracks with heavy, driving riffs; with the former being released as a single on June 4th. "Become the Martyr," although not a ballad, slows down a bit and shows a dynamic from the band not seen in most of their songs. "Death of Me" and "Living With a Ghost" feature heavy bridges that are sure to get you pumped up, and the guitar solos on "Denying the Sin" and "Come Back to the Quicksand" will impress those who understand the talent needed to pull them off so flawlessly. Lastly, Light the Torch concocted their own version of Terence Trent D'Arby's 1987 single, "Sign Your Name" and it is the perfect song to play that special someone who likes hearing heavier versions of cover songs.
Ideally, I would've liked to hear a little more diversity in sound on the record overall. Not everyone shares the same opinion but I personally like when bands experiment a little more than what we have on "You Will Be the Death of Me." However, this is definitely a solid release from a band I really like. It is sure to be playing on my stereo for a long time. As mentioned earlier, Howard's vocals are like fine wine- only getting better with age. The dude is now over fifty years old, but he is showing no sign of slowing down. Light the Torch knows how to shine and "You'll Be the Death of Me" is another beacon of success the genre will aim for.