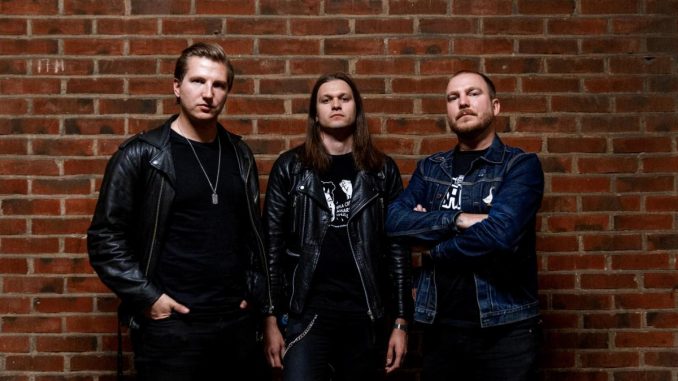 New Mini-Album 'Diamonds' Coming in September
Swedish power trio Liar Thief Bandit share the fourth single from their upcoming mini-album. "Diamonds (are Made Under Pressure)" is a feel-good rock track with uplifting choruses and vibrant riffs. The track continues on a theme presented on the band's latest album 'Deadlights' (2021). Mike from the band explains:
"Diamonds (Are Made Under Pressure) is a love song and a continuation of Catch and Release from the Deadlights album. 'Catch' was about meeting someone new in an untimely way, 'Diamonds' is about nourishing what that relationship has grown to be. Dare to believe in the happiness you feel and you'll find it easier to enjoy the present!"
"Diamonds (Are Made Under Pressure)" is out now on all streaming platforms. Liar Thief Bandit's upcoming mini-album, 'Diamonds', will be released in September via The Sign Records.
Liar Thief Bandit – "Diamonds (Are Made Under Pressure)" (Official Audio)
About LIAR THIEF BANDIT:
What do you get if you blend the melodic essence that helped shape the '70s and the raw garage revival of the late '90s with a modern touch of uplifting lyrics and undeniable energy? The answer is Liar Thief Bandit – a power trio born to play live with the sole purpose to carry the torch of all that ever was, is, and will be rock'n'roll in its purest form.
After humble beginnings in 2015 making demos and playing those first crucial shows, the defining journey took off in late 2016 when the self-produced debut album "Gun Shovel Alibi" was released. Extensive touring followed and the band's DIY ethics brought them to numerous European countries during 2017. Their lightening, energetic live show caught attention and left the audience wanting more. The hectic tour schedule influenced the three-piece to write, record, and deliver their sophomore epos "Straight Ahead" released in august 2018 quickly followed by three European tours putting Liar Thief Bandit on the map as a hard-working rock'n'roll band to reckon with.
With new songs in the making, May 2019 saw the trio doing their 100th show in Hamburg as the premiere of an 18-day tour through Germany, Switzerland, Italy, Poland, and Czech Republic. The coming fall saw a split 7" vinyl with Grande Royale released on The Sign Records and a joint tour through Germany and Switzerland supporting the double A-side single. The track "Virtue Not a Vice" left no one doubting the power of innovating riffs and rememberable melodies that makes Liar Thief Bandit stand out in the current rock atmosphere.
The third full-length was recorded during the spring of 2020 in Malmö's Tambourine Studios inspired by hardships in a hard-working touring band as well as complicated situations in life. The theme throughout the 12 songs touches on philosophies of picking yourself up, taking chances, and facing obstacles with a positive state of mind. "Deadlights" was released on May 14th 2021 via The Sign Records.
Always thinking ahead, more music was already on its way. Following the release of "Deadlights", one of the land's hardest working rock trios fired up the engine and headed to the outskirts of the small Swedish west coast town Strömstad in the summer of 2021 to record once again. 7 tracks were laid down in 7 days at Tilt Recording Studios with Max Dahlby at the helm, who's worked with Åskväder, The Drippers, and Scumbag Millionaire to name a few. 6 originals and a cover of Graveyard's "Ain't Fit to Live Here" as the first single to be released from the upcoming mini-album "Diamonds", which takes off where "Deadlights" ends. It follows the same theme and feel as its predecessor but with additional reflections and new views on self-realization. A troubled mind finding keys to push forward surrounded by roaring guitars, pounding drums, and fierce vocals.
Liar Thief Bandit:
Mikael Jacobson – Guitar / Vocals
William Grube – Drums
Niklas Dahre – Bass
Connect with Liar Thief Bandit:
Swedish hard rock outfit The Riven have launched the single and lyric video for "Death". A classic heavy metal track with powerful vocals, gripping lyrics, and an electrifying guitar solo, all contributing to a dynamic soundscape with a huge finale. The band comments:
"This is our heaviest song to date and features a lot of different emotions. This is a journey you don't wanna miss out on!"
"Death" is the second single from The Riven's sophomore album 'Peace and Conflict', which is set for release on The Sign Records later this year.
The Riven Headline Tour – Spain 2022:
12 abr – Wurlitzer Ballroom – Madrid
13 abr – Urban Rock Concept – Vitoria
14 abr – Pub Zeta – Binéfar
15 abr – El Cielo Gira – Soria
16 abr – Cal Jou Conques – Lleida
17 abr – La Traviesa – Torredembarra
19 abr – Sala Nana – Ciudad Real
20 abr – Dabadaba – Donosti
21 abr – El Gran Café – León
22 abr – Salason – Cangas do Morrazo
23 abr – Sala Mardi Gras – A Coruña
24 abr – Porta Caeli – Valladolid
THE RIVEN – "Death" (Lyric Video)
THE RIVEN Bio:
Hard-hitting, sharp-shooting power rock influenced by the great sounds of the 1970s and 80s. The Riven plays honest Rock & Roll that makes you wanna shake your fist and bang your head. Their music and lyrics will take you on a sonic journey
"The Riven is an electrifying powerhouse, Classic Rock for the 21st Century."
The Riven are currently in the line of releasing their second full-length studio album "Peace and Conflict". The album consists of eight hard-hitting tracks that will be available on Vinyl, CD and digital platforms. New on this album, is the guitarist Joakim Sandegård who together with Arnau Diaz create a twin-guitar sound, new to The Riven. Also in this album is Jussi Kalla behind the drums who made his debut with the band with the inch "windbreaker/movin on" released on May 2020
"Make no mistake this band is going to blow up in stratospheric proportions "- The Sludgelord
The Riven recorded their nine-track, self-titled debut album in Madrid, Spain with Producer Ola Ersfjord (Lucifer, Tribulation, Dead Lord) at Holy Cuervo Studios. It was later released on the first of March 2019 on The Sign Records with a worldwide distribution.
"Glowingly performed and with a clear direction towards future great deeds. You can't ask for more from this fully-fledged debut album" Sweden Rock Magazine.
The self-titled album "The Riven" received great reviews and in the autumn of 2019 the album got a South American release through the Brazilian label Hellion Records. The first album developed the band's sound from their EP "Blackbird" and gave space to a more progressive and psychedelic side.
In 2019, The Riven embarked on extensive tours, taking them all over Europe in three separate headline tours around France, Germany, Spain, Switzerland and Sweden, playing festivals like Muskelrock, Hellgart, Live at Heart and Skövde in Rock.
In the summer of 2021, The Riven went to a cottage in the south of Sweden, recording their second full-length album. The anticipated sophomore album balances perfectly straight, sharpshooting heavy rock with big choruses with psychedelic moments. "Peace and Conflict" offers twin guitars, roaring vocals and a locked-in rhythm section waiting to take you away.
"Now this is Classic Rock for our time" – Doomed & Stoned
Today, the band consists of singer Totta Ekebergh, guitarists Arnau Diaz and Joakim Sandegård, bass player Max Ternebring and drummer Jussi Kalla. The Riven was formed in 2016 when they were living in West London, where they also recorded their EP 'Blackbird' at Buffalo Studios.
"The five tracks on Blackbird are short, snappy, and more catchy than airborne Ebola". – AMG