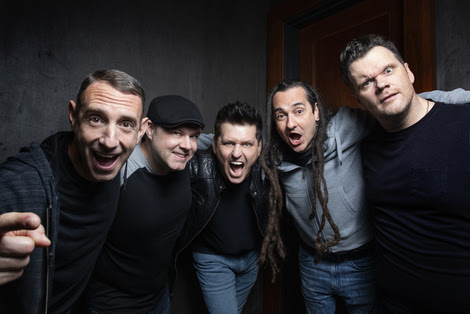 Featuring Craft Beer Tasting With An All-Star Lineup Of Ska And Ska Punk
Saturday, September 11 At Oak Canyon Park In Silverado, CA
Tickets On Sale Now At www.OCBrewHaHa.com
Tickets are on sale now for the 11th Orange County Brew Ska Ska, featuring an afternoon of craft beer tasting along with music from an all-star lineup of ska and ska punk on Saturday, September 11 at Oak Canyon Park in Silverado, CA. Brew Ska Ska attendees will enjoy performances from Less Than Jake, Hepcat, The Aggrolites, Mustard Plug, The Toasters, Bite Me Bambi and Half Past Two.
Those 21+ can enjoy unlimited craft beer samples until 4:00 PM while choosing from approximately 160 beers from some of the best craft breweries in the region and nationwide. Breweries will include Orange County's newest brewery Rad Beer Co. (co-owned by Brew Ha Ha Productions' Cameron Collins), plus Artifex Brewing, Beachwood Brewing, Bottle Logic, Brewery X, Stereo Brewing, Wild Barrel Brewing and many more. Attendees will also enjoy food for purchase from local food trucks and vendors, with vegan options available.
​
Chris DeMakes of Less Than Jake said, "'Brew Ska Ska' huh? Let's see, craft beer and ska music? Where do we sign up? This is gonna be awesome. There's nothing quite like playing ska music in Southern California. The vibe and energy of the crowds are beyond amazing. Throw in a bunch of beers to amplify that vibe and this will be one for the books! Can't wait to see you all there."
Brew Ska Ska producer Cameron Collins of Brew Ha Ha Productions said, "Brew Ha Ha is back as Brew Ska Ska and we couldn't be more excited about it! 2020 sucked…2021 is going to rip! This lineup… these breweries…"
Brew Ska Ska tickets start at the following prices (plus fees):
General Admission (1:00 PM – 4:00 PM craft beer tasting): $45
Early Entry General Admission (Noon – 4:00 PM craft beer tasting): $75
VIP (Noon – 4:00 PM craft beer tasting): $99
All Ages General Admission (no craft beer tasting): $39
Doors open at Noon for VIP and Early Entry ticket holders (21+) to enjoy four hours of unlimited craft beer sampling. VIP tickets will provide access to designated areas with shade, upgraded restrooms and a VIP Bar.
General Admission doors open at 1:00 PM and attendees 21+ will enjoy three hours of craft beer sampling.
Visit www.OCBrewHaHa.com for more details and to purchase tickets. Attendees are encouraged to buy early and save since ticket prices will increase in the coming weeks. Please note that Brew Ska Ska is an all ages, rain or shine event.
Oak Canyon Park is located at 5305 E. Santiago Canyon Road in Silverado, CA and is less than two hours from Los Angeles, San Diego, Riverside and San Bernardino Counties. It's also just a short drive from John Wayne Airport in Irvine, CA. The park features 14 acres of grass adjacent to a small lake, with many mature oak trees providing ample shade.
Southern California based Brew Ha Ha Productions is the nation's most successful and respected craft beer and music festival producer, known for its OC Brew Ha Ha, Brew Hee Haw at the OC Fair, Brew Ho Ho Holiday Ale Festival, Sabroso Taco, Craft Beer & Music Festival, Punk In Drublic, Punk In The Park and more.
Sponsors for Brew Ska Ska include Rad Beer Co. and more to be announced.
As always, health and safety of festival patrons is of utmost importance. The festival producers are working with local health authorities to ensure that the event is safe and in compliance with all local regulations.
The festival producers encourage attendees to drink responsibly.
For more information on Brew Ska Ska:
Website: www.OCBrewHaHa.com
Facebook: @OCBrewHaha
Instagram: @OCBrewHaha
Hashtag: #brewskaska
(Less Than Jake by Paris Visone)
About Brew Ha Ha Productions: Orange County-based Brew Ha Ha Productions (BHHP) is one of the largest and most respected craft-beer event producers in the United States. Fueled by a desire to promote craft beer, along with visions of creating unique annual events, creates diverse, award-winning beer-centric events and festivals across the U.S. Current and previous events produced or co-produced by BHHP include: OC Brew Ha Ha / Ska Ska, Brew Hee Haw at the OC Fair, Brew Ho Ho Holiday Ale Festival, Boo Ha Ha Haunted Oktobeer Festival, Driftwood Country, Craft Beer & BBQ Festival, Sabroso Taco, Craft Beer & Music Festival, Punk In Drublic, Punk In The Park and more. A for-profit organization whose mission includes giving back, BHHP has helped many non-profits raise awareness and money to further their worthy causes. For more information please visit www.brewhahaproductions.com.