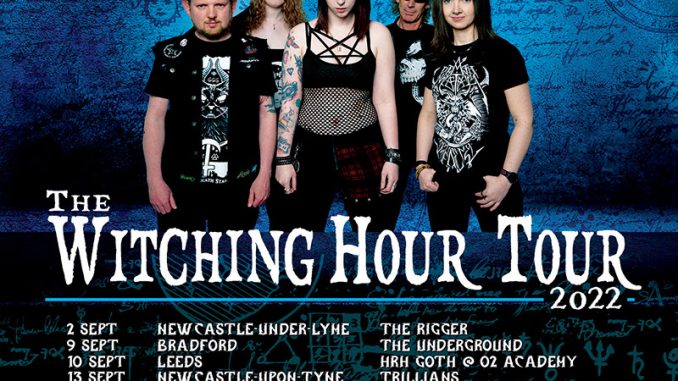 Lesbian Bed Death will be hitting the road for a full headline UK tour, commencing from September 2022, to promote their latest album release, The Witching Hour.

Fronted by Zoey Phoenix, the band are excited to be bringing their live show across several cities from Aberdeen to London. For full dates see below:-

2nd Sept NEWCASTLE-UNDER-LYME – THE RIGGER
9th Sept BRADFORD – THE UNDERGROUND
10th Sept LEEDS – HRH GOTH @ O2 ACADEMY
13th Sept NEWCASTLE-UPON-TYNE – TRILLIANS
14th Sept GLASGOW – 13TH NOTE
15th Sept EDINBURGH – BANNERMANS
16th Sept ABERDEEN – KRAKATOA
17th Sept WOLVERHAMPTON – THE GIFFARD ARMS
18th Sept BRISTOL – ZED ALLEY
24th Sept MANCHESTER – REBELLION
27th Oct NORWICH – THE BRICKMAKERS
28th Oct LONDON – THE POST BAR
29th Oct WIGAN – THE BOULEVARD
30th Oct NOTTINGHAM – PERCY PICKLEBACKERS
18th Nov STOKE-ON-TRENT – THE UNDERGROUND
19th Nov SHEFFIELD – CORPORATION
3rd Dec KEIGHLEY – THE EXCHANGE


Lesbian Bed Death will also be playing HRH Goth at the 02 Academy in Leeds on 10th September.

Keep up to date with the band via their social media:-

Facebook: facebook.com/lbdofficial
Instagram: Instagram.com/lesbianbeddeath
Twitter: @lbdofficial

Check out their music videos on their official YouTube channel:

http://www.youtube.com/lesbianbeddeath

About Lesbian Bed Death
Lesbian Bed Death are a UK gothic punk/hard rock band from Leeds/Stoke. Musically, they are a mix of goth, punk, metal and hard rock, and they draw influences from 80's horror movies (the bad and the good), a mutual love of Halloween, and bands such as The Misfits, Alice Cooper, Salem, Halestorm, In This Moment, The Birthday Massacre, and The Pretty Reckless.