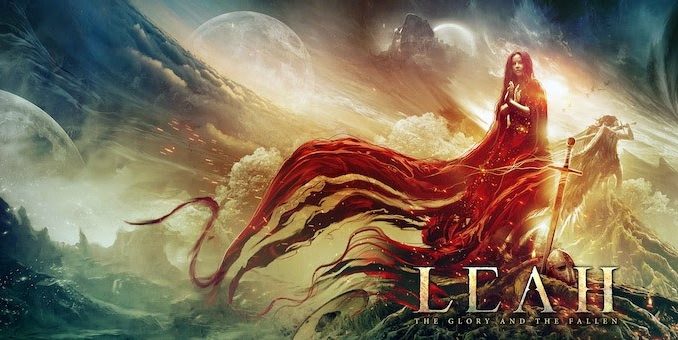 A Fan-Fueled Crowdfunding Campaign for Upcoming Album
The Glory and the Fallen
Kickstarter Campaign Raises More Than $58K USD and Still Growing!
Special Packages Available – Ends August 30th
LEAH is about to embark on her most ambitious venture yet. The renowned Celtic metal singer-songwriter has launched a crowdfunding campaign to bring her highly-anticipated new album, The Glory and the Fallen, to life. Promising to be her most epic and groundbreaking work yet, the album fuses LEAH's signature blend of ethereal vocals, magical Celtic melodies and symphonic metal into a monumental soundscape inspired by fantasy, history and personal journey.
The crowdfunding campaign for LEAH's new album launched on Friday, July 14th, providing fans with a limited-time opportunity to secure their exclusive packages. Don't miss this chance to be a part of LEAH's musical legacy and own a piece of music history!
To learn more about LEAH's crowdfunding campaign for The Glory and the Fallen and to show support by making a pledge, visit the Kickstarter page, HERE. The campaign will run until August 30th and every contribution will make a significant impact in bringing this remarkable album to fruition.
https://www.kickstarter.com/projects/leahthemusic/launch-the-new-leah-album-the-glory-and-the-fallen?ref=c0fhii
LEAH shares, "This is one of my biggest projects to date", illustrates the Canadian maven from her home, just outside of British Columbia. "Not because of the number of people involved, but because of the scope of the music and the way I challenged myself in the songwriting process. I think you'll hear a continuation of my evolution as a songwriter and vocalist. This collection of songs is very much the classic LEAH sound but also explores some new territory that I think you'll really enjoy."
The much-anticipated new release will feature appearances from renowned musicians Mark Jansen (Epica, MaYaN), Timo Somers (Arjen Lucassen, Ex Delain), Sander Zoer (Delain), and was produced by Oliver Philipps (Everon, Phantasma). The amazing artwork was created by Giannis Nakos (Kamelot, Evergrey, Amaranthe.)
In a gallant move, LEAH will also be treating fans to an instrumental album and folk versions of several songs from the album, providing a full experience for a wide range of musical tastes.
Watch "Before This War is Over" here:
Having successfully crowdfunded her previous four albums without the assistance of a record label, this campaign presents an opportunity for her dedicated fanbase to play a pivotal role in bringing her musical vision to life. The campaign will feature a range of special packages, including limited-edition collector's items that will not be available once the campaign concludes. These one-of-a-kind items will undoubtedly become cherished memorabilia for LEAH's dedicated fan base. She explains, "This crowdfunding campaign is a bit different in that we're focused on true collector items, for a really immersive and memorable experience. The more common items expected will be available when the album launches publicly this Winter."

The crowdfunding campaign serves as more than just a means of funding the project; it allows LEAH to connect directly with her fans and amplify her community of passionate supporters. By participating in the campaign, backers will have the unique opportunity to engage with LEAH personally and gain an exclusive glimpse into the creative process behind her music. To make the campaign even more enticing, LEAH has curated a selection of captivating rewards that range from limited-edition merchandise to VIP experiences, ensuring that her supporters feel truly valued and connected to the project's journey.
Fans and media outlets can also explore Leah's captivating music on Spotify and Bandcamp, where her distinctive blend of Celtic and symphonic metal can be experienced firsthand.
About LEAH:

Throughout her trajectory, LEAH's music has featured such notables as Troy Donockley (Nightwish), Eric Peterson (Testament), Barend Courbois (Blind Guardian), Chen Balbus (Orphaned Land), and Jacob Hansen (Volbeat, Amaranthe, Evergrey). She also joined Eric Peterson's DRAGONLORD for its 2018 studio album Dominion and has participated in the

charity group Project Aegis.

Her genre is "Celtic fantasy metal," and her albums could easily serve as the soundtracks for shows like Game of Thrones or Vikings. Her fans refer to her as the "metal Enya," and she embodies the archetype of the "warrior queen" to thousands of dedicated listeners around the world.

In addition to the upcoming The Glory and the Fallen, LEAH's discography includes five previously released albums: Of Earth and Angels (2012), Otherworld (2013), Kings & Queens (2015), The Quest (2018), and Ancient Winter (2019), each a rapturous blend of a symphonic metal style carefully spiced with Celtic, folk, and fantasy. Her emotive vocals are often compared to Loreena McKennitt, Tori Amos, and Sarah McLachlan.