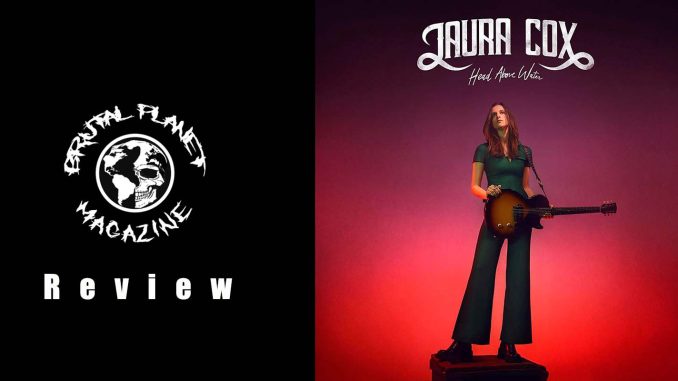 Laura Cox is a French guitar player with a honey voice who is kicking off her newest album Head Above Water on January 20th. This young up-and-coming artist is unconventional for her genre wowing both the French scene and American fans and critics. Starting out as a YouTube cover artist, recording songs in her bedroom, Cox has created fresh tracks by listening to her instincts. She uses her voice softly and stays authentic to herself by doing what she loves aligning a magnetic life energy with explosive guitar riffs with limitless musical and lyrical freedom.
The album starts off with skillful guitar licks and a dancing drumbeat. "Head Above Water" the title track is a reminder to keep going and pushing in life and in general. Laura belts out the lyrics all while shredding on her electric guitar strumming during the guitar solo. "So Long" begins with a slow beat yet leaps into a stronger, faster bridge. The ethereal intro to "One Big Mess" is old-school then dives into a downbeat with grit. The forth track, "Set Me Free" shows off her vocals as she stretches out the notes with gentle tonality. "Old Soul" has a southern-rock sound with banjo picking and another beautiful and meaningful guitar solo. "Wiser" sounds like it could be a Sheryl Crow cover as it is bluesy, popish yet still rock and roll. The next track, "Before We Get Burned" shows off her incredible guitar slides. The lyrics remind that some great loves don't last. Laura's voice is sweet and soft yet sad during "Seaside" obviously made with heart and soul. The next track, "Fever", rises the temperature igniting the sparks off her guitar. "Swing It Out" explodes with fast vocals and a hard rocking beat. "Glassy Day" brings the listener to a healthier climate and is the perfect end to this killer rock album.
Laura has a giant online following gaining international attention and a giant online following on YouTube since 2008. She is a multi-instrumentalist who has reinvented herself with Head Above Water, an album that reveals a new facet of her musical talent. She recorded this newest masterpiece at ICP Studios in Brussels,  mastered by the Grammy winning Ted Jensen (Green Day, Norah Jones, The Eagles and Rolling Stones) with Cox playing the banjo, both electric and acoustic guitar, the lap steel and bass. Avec her fierce vocals that have blues smoke, rock grit, pop smoothness and punk attitude plus her stage persona she seems to have a certain je ne sais quoi. Make sure to order your copy and warm up with this incredible talented girl and her smokin' hot band. Head Above Water is set to drop on January 20th via earMUSIC.