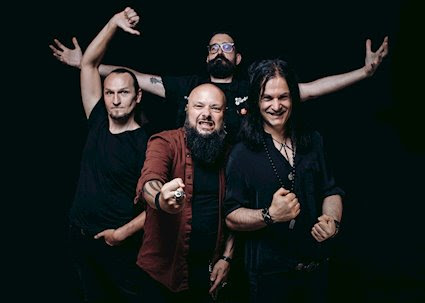 LAST TEMPTATION returns with a brand new single and video in 'I Don't Wanna Be Your God'. After releasing their self-titled debut album in 2019, LAST TEMPTATION recently announced that they had signed with Crusader Records, with a brand-new album in the works!
Listen to the official music video HERE:
I Don't Wanna Be Your God' is now available on all digital streaming platforms. LAST TEMPTATION delivers a riff drenched 80s hard rock sound fused with the best traditional metal elements. Their self-titled debut album also included guest appearances from Bob Daisley, Vinny Appice, Don Airey, James Lomenzo and Rudy Sarzo.

'I Don't Wanna Be Your God' mixes the early influences of the band such as Black Sabbath and Ozzy Osborne, seen in its grungy harmonies and big choruses. The track describes God looking down on humanity, his creation. He's tired of the world, tired of the pain he has to carry, and has decided that he doesn't want be our God any longer.
Listen/Buy 'I Don't Wanna Be Your God' HERE
ABOUT LAST TEMPTATION
The first important step has been mastered effortlessly; now Last Temptation are going the whole hog. Following their successful album debut and enthusiastic reviews in countless music rags, shows with bands such as Dream Theater, plus festivals such as Hellfest, the band surrounding guitarist Peter Scheithauer (Killing Machine, Belladonna, Temple of Brutality) and vocalist Butcho Vukovic (Watcha) is all set to embark on the second stage of its career in summer 2021. Last Temptation have signed a new record deal with Crusader Records/Golden Robot Records and are ready to present several new singles between June 2021 and January 2022, followed by their brand-new album Ashes 'N' Fire in February 2022. The first single 'I Don`t Wanna Be Your God' (supported by a video clip) will be out in June.

"You can feel that we've made a major step forward, both as a live band and as songwriters, all thanks to the shows we've played so far." – Peter Scheithauer
Talking of the new line-up: In bassist Julien Rimaire (Los Dissidentes Del Sucio Motel) and drummer Vince Brisach (Mitch Ryder), along with Scheithauer and Vukovic, the band have a whole new rhythm section supporting them on Ashes 'N' Fire. While Last Temptation's self-titled debut still boasted a number of international guests, such as Bob Daisley, Vinny Appice, Stet Howland, James Lomenzo, Don Airey and Rudy Sarzo, the band now consists exclusively of European musicians. "This step was necessary to make Last Temptation more flexible when it comes to the organizational side," explains Scheithauer. "The new line-up makes it so much easier to rehearse spontaneously, play gigs at short notice and prepare album productions."
No doubt about it: Last Temptation have grown into an even tighter unit, musically as well as logistically, and are positively bursting with enthusiasm. The songwriting team consisting of Scheithauer and Vukovic, together coming up with 16 tracks for Ashes 'N' Fire, eleven of which have made it onto the album. They range from uptempo numbers such as 'Stronger Than Fate' and 'Free Strong And Loud' to the Black Sabbath-esque 'Going Crazy' and the ballad 'In The Mirror'. The choice of subjects covered by songwriter Vukovic on the new offering is similarly interesting.

"'I Don't Wanna Be Your God', for example, has God addressing mankind to explain that he no longer feels responsible for them due to the alarming way they have been treating each other. He says, 'Sorry, but I'm giving up'! At our shows, we always pay close attention to what kind of songs go down best with our audience, which is something that Ashes 'N' Fire definitely benefits from. Our upcoming tours – which will hopefully happen soon – will prove how well the new numbers fit into our live set. I hope we'll see you when we're back on tour!" – Peter Scheithauer
On-Line:
https://www.facebook.com/LastTemptationOfficial
https://www.facebook.com/goldenrobotrecords