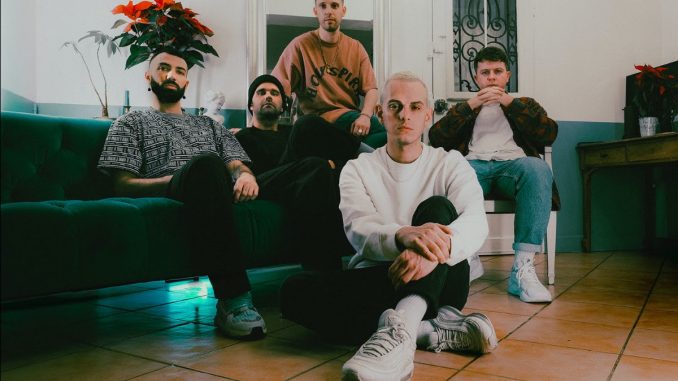 NEW ALBUM LOST IN THE WAVES OUT MARCH 19
Marseille, France based metalcore band
LANDMVRKS
are back with a vengeance.
After successfully building their reputation and asserting their own style on Fantasy (2018), the band returned in 2020 both fresher and heavier than before with their singles "Rainfall," "Lost in a Wave," and "Paralyzed."
Today, they have released the new single "Overrated." Watch the video here.
Pre-order Landmvrks' third album Lost In The Waves here. The record will be available in CD, limited vinyl in two different color variants, and a limited special fan box on March 19 via Arising Empire.
The record is the band's heaviest and most organic to date with an uncompromising, distinctive style. This is LANDMVRKS in their purest form.
LANDMVRKS ARE:
Florent Salfati | Vocals
Nicolas Exposito | Guitar
Paul C. Wilson | Guitar
Rudy Purkart | Bass
Kevin D'Agostino | Drums
ABOUT LANDMVRKS:
LANDMVRKS were born in 2014 in Marseille, France. For two years, the band composed songs, recorded and started playing local shows by sharing the bill with bands such as First Blood, More Than Life, and little by little. LANDMVRKS started making a name for themselves in the French metalcore scene. During this time, the band released singles and videos to help build up their fan base. In May 2016, LANDMVRKS independently released their first album Hollow, produced by band members Florent Salfati and Nicolas Exposito. In 2018, the band signed with Arising Empire Records for their second studio album Fantasy. The band played in Japan, embarked on headline tours, and hit the road with While She Sleeps, Stray From The Path, and Any Given Day. When the COVID lockdown ended in France, the band assembled within its vocalist's studio, Homeless Records, for the third album Lost In The Waves. Rather than getting lost in the waves, the French band firmly holds the helm.