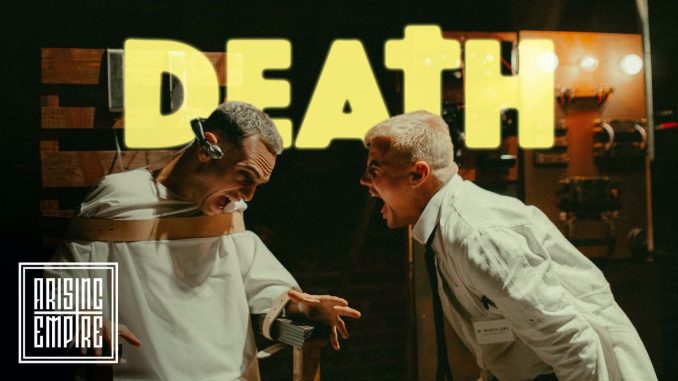 BAND ANNOUNCES LOST IN THE WAVES (THE COMPLETE EDITION)
Marseille, France-based metalcore band LANDMVRKS return with Lost In The Waves (The Complete Edition), an expanded version of their acclaimed latest studio album. The new edition includes prominent guest features, new music, and exciting bonus content. It arrives March 18. Pre-order Lost In The Waves (The Complete Edition) on CD and limited colored vinyl here.
Today, the band has unveiled "Death," the first new track from the expanded edition, which features guest vocals from DR€W ¥ORK from STRAY FROM THE PATH.
Watch it here.
For this video, the band once again teamed up with videographer Pavel Trebukhin, known for his astonishing work on music videos for Imminence, Annisokay, and more, as well as for the visual content on the Lost In The Waves cycle.
Lost In The Waves (The Complete Edition) is full of surprises, including two more new songs with respective features from Bertrand Poncet of CHUNK! NO, CAPTAIN CHUNK! and Anthony Diliberto of RESOLVE. There is also a full livestream set, which premiered on June 2 of last year.
ABOUT LANDMVRKS:
LANDMVRKS were born in 2014 in Marseille, France. For two years, the band composed songs, recorded and started playing local shows by sharing the bill with bands such as First Blood, More Than Life, and little by little, LANDMVRKS started making a name for themselves in the French metalcore scene. During this time, the band released singles and videos to help build up their fanbase. In May 2016, LANDMVRKS independently released their first album Hollow, produced by band members Florent Salfati and Nicolas Exposito. It attracted attention and help secure festival appearances. In 2018, the band signed with Arising Empire for their second studio album Fantasy. The band played in Japan, embarked on headline tours, and hit the road with While She Sleeps, Stray From The Path, and Any Given Day. When the COVID lockdown ended in France, the band assembled within its vocalist's studio, Homeless Records, for the third album Lost In The Waves. Rather than getting lost in the waves, the French band firmly holds the helm.
LANDMVRKS ARE:
Florent Salfati | Vocals
Nicolas Exposito | Guitar
Paul C. Wilson | Guitar
Rudy Purkart | Bass
Kevin D'Agostino | Drums