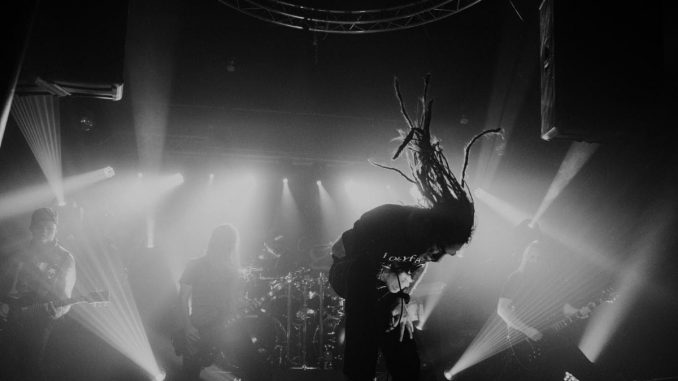 Lamb Of God: Live From Richmond, VA Available on Vinyl and as Part of Deluxe Version of Critically Acclaimed Self-Titled Album
LAMB OF GOD has released a new video, "Resurrection Man (Live)," from the Lamb Of God: Live From Richmond, VA component of their three-disc deluxe version of last year's critically acclaimed self-titled album.
"'Resurrection Man' has been a fun song to watch the fan reaction to and a fun one to play live for the first time," says guitarist Mark Morton. "We wrote the music for that song quickly and spontaneously in pretty much an afternoon in our jam room. Willie freestyled the opening riff and we built from there. Sometimes it's cool to just let stuff flow without overthinking things to death. I feel like 'Resurrection Man' is a great example of that."
Released Friday via Epic Records, Lamb Of God (Deluxe Version) includes the full Lamb Of God record with two bonus tracks and a live version of the album, along with a DVD performance of Lamb Of God.
Originally released June 19 of last year, LAMB OF GOD's first new album in five years was met with universal acclaim – not only among major rock journalists, but with all strata of metal fans around the world.
But critics, media and the industry aside, perhaps the most telling statistic is the year-end US Metal Radio chart, where the new album dominated at #1 by a massive margin (over 2,000 more spins than the album at #2). Lamb Of God spent nine weeks in the #1 spot and never left the top 10 since debuting on the chart in February. Metal Radio is the lifeblood of the US metal world, largely staffed by college students and regional tastemakers, playing the music that they know their local metal fans want to hear.
At iTunes, LAMB OF GOD has landed at number one on the Overall, Rock and Metal iTunes album chart upon release.
LAMB OF GOD is:
D. Randall Blythe – Vocals
Mark Morton – Guitar
Willie Adler – Guitar
John Campbell – Bass
Art Cruz – Drums
LAMB OF GOD online:
*If you are viewing this email with a Firefox web browser and cannot see any press release content, please try viewing in a different browser.
For press inquiries and additional information, please contact Adrenaline PR:
ABOUT US:
Adrenaline PR is a boutique independent public relations, marketing and branding firm that taps into entertainment, culture, and niche lifestyle communities while effectively marketing clients by crossing them over into the mainstream. Adrenaline PR boasts a collective five decades of experience in launching thousands of brands and careers, successfully building scene giants. Adrenaline PR is recognized for their credibility and success in promotion of talented bands, artists (fine art, photography and tattoo), labels, tours, events, musicians, film and books. Adrenaline PR is trusted to deliver campaigns beyond what is expected. Our roster includes (but is not limited to): 10 Years, 2010 American Idol winner Lee DeWyze, All That Remains, Amaranthe, Anthrax, As I Lay Dying, As The Palaces Burn (Lamb of God documentary), Atreyu, Black Flag (tribute album), Paul Booth – The King of Rock and Roll Tattoo, Vincent Castiglia (surrealist tattoo artist and painter), Chevelle, CueStack (featuring David Hasselhoff), Derek Hess (artist), Dethklok, The Devil's Carnival (film), Dimmu Borgir, Down, Every Time I Die, Ferret Music/Good Fight Music (label), Five Finger Death Punch, GWAR, Hank3, Hatebreed, Hesher (film), Housecore Records (label), Jeremy Saffer (photography, seminars), John5, KMFDM, Lamb of God, Louder Than Hell; The Oral History Of Heavy Metal (book), Machine Head, Miss May I, Motorhead, Mudvayne, Norma Jean, Nuclear Blast Music (label), Peter Murphy, REPO! The Genetic Opera (film), Sevendust, Suicidal Tendencies, Super Duper Alice Cooper (film), Superjoint Ritual, Testament, The Aristocrats, The Merciless Book of Metal Lists (book), The Punisher (soundtrack), BRAVO's Top Chef (judge booking), Ronnie James Dio: Stand Up and Shout Cancer Fund events and Ronnie James Dio: This Is Your Life (tribute compilation, winner of 2014 Best Metal Performance Grammy for Tenacious D's "The Last In Line), Smashing Pumpkins (tribute album), and Uli Jon Roth. Adrenaline PR has lead the charge on an impressive number of tours and events, such as Live Nation club events, MTV2 Headbanger's Ball Tour I and II, REPO! The Genetic Opera Road Tour, Rockstar Energy Drink Mayhem Festival (2010 – 2015), Scott Ian's Speaking Words, Sounds of the Underground, Journeys AP MUSIC AWARDS (Fueled By Monster) and the Alternative Press Magazine 20th Anniversary (My Chemical Romance, The Used and Say Anything). APMA's RED Carpet and Award show – 5 years in a row. Incarceration Festival 3rd Annual, SUAS – Ronnie James Dio Cancer Fund Events, Annual Bowl for Ronnie, Ride For Ronnie and The Dio Gala, Astromicon 1,2 +3, Big Apple Comicon, Rockit Foundation and Academy… and more.