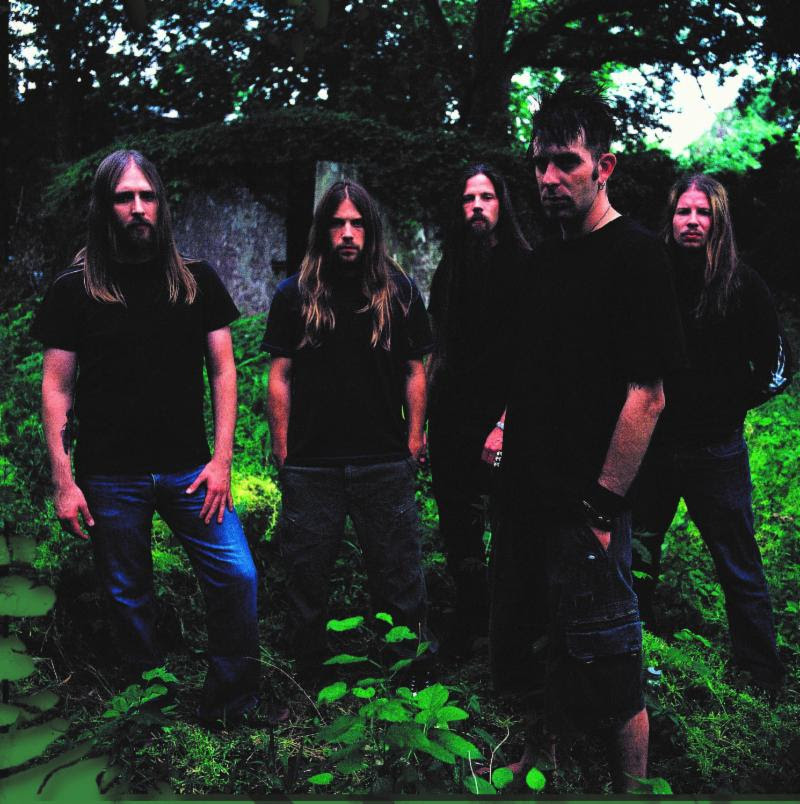 Watch Here via Loudwire | Order via www.lamb-of-god.com
Catch LAMB OF GOD on Slayer's Final World Tour, Leg 5: North America, Now
In celebration of the 15th anniversary of LAMB OF GOD's genre-defining, Gold-certified major label debut, Ashes Of The Wake, the landmark album is reborn as the new Ashes Of The Wake – 15th Anniversary Edition – a special double-vinyl re-release of the album that catapulted the band to iconic status. The two LP set – which includes four exclusive tracks, including the B-Side "Another Nail For Your Coffin", and three previously unreleased demos – is available today in both vinyl and digital formats via https://legacyrecordings.lnk.to/AshesOfTheWake15.
In celebration of today's release of Ashes Of The Wake – 15th Anniversary Edition, LAMB OF GOD have revealed a lyric video for the special B-Side "Another Nail For Your Coffin". Watch the video now via Loudwire, and revisit the Ashes Of The Wake era via an in-depth interview with guitarist Mark Morton here: https://loudwire.com/lamb-of-god-ashes-anniversary-interview-another-nail-coffin/
Guitarist Mark Morton tells Loudwire: "As a musician, the timeline of Ashes of the Wake was very intimidating for me. With that first Burn the Priest album, we wrote the songs over four or five years. Then between that and 'New American Gospel,' we had a solid two years; we were still working our day jobs and playing shows up and down the East Coast. Then another two years between 'Gospel' and 'As the Palaces Burn.' But right after 'Palaces' dropped, we got signed to Epic, so we had to go right back into writing mode. Not only did we now have the pressure of being on a major label, but we had just recorded what we thought was a really killer album, and then we had to do it all over again. But the stakes were way higher."
Each copy of the Ashes Of The Wake – 15th Anniversary Edition double-vinyl set will include a download card. Exclusive merchandise celebrating the Ashes Of The Wake anniversary release is available at https://shop.lamb-of-god.com/.
Ashes Of The Wake – 15th Anniversary Edition vinyl track listing:
Side A
1. Laid to Rest
2. Hourglass
3. Now You've Got Something To Die For
4. The Faded Line
Side B
5. Omerta
6. Blood Of The Scribe
7. One Gun
8. Break You
Side C
9. What I've Become
10. Ashes of the Wake
11. Remorse Is for the Dead
Side D
12. Another Nail For Your Coffin
13. Laid To Rest (pre-production demo)
14. Ashes Of The Wake (pre-production demo)
15. Remorse For The Dead (pre-production demo)
LAMB OF GOD are currently supporting headlining legends Slayer on the Leg 5: North America portion of their final world tour. In addition to LAMB OF GOD, Amon Amarth and Cannibal Corpse will support Slayer on all Leg 5: North America dates.
Tickets, LAMB OF GOD VIP Side Stage and VIP Merch upgrade packages are available now via http://lamb-of-god.com/tour.
Remaining Slayer Final World Tour – Leg 5: North America dates:
5/3 – Albuquerque, NM @ Isleta Amphitheatre
5/5 – El Paso, TX @ UTEP/Don Haskins Center
5/7 – Edinburg, TX @ Bert Ogden Arena
5/8 – Dallas, TX @ The Pavilion at Toyota Music Factory
5/10 – Tampa, FL @ MidFlorida Credit Union Amphitheatre
5/11 – West Palm Beach, FL @ Coral Sky Amphitheatre
5/13 – Huntington, WV @ Big Sandy Superstore Arena
5/14 – Columbia, MD @ Merriweather Post Pavilion
5/16 – Noblesville, IN @ Ruoff Home Mortgage Music Center
5/17 – Bonner Springs, KS @ Providence Medical Center Amphitheatre
5/19 – Clarkston, MI @ DTE Energy Music Center
5/20 – Youngstown, OH @ Covelli Centre
5/22 – Ottawa, ON @ Canadian Tire Centre
5/24 – Camden, NJ @ BB&T Pavilion
5/25 – Mansfield, MA @ Xfinity Center
LAMB OF GOD is also scheduled to perform at Domination Mexico Festival in Mexico City on May 4 and Sonic Temple Festival, taking place at MAPFRE Stadium in Columbus, OH on May 18. Later this year, LAMB OF GOD will perform at Aftershock Festival in Sacramento, CA on October 11, and Exit 111 Festival in Manchester, TN on October 13.
The band will begin a run of European festivals and headline dates on June 13. For dates and info visit http://lamb-of-god.com/tour.
ABOUT LAMB OF GOD:
Richmond, VA, natives LAMB OF GOD are one of heavy music's most uncompromising and successful bands. When the band's first major release, New American Gospel, was released in 2000 it was immediately touted as a classic within the genre.
Some predicted a sophomore slump – that no band could top a debut album so strong. They were proven wrong with the release of 2004's Ashes of the Wake, an album that not only exploded stateside (certified Gold by RIAA) but also saw a graduation in LAMB OF GOD's sound. The album turned the heads of fans and critics alike while garnering respect and attention from their peers, leading them to demand the attention of metal giants Metallica – who ultimately invited the band to tour with them a few years later, citing the Ashes of the Wake track "Now You've Got Something To Die For" as the song that grabbed their attention. The band's first DVD, Killadelphia, was released shortly after and was certified Platinum. Then, with 2006's Sacrament (#8 debut on the US Billboard Hot 200), LAMB OF GOD were honored with a Grammy nomination for the track "Redneck", which would be the first of five Grammy nominations for the band to date. Next came Walk With Me In Hell (DVD, 2008), then the band's fourth album Wrath in 2009, which debuted at #2 on the Billboard Hot 200 Chart, and then Resolution, which debuted at #3. LAMB OF GOD lost no ground with their next full-length album, VII: Sturm Und Drang, which was #3 in the US, #1 in Canada, #2 in Australia, #3 in Finland, #7 in UK, #12 in Germany and #13 in Japan, and #13 in Netherlands. "Overlord", the first single from VII: Sturm Und Drang, achieved a new milestone for the band when it reached the Top Thirty of US Active Rock Radio Chart (Mediabase).
In late 2016, LAMB OF GOD paid tribute to late, longtime fan and friend Wayne Ford with the release of The Duke EP, which raised funds and awareness for the Leukemia and Lymphoma Society. LAMB OF GOD released a covers album last year under their original band name, Burn The Priest, entitled Legion: XX, in celebration of the 20th anniversary of the band's first album release. The buzzed-about album featured tracks originally performed by Cro-Mags, Agnostic Front, Quicksand, Ministry, Bad Brains, Melvins, S.O.D., The Accused, Big Black and Richmond punk band Sliang Laos.
LAMB OF GOD is Randy Blythe (vocals), Mark Morton (guitar), Willie Adler (guitar), John Campbell (bass), and Chris Adler (drums).