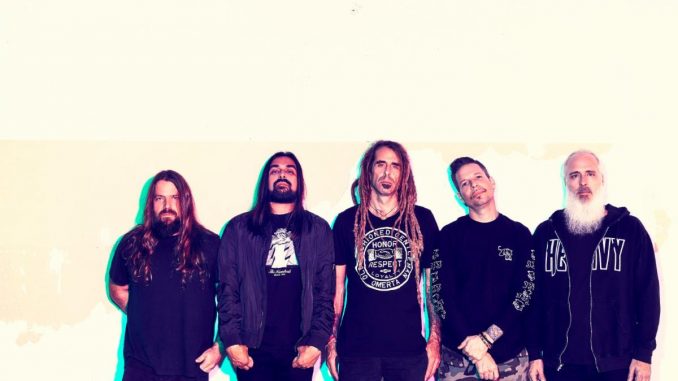 Deluxe Version of Critically Acclaimed Self-Titled Album Out Today
Lamb Of God (Deluxe Version) Includes Bonus Tracks, Live Album and Live DVD
Tune in to Music Choice for LAMB OF GOD Takeover This Weekend
LAMB OF GOD is celebrating the release of the three-disc deluxe version of last year's critically acclaimed self-titled album with a new lyric video for the bonus track "Hyperthermic/Accelerate."
The "Hyperthermic/Accelerate" video is available now at https://Lamb-of-God.lnk.to/HyperthermicAccelerateLyricVideo. Also tune in to Music Choice this weekend for a LAMB OF GOD takeover! Just say "Metal on Music Choice" into your voice remote or listen on the app at //musicchoice.app.link/lambofgod.
Available today via Epic Records, Lamb Of God (Deluxe Version) includes the full Lamb Of God record with two bonus tracks and a live version of the album, along with a DVD performance of Lamb Of God on March 26 via Epic Records.
The live CD and DVD portion of the deluxe edition features the first of LAMB OF GOD's two ultra-successful live stream events from September 2020, in which the band performed Lamb Of God in full, plus an encore of four songs including "Ruin," "Contractor," "512," and the debut live performance of "The Death Of Us," a newer song the band wrote and recorded in quarantine for the Bill & Ted Face The Music movie and soundtrack. The DVD includes a new director's cut with bonus material.
The first single from the set, the bonus track "Ghost Shaped People," has spent five consecutive weeks at number 1 on the Metal Contraband metal radio chart.
The complete track listing for Lamb Of God (Deluxe Version) is:
Disc 1
Lamb Of God Original Album + 2 Bonus Tracks
1. Memento Mori
2. Checkmate
3. Gears
4. Reality Bath
5. New Colossal Hate
6. Resurrection Man
7. Poison Dream feat. Jamey Jasta
8. Routes feat. Chuck Billy
9. Bloodshot Eyes
10. On The Hook
11. Ghost Shaped People
12. Hyperthermic/Accelerate
Disc 2
Lamb Of God – Live From Richmond, VA
1. Memento Mori (Live)
2. Checkmate (Live)
3. Gears (Live)
4. Reality Bath (Live)
5. New Colossal Hate (Live)
6. Resurrection Man (Live)
7. Poison Dream (Live)
8. Routes (Live)
9. Bloodshot Eyes (Live)
10. On The Hook (Live)
11. Contractor (Live)
12. Ruin (Live)
13. The Death of Us (Live)
14. 512 (Live)
Disc 3
Lamb Of God – Live From Richmond, VA DVD
1. Memento Mori
2. Checkmate
3. Gears
4. Reality Bath
5. New Colossal Hate
6. Resurrection Man
7. Poison Dream
8. Routes
9. Bloodshot Eyes
10. On The Hook
11. Contractor
12. Ruin
13. The Death of Us
14. 512
Digital copies will contain only Disc 1 and Disc 2. Lamb Of God (Deluxe Version) is available at https://lambofgod.lnk.to/deluxe.
A separate vinyl edition of Lamb Of God – Live From Richmond, VA will also be available.
Lamb Of God – Live From Richmond, VA vinyl track listing:
Side 1
1. Memento Mori
2. Checkmate
3. Gears
4. Reality Bath
5. New Colossal Hate
Side 2
1. Resurrection Man
2. Poison Dream
3. Routes
4. Bloodshot Eyes
5. On The Hook
Originally released June 19 of last year, LAMB OF GOD's first new album in five years was met with universal acclaim – not only among major rock journalists, but with all strata of metal fans around the world.
But critics, media and the industry aside, perhaps the most telling statistic is the year-end US Metal Radio chart, where the new album dominated at #1 by a massive margin (over 2,000 more spins than the album at #2). Lamb Of God spent nine weeks in the #1 spot and never left the top 10 since debuting on the chart in February. Metal Radio is the lifeblood of the US metal world, largely staffed by college students and regional tastemakers, playing the music that they know their local metal fans want to hear.
LAMB OF GOD's self- titled album reached the coveted #1 spot on Consequence of Sound's Top 30 Metal + Hard Rock Albums of 2020, stating, "Along with bringing in the New Wave of American Heavy Metal, LAMB OF GOD have been one of music's most important acts over the past 20 years. From their phenomenal instrumentation to the potency of their sociopolitical lyricism, LAMB OF GOD remain titans of the genre, continuing to craft remarkable works of thrilling and captivating adrenaline… also proves to be a profound work of heavy metal… perhaps the most important metal album of 2020. It's not only the album of LAMB OF GOD's career, but the heavy album of the year."
At iTunes, LAMB OF GOD has landed at number one on the Overall, Rock and Metal iTunes album chart upon release.
LAMB OF GOD eagerly awaits their return to the road to support Lamb of God. Their North American co-headline tour with Megadeth and support from Trivium and In Flames has been rescheduled to begin in July 2021 and their headline tour in the UK and co-headline tour with Kreator in Europe will take place in November and December 2021. Tickets for both tours are on-sale at lamb-of-god.com/tour.
"LAMB OF GOD deliver the album of their career with self-titled effort…This album isn't just an awesome release from LAMB OF GOD, but a perfect record to unite metalheads as one." – Consequence of Sound
"There is a world-weary pessimism that permeates right to the bones of LAMB OF GOD's breathtaking eight LP." – Kerrang!
"The band has been vocal about the good place it's in right now, and it shows in these songs." – Metal Injection
"LAMB OF GOD know, after all, that their true essence is a brutish machismo and that they are a vehicle for total catharsis." – Rolling Stone
"This is a record that's the most authentic version of the band LAMB OF GOD want to be." – NME
"The Virginian metal stalwarts' self-titled album – their first release with Adler's full-time replacement Art Cruz – boasts all the neck-snapping technical riffage and burly roars we've come to love," –
Revolver's 25 Best Albums of 2020.
LAMB OF GOD is:
D. Randall Blythe – Vocals
Mark Morton – Guitar
Willie Adler – Guitar
John Campbell – Bass
Art Cruz – Drums
LAMB OF GOD online:
www.lamb-of-god.com
www.facebook.com/lambofgod
Tweets by lambofgod