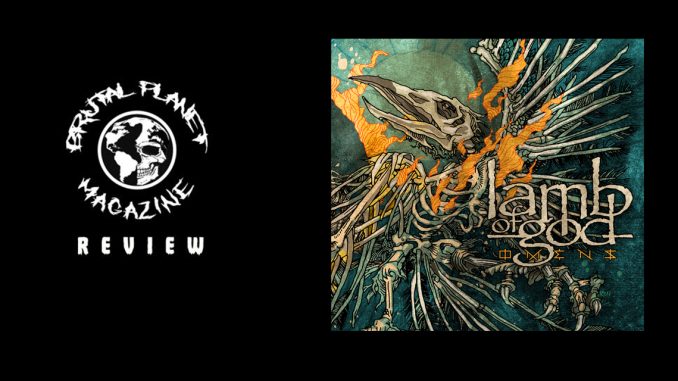 When it comes to metal in the 2000's – Lamb of God is something of a standard bearer. They are one of the extreme thrash metal acts that has carried the torch for bands like: Metallica, Pantera, Megadeth, Anthrax, Slayer, Testament, Suicidal Tendencies etc. etc. You can credit the boys with continuing a proud tradition of metal that is unapologetically hard, fast and technically proficient.
So this album had high expectations from me… and it delivered. It is every bit a Lamb of God record in that a lot of the riffs, vocals and song structures are what you would expect from the band. However, it's also hard to ignore the evolution and quality of the music the band is now releasing. It's a focused, 10 song album of straight up metal.
With Omens, Lamb of God has added another classic heavy metal record to their discography.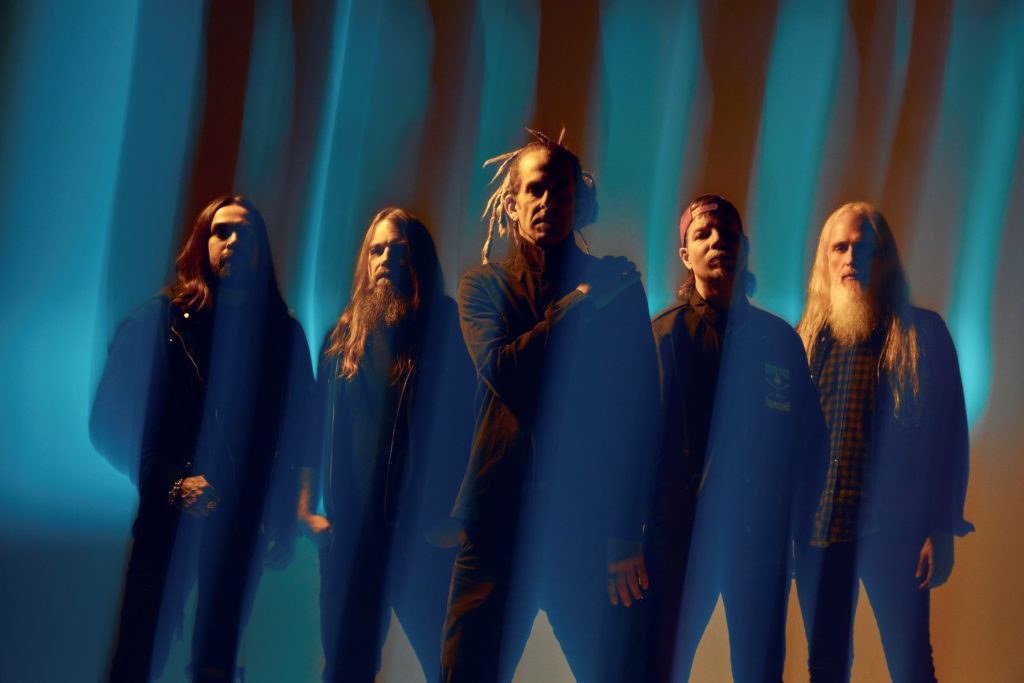 While it was difficult to lose a monster the caliber of a Chris Adler, new drummer Art Cruz has now fully stepped into his role with this record. Insanely precision drumming, heavy but nuanced. His fresh energy has helped to bring back echoes of the "Ashes of the Wake" / "As the Palaces Burn" era of the band. Couple this with their experience and production budget and you understand what I mean.
Slipknot's latest effort The End So Far was good – but very toned down, so I was incredibly happy to hear that Lamb of God didn't go the same route. Omens is all killer, no filler. They didn't make a visible effort to include any ballads or radio friendly tracks on the album. There are a couple of brief moments where Randy sings melodically on "Nevermore" and there is a melodic guitar intro on the last track "September Song" but outside of these 2 moments the record is a strictly thrash metal affair. Pound for pound this is one of the best "mainstream" guitar metal records I have had the pleasure of listening to in 2022 and it is definitely on my top ten list.
Here is my quick breakdown of each individual track
Nevermore was the first single from the album. It's a pretty typical Lamb of God track until you get to the point near the end when Randy sings some clean, subdued vocal parts.
Vanishing is one of my favorite tracks on the album. The song is an all out assault on your ears with some intricate and intense guitar riffing and ridiculous drum work. It comes to a sudden stop and for a split second you think it's over… then it throws one last right hook and knocks you on your ass.
To The Grave continues the assault with some great riffs and a killer breakdown near the end. Randy's lyrics add to the tone of the track.
"The only thing I fear lives on inside of me
Whispers in my ear, to the grave eternally."
Ditch is another barn burner of a track that shifts the album into even higher gear. The riffs are all balls out heavy and Randy opens the track growling "I DON'T GIVE A GODDAMN." This is definitely one of the faster and harder tracks on the album. Which is saying a lot because the whole thing is heavy. There is a breakdown section where Randy swings back and forth from talking to screaming that adds an additional dimension.
Omens is of course the title track and it's understandable why. It's easily one of the more accessible songs on the record. Heavy but with a memorable and sing along chorus. The type of song that the audience will be screaming back at the band in a live environment.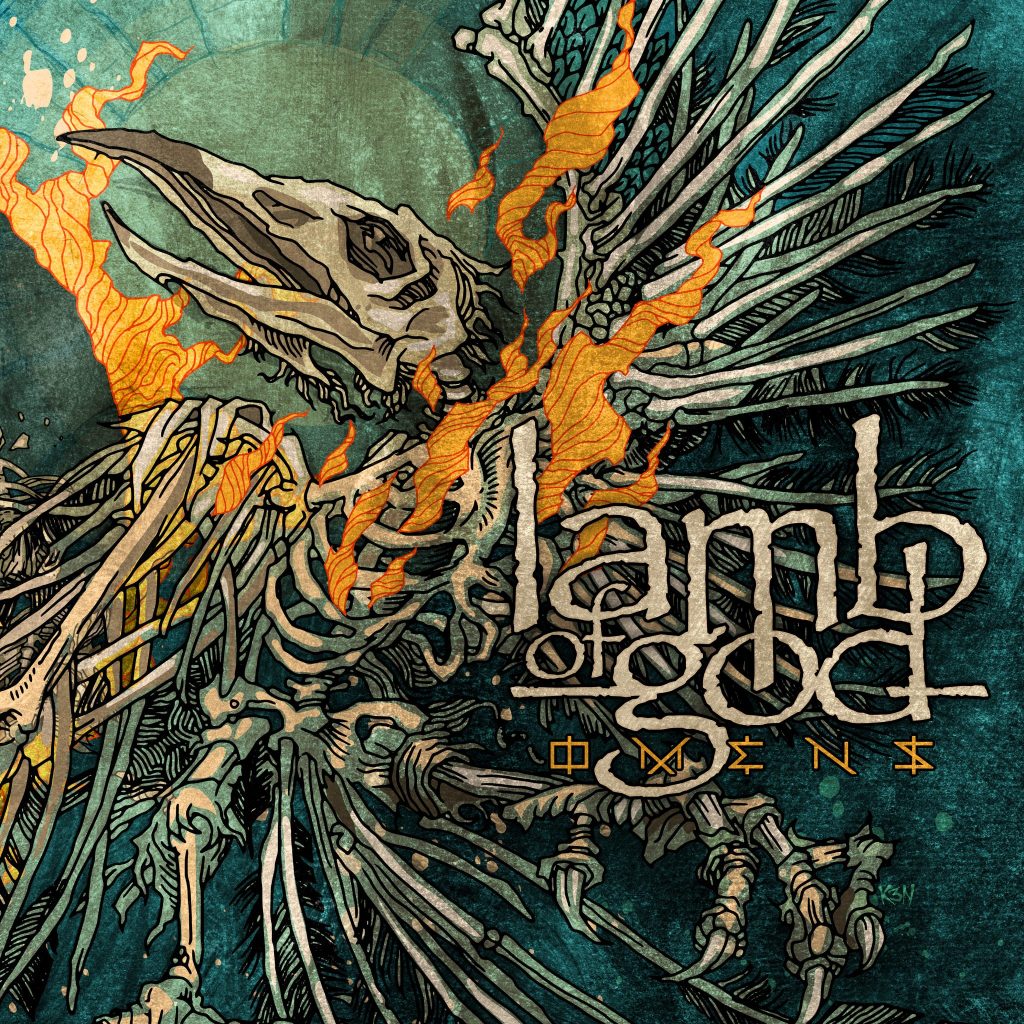 Gomorrah has a very cool middle eastern tinged riff during the verse that calls to mind visions of a desert landscape. "Everything is doomed to fail" Randy shouts during the chorus. It sounds like a new anthem for the modern USA.
Ill Designs is an interesting song title because I'm sure a lot of people are going to see it as a Roman Numeral 3 "3 Designs" rather than "ill designs" but maybe that's just me. The main riff on this song is the definition of a "power groove." Another one of the tracks on the record that's really giving Lamb of God fans their money's worth.
Grayscale was the 3rd single from the album and definitely my favorite of the 3 they released. The riff is somewhat different for Lamb of God stylistically which I enjoyed.
Denial Mechanism has a hardcore punk rock feel to it. It starts with a punk rock drum beat and then barrels into a fast, heavy hardcore sounding verse. This is a good example of the band expanding it's palette of sounds while remaining heavy as fuck. This is a relentlessly brutal track that never lets up and happens to be the perfect build up to the last song on the album.
September Song is the final track and it nicely caps off the album. It begins with a slow and melodic introduction and then kicks into a distorted heavy thrash epic. The chorus riff is basically the same melodic intro played staccato and with heavy distortion. A song like this is a great way to end a masterpiece of an album.
Omens is available everywhere on Friday Oct. 7th 2022.