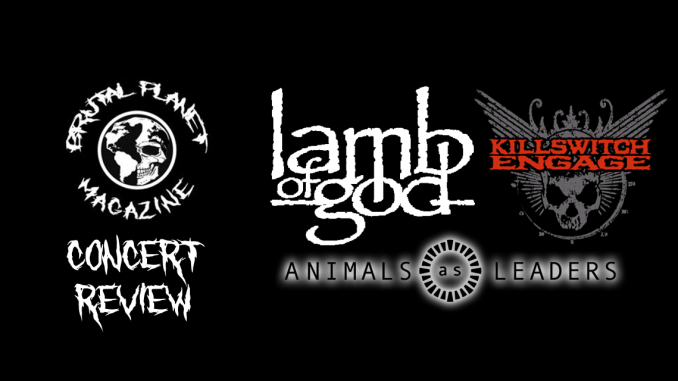 Real metal came to Inglewood on a cool Thursday night in October 2022. The show was opened by Fit for an Autopsy and Animals as Leaders. Due to traffic we were unable to catch Fit for an Autopsy's set but I am sure it was high quality.
Animals as Leaders hit the stage with their brand of modern prog metal and at this point the venue had started to fill up quite a bit. Their sound is very jazz influenced and progressive. Think Dream Theater meets John Coltraine. Guitarists Tosin Abasi and Javier Reyes both play 8 string guitars and share all bass and lead duties. Drummer Matt Garstka plays with a loose… yet tight and precise style that allows the band to veer off in all sorts of different directions. Their music is very well conceived and detailed. Lacking any pop hooks or memorable choruses, it's a welcome challenge to the audience.
Killswitch Engage was the next act to hit the stage. These guys are metal veterans just like the headliners and they seemed completely at ease for the duration of the evening. Their set was high energy from start to finish. At one point guitarist Adam Dutkiewicz climbed down off the stage and ran all the way up the stars to the back of the venue.
Killswitch's set proved they have longevity in the metal game. They played a variety of songs that span their catalog. From old classics like "To the Sons of Man" and even a cover of Dio's "Holy Diver" to new classics like "The Signal Fire" a song they brought out former vocalist Howard Jones to perform.
Finally, the headline act Lamb of God was about to take the stage. At this point the theater was packed to the brim with chattering people awaiting the main event. The room darkened, the intro music softly played and the band exploded onto the stage with their track "Memento Mori"
As someone who grew up listening to thrash, speed and death metal I think it's safe to say that Lamb of God is the current heir to Pantera's throne. I haven't seen any bands that bring precision metal with the level of intensity and energy that Lamb of God does since Pantera. The band are consummate professionals and it was obvious they have been doing this for a very long time.
Rather than ramble through their set song by song I decided we were going to start doing something different. We created a concert highlight reel for our YouTube and Facebook channels that shows some of the highpoints of each bands set. You can view that here:
This was undoubtedly one of, if not the, best metal shows of the year. Not only do Lamb of God deliver they also curate a high quality group of opening acts. Los Angeles was unfortunately one of the last U.S. dates for this tour, however it continues in Europe starting in November. You can find all of the dates here. Do not miss it!