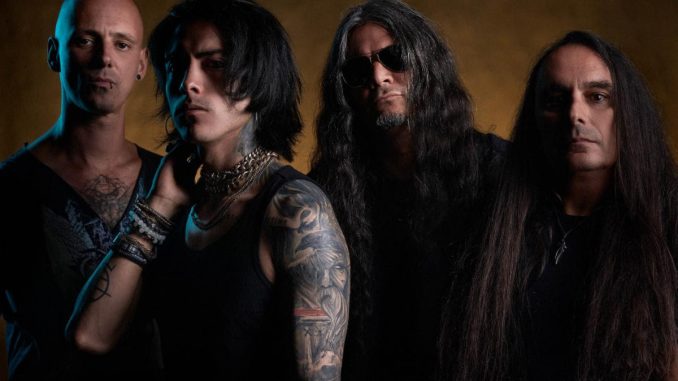 Today Lacrimas Profundere unleash "To Disappear in You", the fourth glimpse of music from their upcoming new album 'How to Shroud Yourself with Night'.
"To Disappear in You" sounds like In Flames and The 69 Eyes merged together.
Singer Julian Larre changes perfectly between clean vocals and screams.
This is Melodic Death meets Goth Rock!
'How To Shroud Yourself With Night' Tracklist
1. Wall Of Gloom
2. A Cloak Woven Of Stars
3. Nebula
4. In A Lengthening Shadow
5. The Curtain Of White Silence
6. Unseen
7. The Vastness Of Infinity
8. To Disappear In You
9. An Invisible Beginning
10. Shroud Of Night
"How To Shroud Yourself With Night" will be released on August 26th, 2022 through SPV/Steamhammer in the following configurations:
=> CD DigiPak (incl. poster)
=> LP, 140g, cristallo vinyl, printed inner sleeves
=> Download / Streaming
Pre-Order HERE
=> Exclusive CD/LP Bundle with a T-shirt only at the Steamhammer shop
Pre-Order HERE
LACRIMAS PROFUNDERE live 2022:
09/01 DE-Cologne – Club Volta09/02 DE-Oberhausen – Kulttempel09/03 DE-Hamburg – Logo09/04 DE-Hanover – Subkultur09/08 DE-Göttingen – Exil09/09 DE-Leipzig – Moritzbastei09/10 DE-Berlin – Cassiopeia09/14 AT-Vienna – Viper Room09/15 DE-Nürnberg – Hirsch09/16 DE-Munich – Backstage Halle09/17 DE-Stuttgart – Club Zentral09/18 DE-Frankfurt – Nachtleben