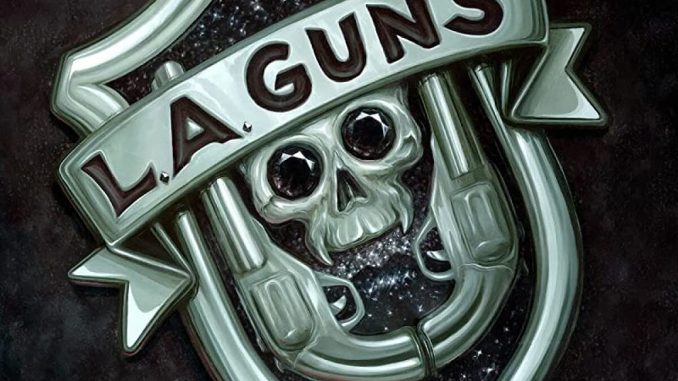 After all of these years and albums, L.A. Guns has managed to maintain their sound and the same vibe that their diehard fans have come to love. Their new release on April 14, Black Diamonds, will once again reunite the rock and roll world with Tracii Guns, Phil Lewis and company.
Since the reunion of Guns and Lewis in 2017, this is their fourth release, and the creative flow has been nonstop. Along for the ride on this upcoming release is bassist Johnny Martin, and drummer Shawn Duncan who performs the live shows (Noting, Adam Hamilton is the in-studio drummer).
The first song, "You Betray", is exactly what you would expect from LA Guns. It's groovy and full of punches. The track has haunting vocals in the chorus and stacked guitars for the solos while the song "Wrong About You "has a more punk rock edgy feel.
"Diamonds" is the first ballad on the album. This is one of LA Guns' strongest abilities as a band, to grab the listener and make them really relate with the lyrics. You can already see the lighters in the audience illuminating the room, as they are swaying back and forth. It's the always told story of wanting to save the love affair, even though it's broken, there is still hope to shine together through the cracks and the glimmers of light in the broken glass.
"Shame" has a classic blues rock feel that is easy to listen to, and what LA Guns fans are used to hearing from the band. It would be cool to see them make more of this style of record, as it really is their strong suit.
"Gonna Lose" goes from a ballad of win some lose some, to a straightforward hard rock song reminiscent of 70's style Kiss and Aerosmith sound.
"Got it Wrong" screams punk from the old days, while "Lowlife" and "Like a Drug" are fun rock songs, that will be fan favorites for the parties.
"Crying" has some fun synthesizer effects and guitar solos with the sound of something out of the 60's-70's Badfinger era.
Lewis' singing is some of his best ever on this record and it really showcases Tracii's ability to write great songs with guitar riffs that are spot on. Hamilton's drumming is fantastic throughout the album. His technical abilities are exceptional and really showcase his talent.
Overall, the album will be a favorite for loyal L.A. Guns fans, and there will be some new ones added, for sure. This is one of the best records to date for the band, in my opinion.