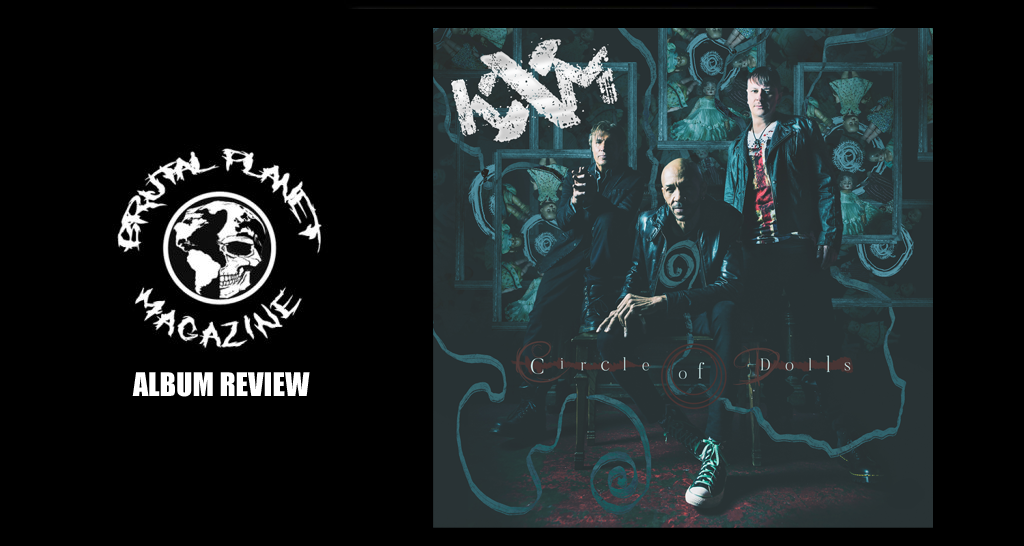 For those of you who don't know what KXM is allow me to explain. It's something of a super group. In the same vein as say… Velvet Revolver or Audioslave. The band is composed of veteran players – George Lynch – guitar player for Dokken & Lynch Mob. Dug Pinnick of King's X on bass / vocals and Ray Luzier of Korn on drums. The letters of the band's name are taken from each member's original band – K is for Korn – X for King's X and M was taken from the "Mob" in Lynch Mob.
KXM formed in early 2013 when these 3 spoke about trying to jam together. The self-titled debut, KXM, was released on March 11, 2014 and debuted at #31 on the Billboard 200. The followup Scatterbrain was released March 17, 2017 to critical and fan acclaim. In a world that constantly searches for new and unique music, KXM delivers all the power and punch that one would expect from these high level players.
Building upon the success of their 2014 self-titled debut and 2017's Scatterbrain, KXM now returns with their third studio release, Circle Of Dolls. The new album is scheduled for release on September 13th via Rat Pak Records.
As you can imagine, KXM is a very technically proficient band but the music also speaks for itself. Their sound has got a unique vibe and it's not just self-indulgent shredding… which all 3 of these guys are capable of. It's an album full of well constructed songs.
The first track "War of Words" comes in strong with Lynch's dirty rhythm guitar and Luzier's driving beats. When the vocals kick in it almost sounds like something Soundgarden would have released. Pinnick's voice is very reminiscent of the late Chris Cornell.
"Mind Swamp" definitely has more of that sultry and nasty George Lynch riffing. The main riff just grooves hard and the drumming is hard and in your face.
The title track "Circle of Dolls" has more of a fun and upbeat vibe while maintaining that nasty, grimy groove that Lynch has made his signature style. "Lightning" is a slow groove while "Time Flies" has a simple yet important message and "Twice" just keeps things moving.
About half way through this record I had to pause and just be really impressed by the musicianship and diversity of songs and structures. No two songs on this record sound alike which not only makes for an entertaining listen – it also makes for repeat listens.
"Big as the Sun" almost has a Zeppelin like feel to it, with Lynch's guitar solo taking it out into space. "Vessel of Destruction" kicks it up a few notches to an almost Korn type groove.
"A Day Without Me" is probably one of my favorite tracks on the record. I'm not sure if it's Lynch's massive guitar rhythms or Pinnick's wail "I NEED A HOOOOOLIDAAAAYYYYYY" but this one just works really well. Massive grooves, a great hook and a killer lead break.
"Wide Awake," "Shadow Lover," "Cold Sweats" and "The Border" round out the last part of the album making it a 13 track epic.
Circle of Dolls by KXM was an unexpected, sleeper hit of an album for me. I have long been a fan of all three of these guys' other bands and had no idea that KXM even existed until I saw the promo's for Circle of Dolls. I'm glad I did because it's an incredible record I would've missed otherwise… don't make that mistake yourself!
Circle of Dolls by KXM is out this Friday the 13th on Ratpak records. If you're a fan of metal and hard rock, you're going to want to give it a thorough listening.